I chose to truck my bike back and forth from Mumbai to Chandigarh instead of riding ex-Mumbai.
BHPian Axe77 recently shared this with other enthusiasts.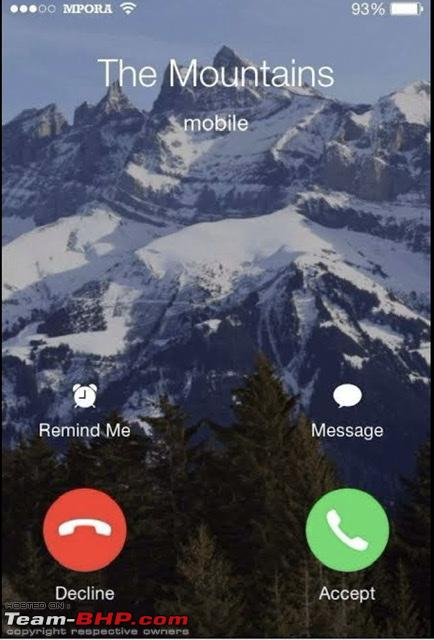 …ARE CALLING, AND I MUST GO!
If you own an adventure bike, it's unlikely that the thought of riding through Spiti hasn't come to mind. So much so that many big ADV manufacturers like BMW, Ducati and Triumph organise their own curated riding trips for their customers through this beautiful landscape.
At the end of the peak of the first lockdown, I took up the opportunity of doing a 3-day road trip in the hills around Shimla with Team XplorEarth (TXE for this travelogue).
At the time, travel had barely just opened up. Wanting minimal logistics, I flew to Shimla (to Chandigarh basically and then to Shimla by cab) and undertook the trip on their trusty rental BMW 310 GS. What followed was absolute and utter love for that region of Himachal Pradesh.
Team XplorEarth are absolutely the best in the business in terms of knowing that terrain inside out, providing top-notch peace of mind in terms of the backup support and of course the opportunity to ride with ride captains (providing soft training on the ride) who are probably some of the best adventure riding trainers you can find in the country. The quality of that backup came true to the fore on more than one occasion during this trip, which will be explained during the course of this travelogue.
It's no wonder then that they collaborate with all the big brands like Honda, BMW, Triumph and HD to provide either curated riding trips in the mountains or specific riding training programs for their customers. They've been at the heart of some really special customised and curated rides for brand visibility – for instance when a bunch of Harley Davidson ADVs were taken to the most tortuous terrain to curate the media drive recently for the Triumph 1200 launch.
I had subsequently experienced Triumph Tiger Trails Rajasthan also with TXE and it's my agency of choice when it comes to touring company-led expeditions in any extreme terrain up North.
Spiti was the next logical item on my bucket list and for my second innings in Himachal, I was clear I wanted to use my own bike – the Tiger – instead of a rental. Time is scarce in my profession so, like many other riders in our group, I chose to truck my bike back and forth from Mumbai to Chandigarh instead of riding ex – Mumbai, which would have required an additional 2-3 days of time away from the office.
Ride outline
The ride itself was planned from a Monday (early AM) to Friday (night). We had to factor reporting in Shimla a day prior (Sunday) and leave at your convenience the following day post the trip.
Outlined below is the broad plan, followed by a day-by-day chronicle of our journey from the point we left Mumbai. I used my Garmin watch to clock my entire journey so I can have access to my route maps for any time later as a memory of the trip we undertook and the specific route that we followed.
The itinerary
Saturday 4th June:
Fly to Chandigarh; unload bikes at Triumph showroom; ride on to Shimla.
Total riding km: ~135 km
Sunday 5th June:
Easy rest day, ride around the hotel; registration with TXE, some brief off-road riding orientation; brief bike check with TXE technicians.
Monday 6th June: The Hindustan Tibet Road
Shimla to Sangla (Batseri)
~ 222 km
Tuesday 7th June:
Sangla – Chitkul – Kalpa
~ 100 km
Wednesday 8th June: The grey mountain wolf trail
Kalpa – Nako – Tabo – Kaza
~215 km
Thursday 9th June: The High Mountain Passes and Lakes
Rest day at Kaza or alternately some nearby riding to Langza & Komic
~ — km
Friday 10th June: The Hordes Return
Kaza to Manali [via Chicham bridge, Kyarto, Losar, Kunzum Pass, Atal tunnel to Chhatru].
~187 km
Saturday 11th June:
Manali to Chandigarh
310 km
Flight back to Bombay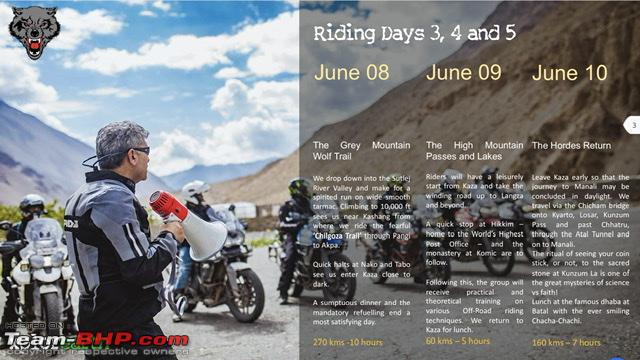 Itinerary pics credit: Extracted from XplorEarth's ride brochure
Below is the approximate google map representation of the final route I rode – Chandigarh to Chandigarh – approximately 1,235 km from Saturday 4th June to Saturday 11th June.
The week prior:
Got a preventive check done at Shaman Triumph and left the bike at Shaman's Vashi showroom on Saturday – a week before, in advance of loading it onto the truck on Tuesday 31st May.
Five bikes were loaded, of which four were on our TXE ride – the plan was to reach Chandigarh on Saturday the 4th, unload the bikes at/near Triumph Chandigarh and then ride straight on to Shimla the same day. A few of us chose to bungee our riding boots, and riding pants and jacket on the bike itself so it saves us the inconvenience of taking on the flight. 90% of the balance luggage for me was packed into the side panniers themselves which were loaded separately into the truck.
For the flight, I only carried my helmet, my 30-litres Kriega containing my tank bag inside it, my iPad, and my power bank + a few electronics, to the extent not already packed in the panniers. The tank bag would go on to the bike and the 30-litre Kriega on the tail for the ride to Shimla.
During the 5 main riding days, the panniers and larger Kriega were loaded onto the backup Isuzu D-Max so the bike rides with just a tank bag and a smaller Kriega with some rain gear.
Some pics below from Tuesday 31st May (bike loading day). All in all, took us about an hour to load up 4 – 5 bikes.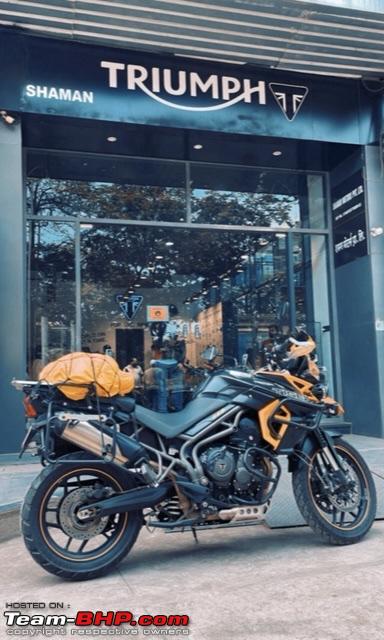 Outside Vashi showroom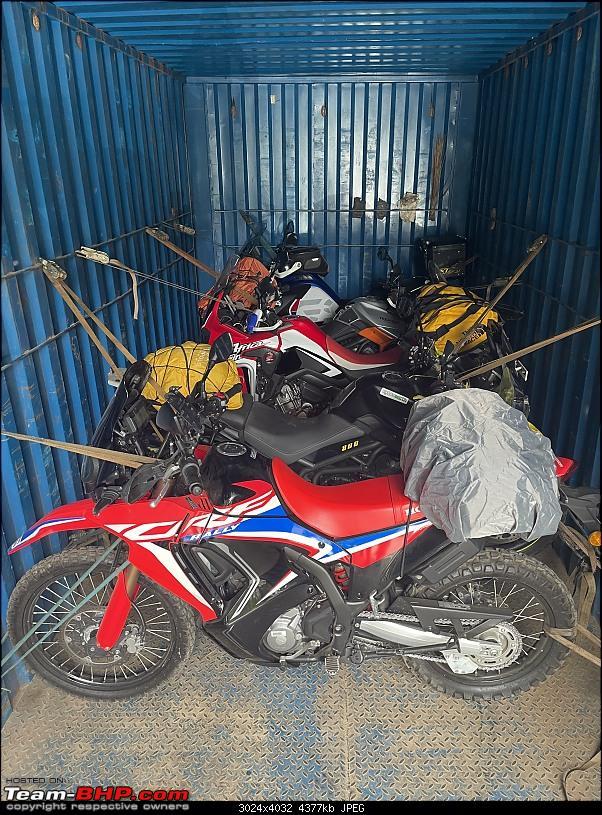 Saturday: 4th June
Flight: Mumbai to Chandigarh;
Bike ride: Chandigarh to Jungle Retreat Hotel, Kufri (a little beyond Shimla)
[138 km]
Three of the riders from this group arrived at Chandigarh and headed straight to a yard near the Triumph showroom to unload the bikes.
The first sight that greeted us was the mangled front bumper of the truck in which our bikes had been transported. Apparently, an oncoming car had jumped the divider and hit our truck head-on during its journey here. Luckily the damage did not ground the truck and it could still reach Chandigarh well in time and neither was there any effect on the bikes. It was an ominous start though to an adventurous trip and we were just glad this didn't end up in anything worse.
Proceeding on, bikes unloaded, panniers mounted, headed to Triumph Chandigarh where we left our bikes and luggage and proceeded first for lunch at the mall right opposite. A word on the Chandigarh Triumph team led by Vipin – they were absolutely FANTASTIC hosts to all of us (brand agnostic to state the obvious). They welcomed us enthusiastically, went about placing / parking all our bikes outside the showroom, taking pictures and videos as if it were their own holiday and trip. Even prior to our reaching they had proactively been in touch with us to check on when we'd be arriving and if there was any assistance we'd need. Top guys – all of them – and I'm so happy to have made acquaintances with yet another Triumph dealership.
Back to the travel plans – it was blazingly hot – 42 degrees and thereabouts. We delayed our start to a little after 4 pm just to put some of the peak mid-day heat behind us and get the benefit of the less harsh sun closer to and post sundown. The first order of business after leaving was fuelling up since the bikes were almost bone dry having been transported by truck. I checked air for good order too and practically were only properly on our way out of Chandigarh by 4:30 or so.
Traffic to Kufri via Shimla is badly jammed so TXE had given us a slightly longer alternate route. Our route to Kufri effectively went via Sadhupul and Chail instead of via Shimla. We took one very long halt at a roadside Dhaba hardly an hour or more into our journey since one of the riders was cramping very badly, mostly down to dehydration I suspect. Barring that unusually long halt, we were on and about quickly and efficiently through the remaining journey.
A large part of the journey was well after sunset, a slightly unsettling proposition since almost half or a little under than half the route was through a really desolate and dark route going through Sadhupul and then Chail forest. Given the darkness, we overshot (by a few km) the really tiny offshoot going into the final leg to the hotel. Tracked back and the last 2 – 3 km were pitch dark, completely gravelly and with steep inclines and declines, some with tight U-turns, which we took a bit tentatively given the heavy side panniers and luggage on all our bikes. It was a bit like a surprise test of technical riding skills that would be required in the days to come, which you need to take blindfolded given the pitch darkness around.
By the time we reached the hotel, it was a little past 9:40 pm. What I thought would be a quick shorter ride had turned out to be a surprisingly exhausting day. We'd all had an early morning of course to catch our flights etc but still – it was barely about 135 km (~) and we had sort of underestimated/forgotten what 135 km in the mountains can feel like. The fact that we were by ourselves, on a really dark desolate road and late into the night with little roadside support was also silently playing on my mind just a bit till we reached our hotel.
Anyway, all in all, reached the hotel safe and sound, with two other riders and bikes already having arrived earlier in the day – a Honda CRF 300 and a GSA 1250.
The next day (Sunday 5th June) was a sort of rest/check-in day. Headed to the TXE office to register, get our bikes checked up by the trusty Omi and of course cleaned up as well in advance of our week of adventure. The team is thoroughly professional right down to checking our BP and oxygen levels during the day – an exercise that was repeated every single morning for the rest of the trip.
I don't have more than the odd isolated pic "during" the ride itself since a lot of this was past sundown and we were really focused on just reaching the hotel. I've dropped some from our ride kick-off from the Triumph showroom, one odd from en route and mostly the morning after when we were parked at the hotel.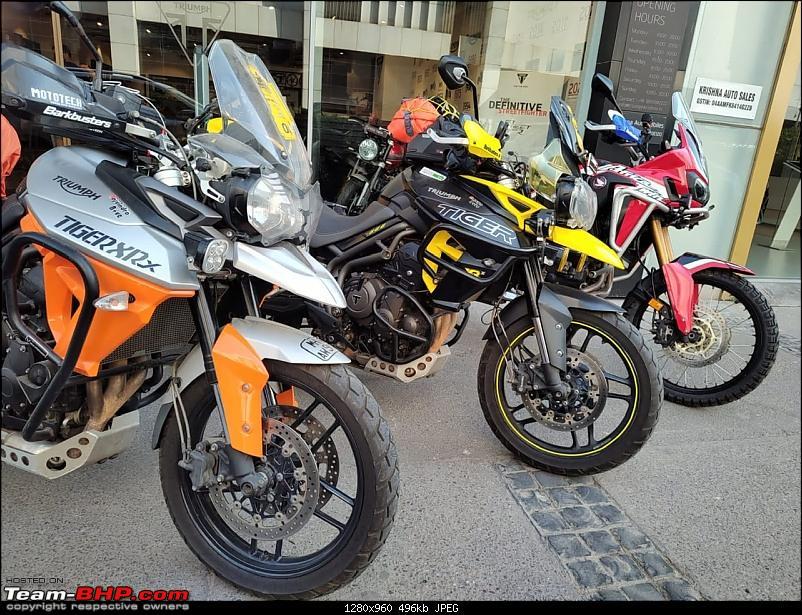 All three bikes outside Krishna Triumph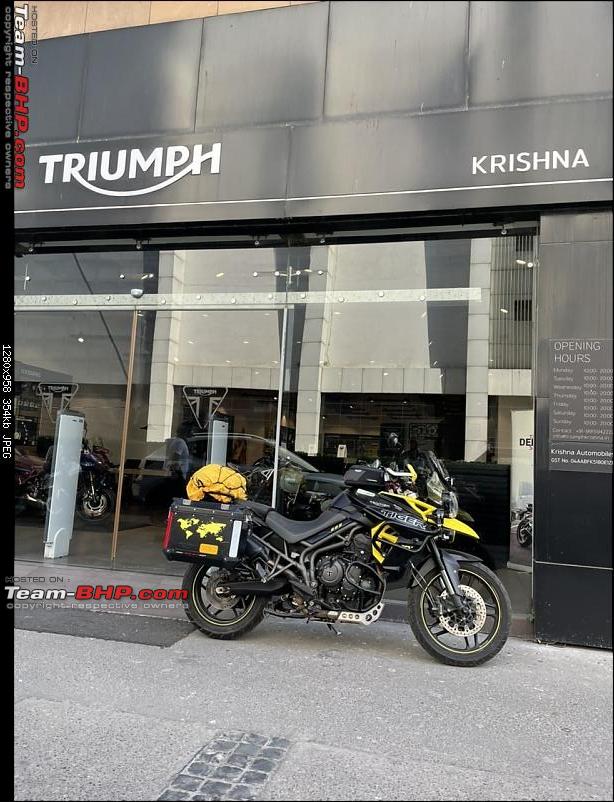 En route to Kufri.
Sunday: 5th June
Kufri – Shimla – Kufri
[44 km]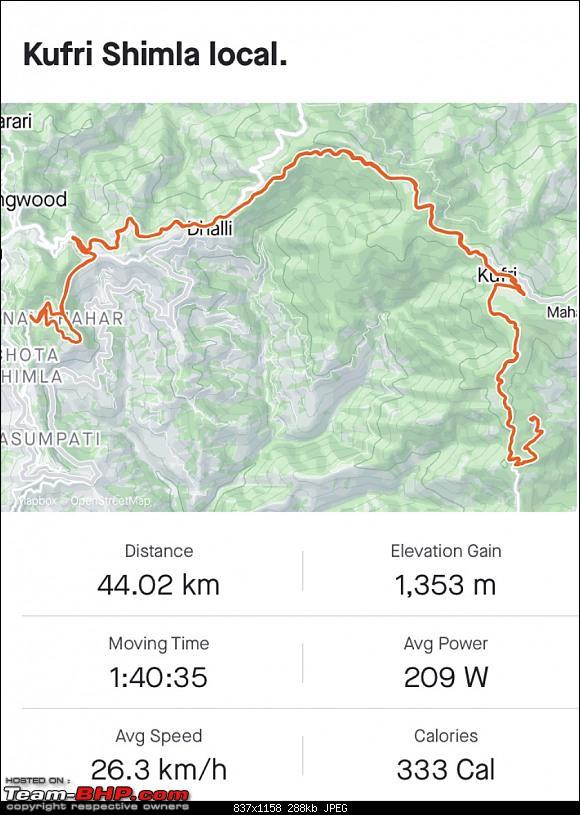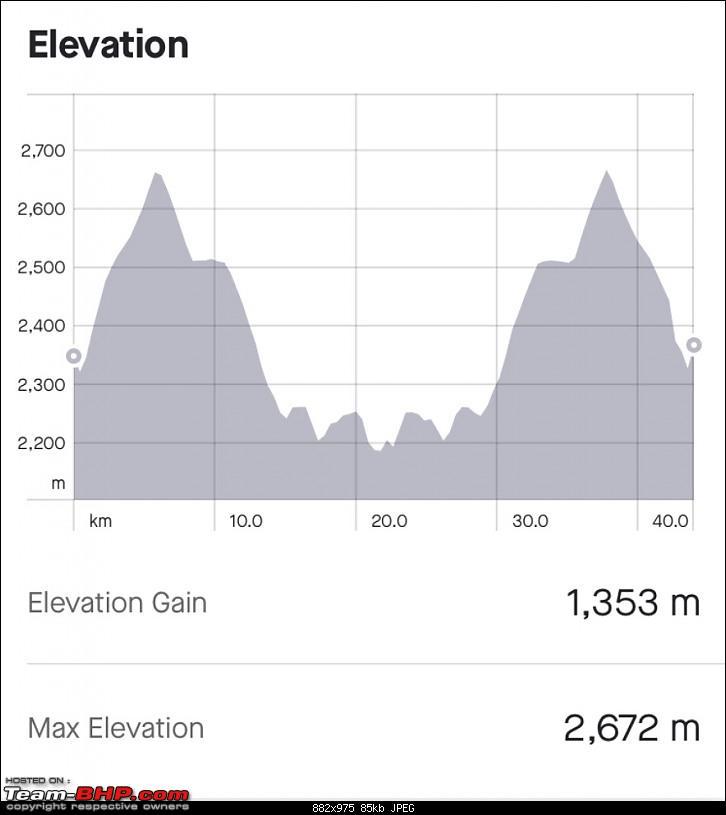 This was supposed to be an easy day as mentioned above. I was up really early, just how my body clock works – for context, the better part of the text on this post is me firing it in at about 4:00 am on Sunday the 5th.
Made my own morning cuppa coffee brew thanks to the umpteen quick brew bags I'd carried and strolled down to take some early morning pics of the bikes.
We headed out late morning to the TXE office to register – about 20 km or so from the hotel. Basically got a bike checkup done there, a thorough wash down of the bikes at their car wash, and bikes got stickered up with the TXE and specific ride stickers. Got a comprehensive briefing on the ride for the next 5 days, with the route outline, some general safety and riding guidance etc. Had lunch with Mr Parmar close by, and then headed back to the hotel after topping up on fuel for the next day. The rest of the afternoon was generally resting it out.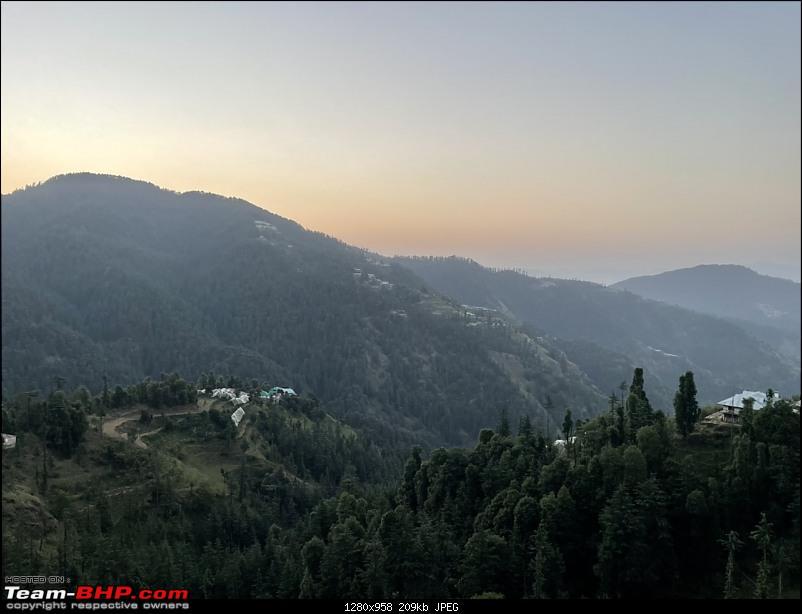 Kufri hotel skyline – this is the view from the room balcony as well.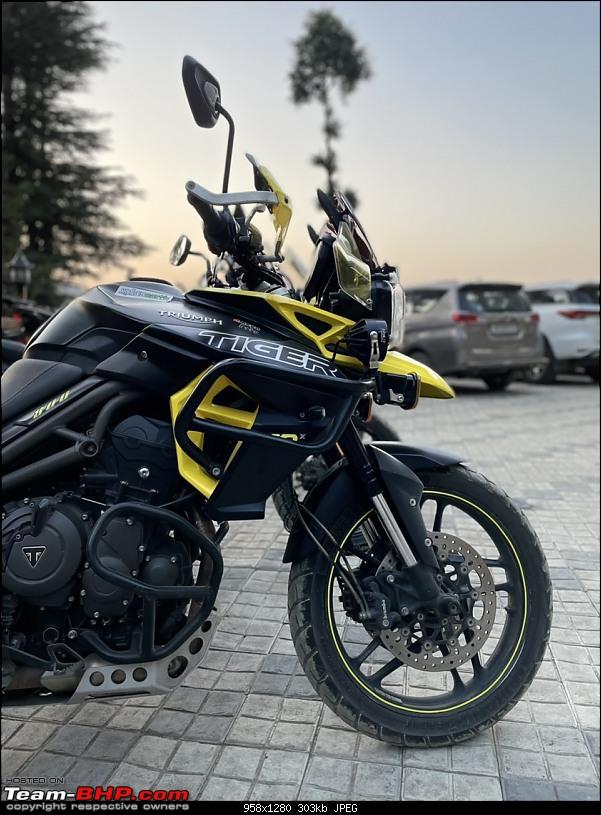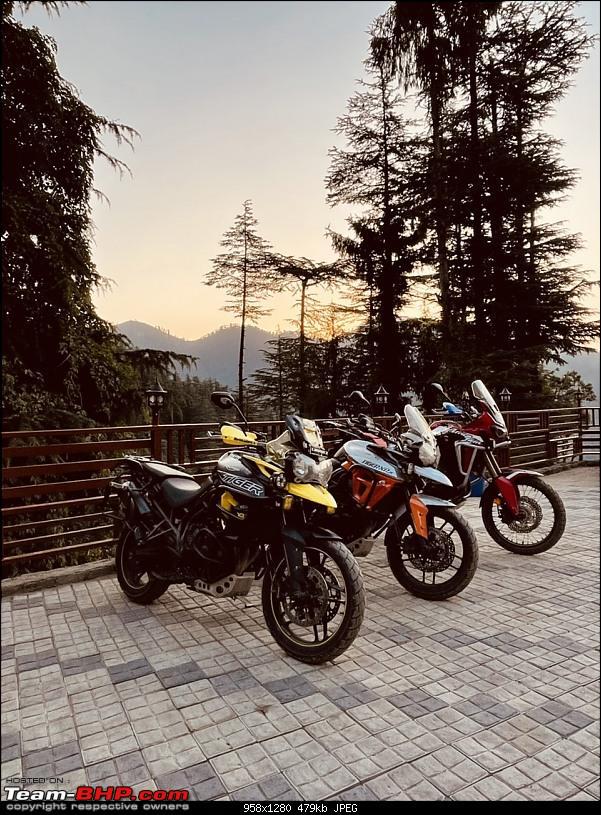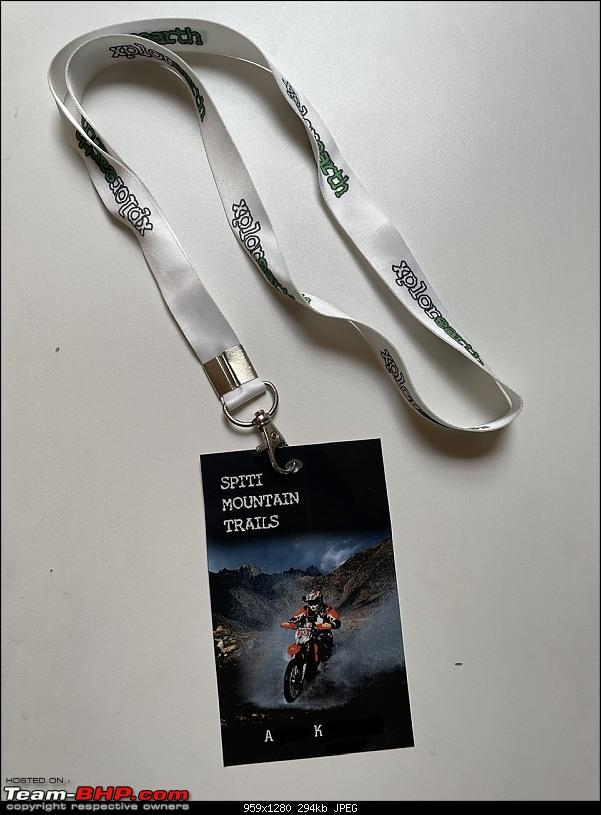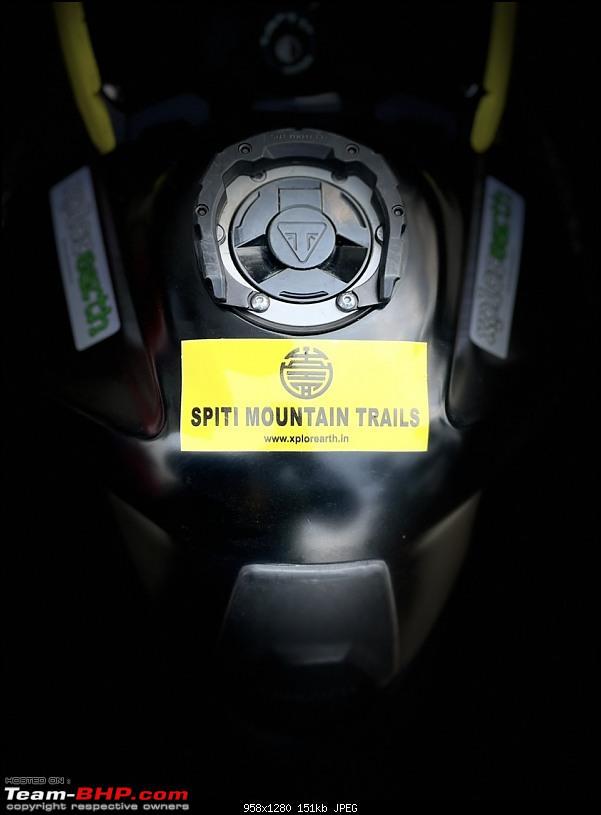 At the TXE office, where the bikes were given a good wash, a general once-over and were stickered up with the ride logos.
Continue reading BHPian Axe77's Spiti adventure for more insights and information.
Source: Read Full Article