A new month has begun on Forza Horizon 4, which signals the beginning of a new Summer season. Following the Series 12 preview, a fresh swathe of content and events arrive for players to try their hands on.
A fresh new playlist kicks off Summer, with prizes available for 50% and 80% completion. This week is a mixed bag, with a broad variety of cars.
Check out our break down of this week's events.
Prizes to Suit All Needs
A variety of prizes cover a lot of ground this week. First up is the Mosler MT900S. This obscure British supercar is effectively a road going racing car.
Packing plenty of racing pedigree, the MT900S packs a powerful punch against etablished rivals. The MT900S features a supercharged 7.0-liter V8 that produces 600 horsepower. Weighing in at under 2,500lb, the MT900S will throw a curveball to even the most decorated supercars.
Joining it is the Mercedes 280 SL. Another returnee to the prize pot, the SL is one of the more sophisticated classical cruisers in Horizon. With a 2.8-liter straight-six making 180 horsepower, the SL is a long way from being the fastest car in the game, but it makes up for it by being one of the coolest.
SUVs complete the Playlist prizes for this week, populated by the Jeep Grand Cherokee SRT and the Cadillac Escalade.
The Plymouth Fury is the notable prize car for the seasonal championships. This luxury barge rose to fame in the horror movie Christine. Players can acquire this supernatural movie star by winning the "Racing Through The Years" championship.
A new Rivals event for this month will allow players an early test drive of the new Aston Martin DBS Superleggera.
This week's prizes are down below.
Commuter's Cup
Series: Road Racing Series
Cars: Vans & Utility
Restrictions: A Class, 800 PI
Prizes: 15,000 CR, 25,000 CR, "I'm Late!" emote
Forest Run
Series: Road Racing Series
Cars: Modern Supercars
Restrictions: S1 Class, 900 PI
Prizes: 15,000 CR, 25,000 CR, Leafy Bomber Jacket
Racing Through The Years – 50s
Series: Cross Country Series
Cars: 1950s Collection
Restrictions: D Class, 500 PI
Prizes: 15,000 CR, 25,000 CR, Plymouth Fury
The Trial: Midsummer Mazdaness (Co-Op Championship)
Series: Dirt Racing Series
Cars: Mazda
Restrictions: B Class, 700 PI
Prizes: Trial Leather Jacket
Summer Games – Series 12
Series: Playground Games
Cars: Retro Rally
Restrictions: B Class, 700 PI
Prizes: Blue Aviators
Northbridge Speed Trap
Season Objective: 180 mph
Swan Dive Danger Sign
Season Objective: 984.3 ft
Sudmoss Speed Zone
Season Objective: 150 mph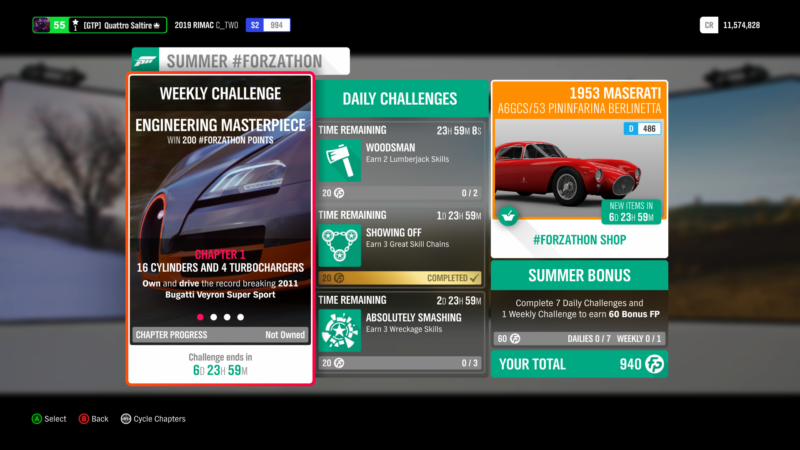 Forzathon Events
This week, Forzathon turns the spotlight to one of the fastest production cars ever made; the Bugatti Veyron Super Sport. Kicking things off, you'll need to own and drive this 267 mph monster.
Next, unleash all 1,200 horsepower and earn 30 Ultimate Speed skills. We highly recommend using the motorway outside Edinburgh to stretch the Veyron's legs. The third objective continues to call on the Veyron's ballistic speed, as you'll need to earn a total of 12 stars from Speed Traps.
To finish things off, it's time to show off your skills to earn 4 Ultimate Skill Chains.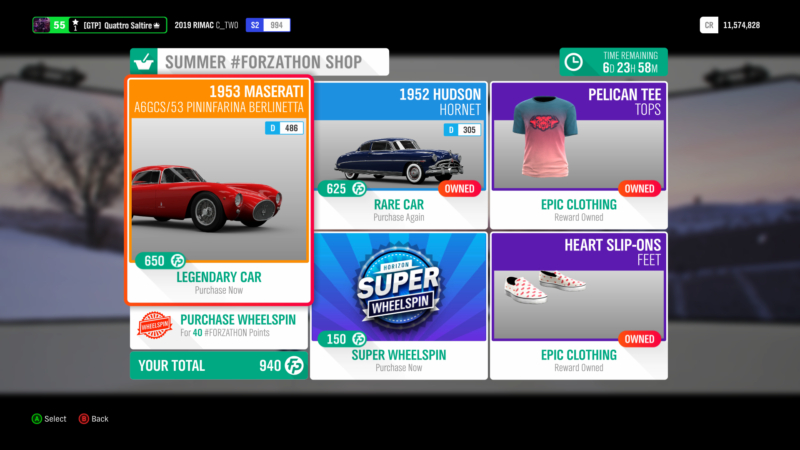 Forzathon Shop
Heritage is the main theme of the shop lineup this week. The headline act this week is the Maserati A6GCS.
This beautiful Italian GT car has surprising racing heritage, competing in sportscar championships in the 1950s. A 2.0-liter straight-six with 170 horsepower may not sound like a lot today, but the A6GCS counters by weighing a scant 1984lb.
Costing 650 Forzathon Points, it may prove a worthwhile saving over buying one in the Autoshow for use in the 1950s seasonal championship.
The Hudson Hornet returns to the shop this week to give players another chance to buy one. This slice of history made its name in the early days of American stock car racing. The Hornet is slightly cheaper at 625 FP, but if you have one already from its previous appearance, we advise to spend your credits elsewhere.
Clothing items this week are the Pelican T-shirt and the Heart slip-ons.
Feature image courtesy of phillkillv2
Source: Read Full Article