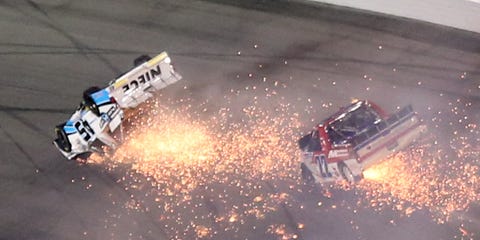 Anyone who isn't looking forward to 2021 wasn't paying much attention to 2020.
The year just wrapping up was one for the books in so many categories, and that goes for racing crashes, as well. Here's a collection of 10 crashes that could be used to define the craziest of years.
OK, there are "big ones" every year at NASCAR restrictor-plate tracks Daytona International Speedway and Talladega Superspeedway.
What made this crash at the Daytona 500 so 2020 was that it happened BEFORE the pandemic hit (see, not everything bad happened after racing's shutdown in March) and it collected the leaders as well as retiring seven-time champion Jimmie Johnson.
Johnson would go on to miss the cup playoffs by just six points. Finish this race running at the end, and Johnson is in the Playoffs.
NASCAR Truck Series rookie Ty Majeski found out in February, once again before the pandemic, that things would be a little upside down in 2020. Majeski flipped 16 laps into the Gander RV & Outdoors Truck Series race at Daytona International Speedway.
"I'm not hurt," Majeski said after being pulled from the truck. "Just my pride."
There were more than one "big one" this year at the Daytona, but none of the crashes were any scarier than Ryan Newman's wild ride on the last lap of the Daytona 500. Newman led 15 laps at Daytona, including laps 184 through 197, and finished ninth.
Newman was knocked unconscious and suffered a head injury, but he only missed three races before he was back in his car at Darlington in May.
This was the first year since 2001 that Newman didn't start every race in the Cup Series season.
Early in the pandemic, the lack of live racing led series and TV networks scrambling for content and for a way to keep their sponsors happy.
And within two weeks of the March shutdown, virtual racing had made its way from the home computer to the TV networks. Sometimes, the action even included real drivers from just about every series on the planet piloting computer-generated race cars. If you didn't look too closely, you'd swear that action was real.
Drivers were even given black flags for intentionally crashing out opponents. While no one was hurt, a few drivers did get into trouble. Kyle Larson even lost his real NASCAR Cup Series ride for his actions in a virtual race. Can't get more 2020 than that.
Check out the action at 1:55 of this video from a race at virtual Texas Motor Speedway.
NHRA Pro Stock veteran Kenny Delco rolled down the Gateway track in spectacular fashion during a first round eliminations run on October.
Of course, it's difficult to roll down a race track in unspectacular fashion.
Delco walked away from the crash, much like we all hope to walk away from 2020.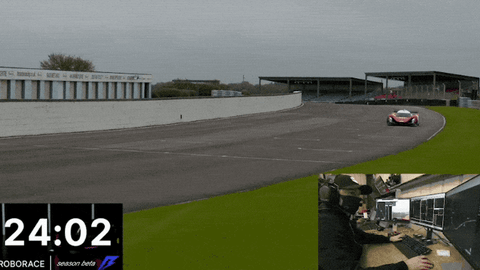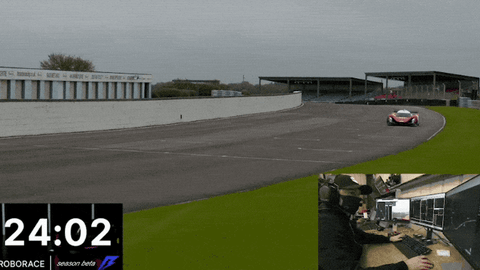 Roborace, a series featuring autonomous race cars, made it's much-anticipated live debut on Twitch in October.
The theme of the opener might have been, "back to the drawing board" after one of the self-driving cars took an unexpected hard right turn into the wall from the grid at the start of its run.
For this car, fielded by Swiss team Acronis SIT Autonomous, the race was over before it began. This was one of six teams expecting to make a three-lap time trial at the Thruxton Circuit in the United Kingdom.
The crash definitely defined 2020 for so many of us with big plans for the year.
Watch the recorded broadcast on Twitch.
Junior World Rally Championship rookie Jon Armstrong found out the difference between real and virtual crashes during this action at Rally Sweden in February.
Armstrong, the 2018 WRC esports champion, and co-driver Noel Sullivan were unhurt in this crash. Still, it's a safe bet that Armstrong will tell you that virtual crashes in video games don't get your attention quiet the same way as the real thing.
What made this crash so 2020 was the fact that many drivers tried to convince us that simulators were so close to the real thing, and that they are a great training ground for real high-speed racing and rallying. Armstrong might tend to disagree.
And, yes, those appear to be clowns at the bottom of the screen watching the action just a few feet from the course.
NTT IndyCar Series driver Colton Herta followed up a strong rookie year in 2019 with a breakout campaign in 2020.
This year, the 20-year-old son of former IndyCar driver and team owner Bryan Herta finished third in the IndyCar championship and proved that his two-win rookie season was no fluke.
One thing he might want to forget, however, was a crash at Iowa Speedway in July that sent him airborne. He came through unhurt, but shaken—something a lot of can say about 2020.
Don Schumacher Racing's Leah Pruett walked away with a sprained back and some bruising after her Top Fuel Dragster blew up during a NHRA Camping World Drag Racing Series event at Gateway in October.
Pruett, an eight-time winner in her Top Fuel dragster career, called it her wildest ride—likely the same description many of her fans might use one day when they tell their grandchildren about 2020.
"It was the quietest time because you're no longer on earth and the engine is still running," Pruett said. "But you're in the canopy, and then I did feel myself changing direction and I thought 'Please don't let this hurt.'
"It was a cringing moment of knowing that I was going to fall at some point."
Formula 1 fans may not remember much from Romain Grosjean's F1 racing career, but they will remember the fiery crash in Bahrain that closed out his final season in the series.
Grosjean's Haas F1 Team car split in half when it struck a steel barrier in Turn 3 of the first lap and became a fireball. A combination of F1 safety measures, driver training and a bit of luck resulted in Grosjean suffering burns on his hands, but little more.
The crash and Grosjean's escape are the symbol of 2020 for many. We may not know exactly how we escaped, but we do know we can't wait to turn the page.
Source: Read Full Article