What a difference a year makes.
It was just 376 days ago that Gran Turismo Sport launched on PlayStation 4. It was a long wait; longer than any gap between the launch of a Sony system and Polyphony's sim racer. It arrived in a crowded calendar year for the genre too, less than a month after Project CARS 2 (read the retrospective review here) and Forza Motorsport 7 (another retrospective).
Unlike both of its main competitors, GT Sport represented a massive tonal shift to what came before. Turn 10 and Slightly Mad Studios were building off pre-existing foundations. Polyphony Digital, meanwhile, was keen to burn it all to the ground.
Here in the tail end of 2018, with the benefit of hindsight, that sounds a touch dramatic. In truth, Polyphony has spent much of the past year adding a classic taste to Sport. This is a much different beast than it was at launch, and now it offers more for both traditionalist fans as well as those in tune with the game's esports bent.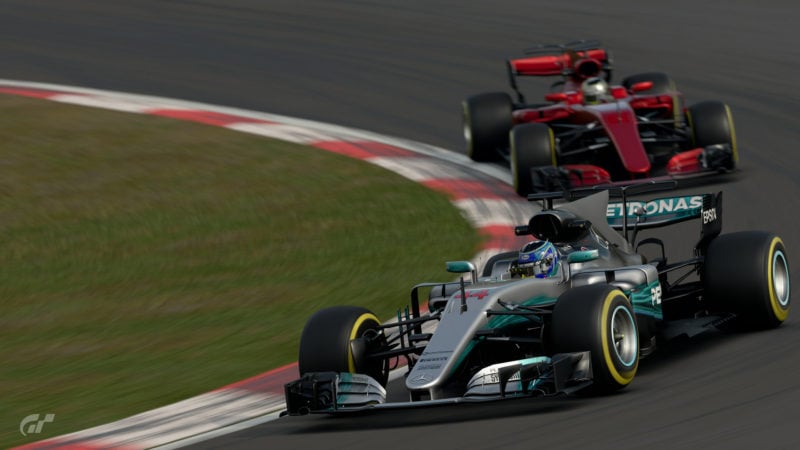 What's Changed Since Release
Honestly, it'd be a lot quicker to list what hasn't. The initial v1.0 of GT Sport seems like a distant memory now. It was some 80+ cars lighter for starters. Five real-world courses were simply memories from GT6 — and soon the sixth, new-to-franchise Catalunya will join the lineup.
There was no classic GT League, nor the ability to upload custom logos for the livery editor. There was a very strange issue with the DS4 and counter-steering, and Fanatec's new-for-PS4 CSL Elite wasn't (officially) compatible.
Sport Mode was a wild new world, at least for those that hadn't been lucky enough to try the demo or beta. For the first few days, there were detuned BMW M4s and Beetle Gr.3s all over the place as players quickly sniffed out the meta cars.
Polyphony got to the additions quite quickly. Only a month after release, the first plans were out: 50 new cars by the end of March 2018, and the return of GT League. The latter arrived in December, and April began with a car roster that was indeed 50 cars stronger.
What fans may not have expected was for the monthly cadence to continue. What's more, the near-regular monthly batches of cars — June missed out — started showing up with tracks in tow. April had new Dragon Trail layouts, additions to what's proven to be a popular new PD creation. May brought La Sarthe back into the fold. July was a new move: Polyphony's first post-launch original circuit in the France-based Circuit de Sainte-Croix. The returning tracks continued in the one-two punch of Red Bull Ring (August) and Fuji Speedway (September).
The car list grew as well, but we're saving that for the other sections of this retrospective.
Arguably the biggest change was the official launch of the inaugural FIA Gran Turismo Championship, however. Originally announced way back in 2014, it began in June of this year. This was the next evolution of an approach started with GT Academy. That program proved that, with the right tools and coaching, a video game could work to suss out potential racers. Now, with the growth of esports, the FIA Championship aims to put racing sims shoulder-to-shoulder with titles like Fortnite and Overwatch.
We're right in the thick of the regional finals, and it will all come to a head in Monaco later this year. The winners there will find themselves at the end-of-year FIA celebration alongside 2018's champions from F1, WRC, and more.
What It Got Right
Arguably the hardest flavor for Polyphony Digital to keep in the dish is the one it commendably maintained: that elusive Gran Turismo spirit. Right from the first (short) load-up, Sport oozes class. It has that same sort of obscure menu soundtrack that's characterized the franchise the last decade, a simultaneous blend of unusual and earworm.
Another hallmark of the franchise is the graphic quality. Since the series' inception its been consistently at the front of the pack for eye-candy. In 2017, GT Sport wowed from a visual perspective, with almost obsessive levels of detail in the cars and gorgeous lighting on track. It maintains that crown on PlayStation in 2018, with features like Scapes — real-world photographs with the digital cars and avatars layered on — easily fooling folks into thinking they're looking at the real deal.
This next bit is sure to be a contentious one, but we're sticking with it: the penalty system. Yes, it's inconsistent, and has changed over the past year. Remember those overbearing 10-second penalties for the lightest of brushes with another car? We still have nightmares.
But Polyphony deserves kudos for implementing the system at all. It's unique amongst its console competitors: Project CARS 2 has an approach more like real life with flags and passing penalties, while Forza Motorsport 7 doesn't even bother with a system at all. We're sure Polyphony isn't done fiddling, either. But the existence of the penalty system does have a noticeable affect on the online experience. Crucially, we'd call it a net benefit.
All of this pales in comparison to the main point in Sport's "pros" column: the sheer number of free updates. You can argue whether or not these updates were always part of the plan, whether they were a form of appeasement for long-term fans soured by the esport focus, or a combination of those (and other) reasons. But the point is that Polyphony's done it. The team promised 50 cars by the end of March 2018, hit the goal, and has kept the content rolling almost every month since. That's unheard of in the genre.
What It (Still) Gets Wrong
If you've cottoned onto a running theme in our retrospective reviews of the 2017 Sim Racing Big Three, then you probably saw this coming. A title's strength can also be its weakness, and that rings true with GT Sport.
The new content is very much welcome, don't get us wrong. But it's welcome because it feels so necessary. GT Sport launched as a relatively tiny game last October, with a lot of what made us love the GT franchise either missing or much smaller. The car list was lacking in diversity, but the track list was maybe even worse. Three ovals, multiple rally tracks — essentially useless for the game's eponymous mode — the "been there done that" feeling could rear its head very quickly.
Polyphony has made strides to improve this. The track list is swelling, with a combination of additional layouts on existing tracks, and a whole bunch of real-world circuits. The latest, Catalunya, is a first in the franchise, and will show up in the next update.
The car list has been less successful. Plenty of cars have shown up, but the vast majority have been rides players last saw in GT6. While Polyphony has improved the models with its typical attention to detail, these were cars sold as "beyond the level of the current PlayStation" in the PS3 days. Five years later, most of them still remain on that system.
Another unfortunate PS3-exclusive is dynamic time and weather. Dropping both has helped Sport not only look gorgeous, but maintain that crucial, consistent frame rate. And one could make the argument that not having the intricacies of changing weather makes an esport simpler to digest, and therefore more appealing to viewers. But weather is very much an integral part of racing, in many FIA series, so to see its continued absence in the game tasked with broadening the Fédération Internationale de l'Automobile's reach feels like an opportunity missed.
Back in December, Polyphony added GT League to the game's single-player experience. It was a welcome nod to the games of old (especially the classic GT2 music!), but couldn't match the depth of them. Yes, it's great for making money, but without prize cars, championships, or much in terms of structure, there's little sense of progress. We spent 1300 words talking about the good and bad of GT League back in January. To sum it up: "a compelling offline mode can happily co-exist alongside an online platform." Sport is on the right track, but it's not there yet.
And don't get us started about the severe limitations the game imposes if there's no internet connection.
What's Next
Well for starters, that criticism about GT League could be short-lived. Comments from series creator Kazunori Yamauchi earlier this year suggested Sport's eponymous mode could be just one part of a more traditional future installment of the series. Single player, multiplayer — the next Gran Turismo could feature the best of both worlds.
But we're getting ahead of ourselves: there's still plenty of life left in Sport. With monthly content updates seemingly the norm, the game continues to grow in scale. Alongside new cars and tracks, the team continues to tweak and polish existing features. We might not have to wait for the next GT to have a deep single-player campaign. There's no reason the GT League in Sport couldn't end up that way.
The car list continues to grow. If the past year's trend continues, we expect to see a lot of returning faces, with a few new-to-series additions sprinkled in. There's still a ways to go to hit that much-publicized 500 car figure.
What's fascinating about that number is that it doesn't seem completely outside the realm of possibility. Given the track record over the last twelve months, and our recent interview with Yamauchi-san, it sounds like Polyphony is thinking long term with Sport. It's very likely this could be the only Gran Turismo on this generation of PlayStation. If that means a highly refined Sport, and a title available closer to the launch of the next-gen console than what we've seen on PS3 and PS4, well — isn't that a major win?
More so than either of its contemporaries, GT Sport is a game transformed compared to its launch version. What's more, we expect that to be doubly true in another year. This is the most well-resolved Gran Turismo title in a decade, and it's only going to get better.
Featured image courtesy of GhostChild.
Source: Read Full Article