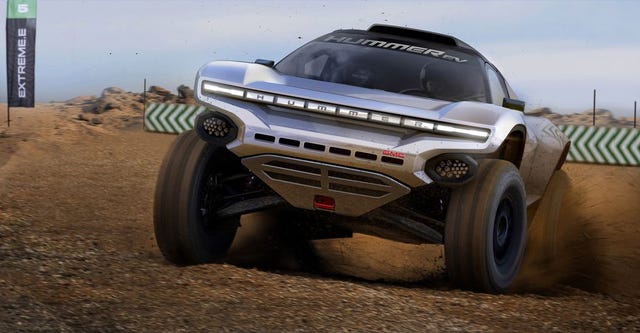 You probably saw GM's late-January announcement that it was planning to race in the new Extreme E off-road electric truck category with its new GMC Hummer brand. GMC Hummer is an EV brand so Extreme E seems like a no brainer. We reached out to Jim Campbell, GM's racing boss, to get more details and find out how everything is coming together.
"Obviously GM is investing in EVs in cars, crossovers and trucks and we wanted a place to connect the excitement and capabilities of the GMC Hummer EV supertruck with the excitement of a race series," Campbell told Autoweek. "We evaluated Extreme E through conversations with the series directly and with Chip Ganassi Racing. What we learned from the series and from Ganassi Racing and the more we looked at the series it looked like a great fit. So we worked with the series and Ganassi and the GMC Hummer EV engineering team and design team and created a proposed front fascia, fenders and hood so the race truck looks like the Hummer EV. We took the design to the series for homologation and they gave us the approval."
Campbell said the whole thing came together quickly. "We'd been talking to the series about what their plan was in terms of number of races and the technology for the past ni nine months. Once we decided to go it's been coming together in only about four months."
Campbell said he's not bothered that the first-season Extreme E schedule doesn't include a race anywhere near the U.S. "It's only the beginning," he told us, pointing out that for the last year people have only been able to attend races virtually and online anyway, and fans who are interested in Extreme E will do the same thing this season. "I think going forward the desire to have race in North America is something the series will consider."
You'll be able to watch the Extreme E races on Fox Sports March 20-21 in Saudi Arabia, followed by May 29-30 in Senegal, not far from Dakar, then Aug. 28-29 in Greenland, Oct. 23-24 in Para, Brazil, and Dec. 11-12 in Tierra del Fuego. Extreme E says the idea is to bring electric racing to remote corners of the world, highlighting climate change challenges different ecosystems face, while showcasing the performance of electric SUVs in extreme conditions.
Alejandro Agag founded Extreme E, and he's also the Formula E founder. Extreme E seems to be basically swimming in cash, even though GMC Hummer and VW Group subsidiary Cupra are the only two automakers that have signed up so far.
Are any others coming? Not yet.
"We looked at it and studied it but I don't think you'll see us in Extreme E any time soon," a Ford official told Autoweek. "We're definitely looking at and trying to determine what electric racing is going to be in the future. For now, a lot of companies are in sort of wait-and-see mode."
Extreme E's talent roster (it has male and female drivers sharing a car) is impressive. The series says it includes former World Rally Champions Sebastien Ogier, Carlos Sainz and Sebastien Loeb to name just a few, with F1 champions Jenson Button, Lewis Hamilton and Nico Rosberg having entered teams, in addition to Ganassi, which has hired off-road racing stars Kyle LeDuc and Sara Price. Andretti Racing also plans to run.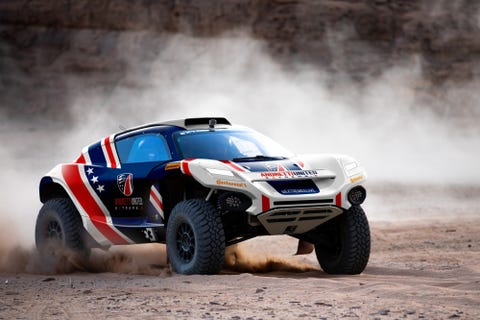 A better indication of Extreme E's wealth and health is that—like Formula E—every driver is getting paid—nobody has bought a seat or been required to bring huge amounts of personal sponsorship. "They're not just getting paid, they're getting very well paid," Agag told Autoweek, "and that's great for motorsport, but it's very unusual—I've been in other motorsports like Formula 2, where the drivers were paying me to race."
Agag is also planning an electric powerboat series, and hopes technology will eventually allow electric air racing.
Extreme E might be coming along at the perfect time. Rapid moves towards electrifying road cars, especially in Europe and Asia, are not just diverting manufacturer's resources, but also diminishing both the benefit and the glory of supplying engines to say, Formula 1. F1's hybridized powerplants are hugely complex and expensive, but also set to have less and less in common with the technology used in regular cars. Within less than 10 years several key markets are proposing an outright ban on combustion engines. Honda's recent decision to leave F1 is a great example, revealing what looks set to become an existential threat to the world's most prestigious race series: The increasing disparity between the costs and rewards that building engines offers for established automakers.
That said, both Audi and BMW said they are leaving Formula E at the end of 2021. But Agag knows he is playing the long game and that he holds the best hand.
"Formula E is very different in terms of the level of prestige and audience to Formula 1, but I still think the future is a merger between them," he told us. "I don't know when this will happen, and if the shareholders will want to do it. But I think Formula 1 needs to transition to electric and if it doesn't do something with Formula E they can only do that in 19 years, because that's when our license ends—supposing they get a license—and that's too late. We got the rights for 25 years, we've done six and we have another 19 (the FIA gave Formula E the exclusive rights to hold a single-seat electric championship in a deal Agag brokered)."
Even with the departure of Audi and BMW, Agag says he is confident he can keep Formula E's roster full.
We'll be keeping a close eye on both EV racing series this spring and summer and will keep you up to date every step of the way.
Log into the comments and let us know what you think of Extreme E
Source: Read Full Article