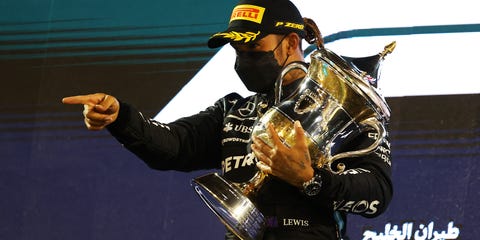 Lewis Hamilton held off a hard charging Max Verstappen for the win in the Formula 1 season-opening Bahrain Grand Priz.
Verstappen led the race from the pole, but Mercedes and Hamilton took the lead through its pit strategy. Though the final tound of pit stops, Verstappen came out of the pits 8.8 seconds behind the seven-time F1 champion. Verstappen made his way to Hamilton and briefly took the lead on Lap 53 of the 56-lap race, only to be forced to give up the position after it was determined that Verstappen moved all four tires beyond track limits in making his pass.
Once Verstappen let Hamilton through, Hamilton led the rest of the way. Not letting Hamilton through would have opened Verstappen to a possible 5-second penalty for exceeding track limits to gain an advantage.
"Great race, a tough one to lose," said Red Bull team principal Christian Horner.
Hamilton's margin of victory was 0.7 second. Mercedes' Valtteri Bottas, who earned the fastest lap of the race, finished third, 37.3 seconds back of Hamilton.
Here's some of what it looked like in Bahrain.: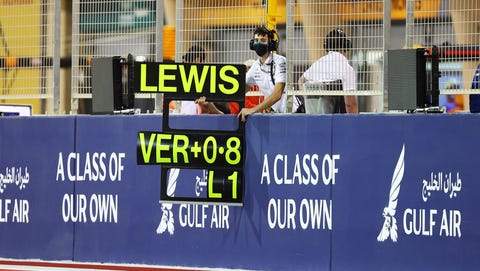 Lewis Hamilton didn't need the board to tell him that Max Verstappen was right on his tail in the closing laps in Bahrain.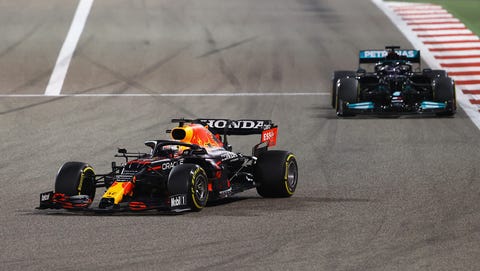 Max Verstappen led from the pole early and it took a staggered pit strategy for Hamilton to take the lead.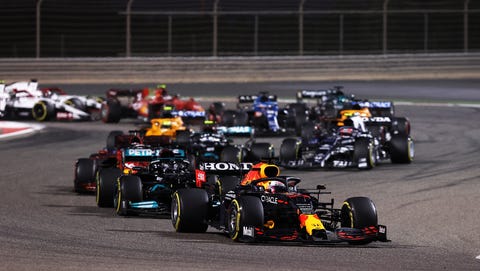 Lewis Hamilton was unable to match the pace of Max Verstappen's Red Bull machine during the opening stages of the race.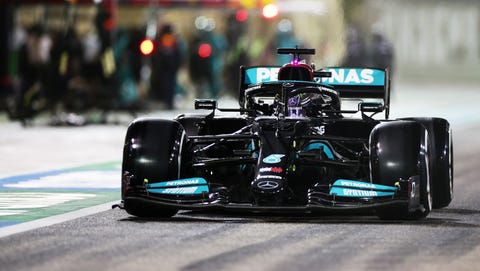 Lewis Hamilton might not have had the fastest car in Bahrain (he qualified second to Max Verstappen), but pit strategy and an incredible drive over the final 10 laps won out for Hamilton.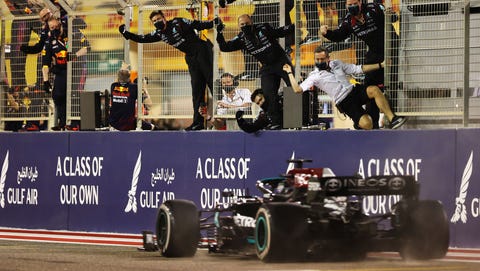 Lewis Hamilton comes home leading the points after his win in Bahrain on Sunday. Hamilton is trying to break a tie with Michael Schumacher this season. Both have seven F1 championships.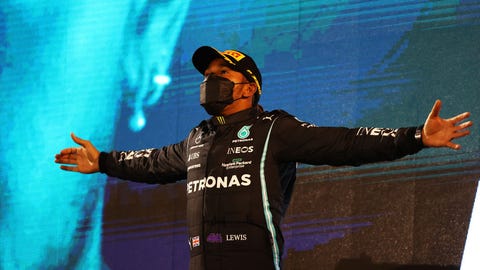 Lewis Hamilton celebrates his record-extending 96th career Formula 1 victory.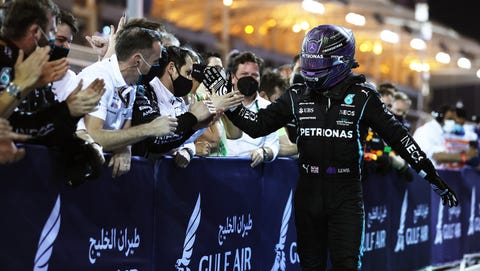 Race-winner Lewis Hamilton thanks the team for their role in the win in Bahrain.
Let the second-guessing begin as Max Verstappen failed to win from the pole on Sunday in Bahrain.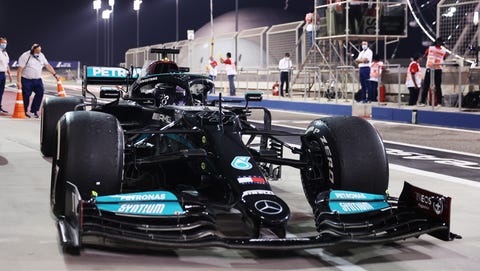 In addition to the race win, Lewis Hamilton passed Michael Schumacher on the all-time list of laps led in F1 competition. Schumacher led 5,111 laps in his career.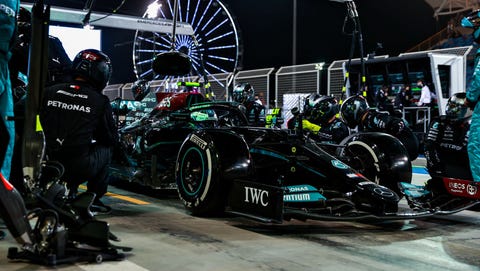 Mercedes' Valtteri Bottas had a 10.2-second pit stop when the crew had trouble removing a right-front tire. That stop cost Bottas a chance to stay within sight of the leaders.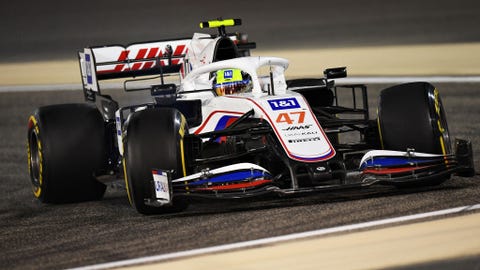 Mick Schumacher overcame an early spin to finish a lap down, in 16th place, in his Formula 1 debut for the Haas F1 team.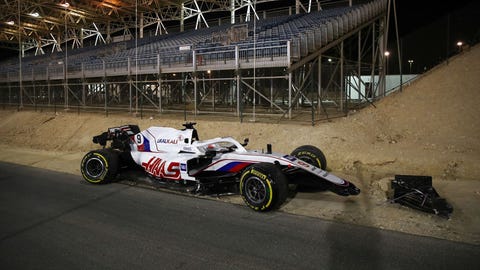 Haas F1 Team's other rookie, Nikita Mazepin, spun out of the race and into a barrier on the first lap in Bahrain. He failed to complete a lap.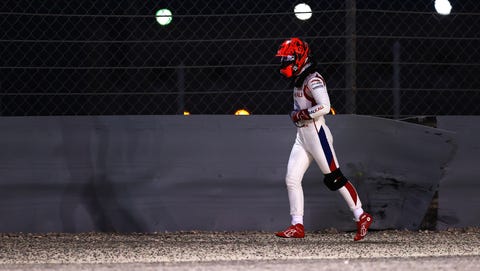 Nikita Mazepin makes the long run from his car back to the Haas compound after crashing out on the opening lap.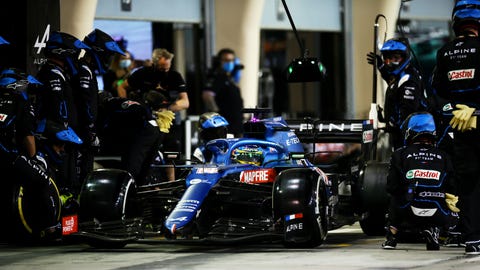 Fernando Alonso made his much-anticipated return to Formula 1 on Sunday, but it was a forgettable one. Alonso's Alpine machine retired with a brake issue 24 laps shy of the finish line.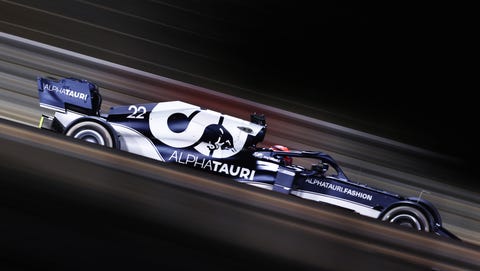 AlphaTauri rookie Yuki Tsunoda finished ninth to score points in his Formula 1 debut.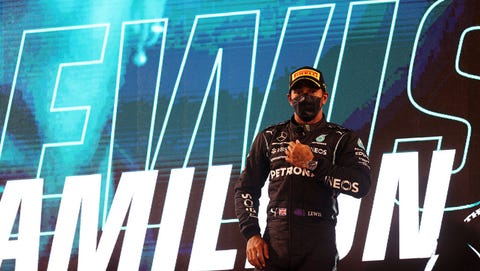 Somewhat surprisingly, this was Hamilton's first opening-race win of the Formula 1 season since 2015 in Melbourne.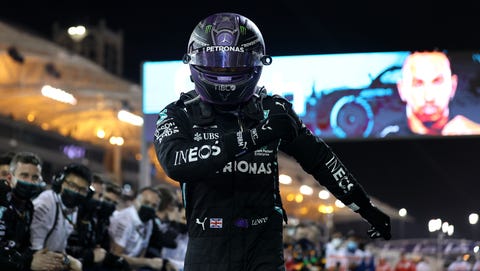 Lewis Hamilton scored the 25 championship points and will carry the lead into the next race, April 16 in Italy.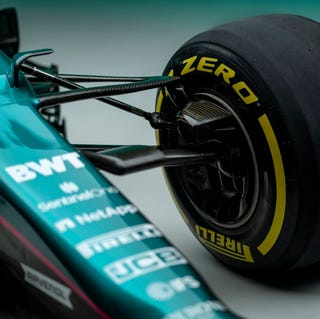 Source: Read Full Article