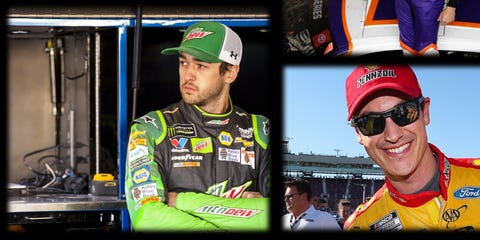 "You're on mute."
In what has become a very familiar 2020 setting, Media Day for the NASCAR Cup Series Championship Race was held through a video teleconference system. Due to COVID-19, the event was not held in person and the participants did not share a stage together for a televised Q&A session, where the drivers typically exchange jokes or the occasional jab.
Nevertheless, there were some memorable moments and takeaways from Brad Keselowski, Joey Logano, Denny Hamlin and Chase Elliott.
We've included the most memorable moments below.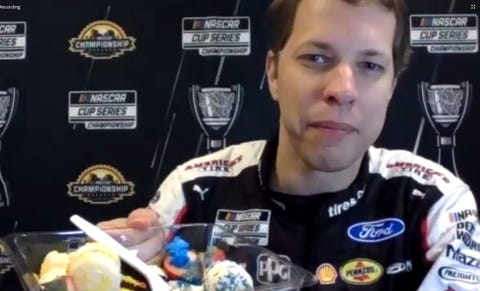 "Who sent the goodies? Thank you (NASCAR.) I only hate half of them. I don't think I was supposed to eat any of them, but you know what, it's media day and food brings people together, and takes grumpy people, and makes them happy. So, thank you, NASCAR."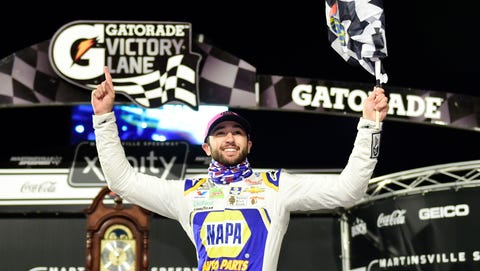 "To be real honest, I came home and went to bed, just to be real clear on that. I would have loved to come home, had a few beers, whatever, hung out. Just kind of the way it worked out. We had meetings Monday morning, obviously a big week of prep going into this last event. Really just kind of after the race tried to enjoy the moment, embrace it, recognize that situations and moments like that don't happen every day. Really enjoy that. At the same time just get ready and think about Monday and what we're going to talk about in our meetings looking ahead to Phoenix."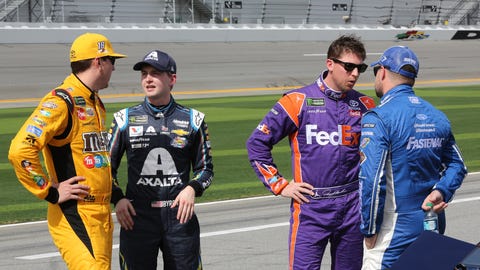 "I believe there's checks and balances. I believe that there's ‑‑ that's what me and my friends call it, friendship bank. You have deposits and withdrawals. We talked about this last year. Yeah, I mean, I've cut a lot of competitors breaks, especially at the end of stages, letting guys stay on the lead lap and things like that, and yeah, sure, you hope it comes back around, but there are no practices of that. Drivers have really, really short memories, depending on whether it's good or bad for them.
"But I believe I'm in a very good position with my competitors that I've cut breaks to. But not everyone will see it that way. I mean, and that's okay. I'm going to go out there and try to earn it any way that I can, the easy way, the hard way, but certainly I believe that when it comes down to the final race, and I've seen it in the past, that if you're typically a guy that carries favors with people, I've noticed in the final race they cut you breaks.
"I try to put as many deposits as I can throughout the year when it really doesn't cost me much, but it would be a benefit for them to hopefully get that in return. But if I don't, I definitely don't hold any grudges whatsoever."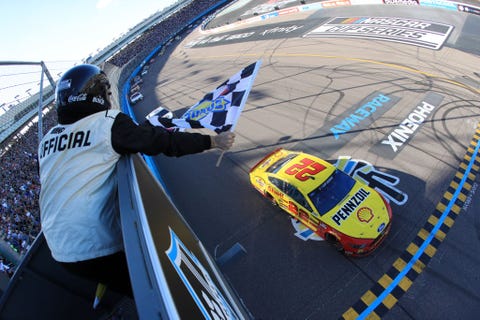 "We'll believe what we want to believe and we'll believe in ourselves first. I'll tell you again we're the favorites to win this thing. That's how it is in my mind. I said that a couple weeks ago, doesn't matter what anyone else thinks."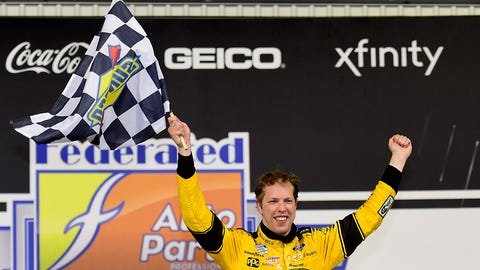 "I don't know about the word 'favorite.' I think that means different things to different people. You know, I always think of it more from a sense of a gambling connotation, but maybe other people think of it differently.
"So I really hesitate to use that word because I'm not a sports gambler, and that's what I hear when people say that.
"But there's things I feel great about, like I feel great about the tire, I feel great about the car we're bringing. This car and this tire combination we've won the last two races. There's some differences between Richmond, Loudon and Phoenix that maybe negate some of those advantages, but that's okay. My team has worked really hard, and I've prepared extra hard to be ready for the moment. Time will tell."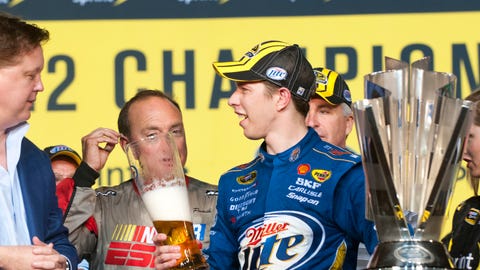 "My wife has told me that she will prepare the glass as long as I promise to drink responsibly. There's a little backstory to it. Those people that know me know that I like to leave things as they were, meaning that we located the glass from 2012. It still had beer in it a little bit on the bottom. Needless to say that was not a pleasant sight, but it was authentic, so my wife is cleaning it as we speak, she's going to wrap it up, put it in a nice bubble-wrapped box, and hopefully we'll be getting it out Sunday night."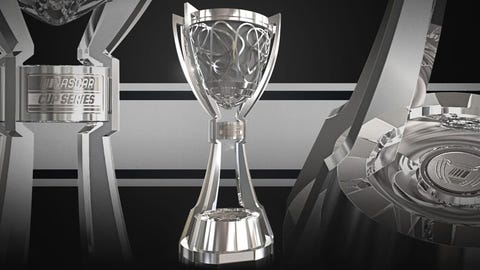 "You know, I'm one of those Stanley Cup guys where I don't like to touch the trophy before you actually win it, so I've never actually touched a NASCAR Cup Series championship trophy. I want to be able to touch it."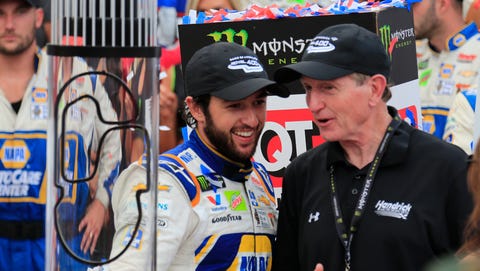 "For me, the big thing from talking to dad that I feel like he's kind of mentioned is just enjoy these moments because these aren't things you can take for granted. You don't know when your last race win is. You don't what tomorrow brings. Nothing's guaranteed, right? I think just enjoying these moments, trying to embrace them, especially after a race like Sunday, you wish you could just slow down time and enjoy that moment and make it last a little longer, but you can't. You just have to enjoy 'em as much as you can, put emphasis on that. I feel like that's where I'm at right now."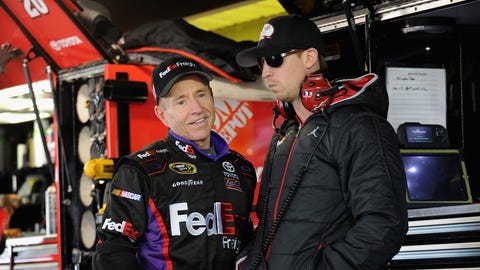 "I've said for a year now that I never would consider any comparison to Mark Martin an insult. I'll take those comparisons all day because the guy is a badass race-car driver that nobody wanted to face week in and week out, nobody. Not Dale Earnhardt, nobody wanted to face Mark Martin.
I think that championships ‑‑ I get it, it's very, very important. It's where I'm at the sport's highest level, most people gauge your success level or how good you are off of championships, but I also know that my competitors will probably say that I'm one of the toughest competitors and toughest guys to beat and that's all I really care about is having the respect of them and knowing that week in and week out I can go and compete for race wins, and knowing that over the last two years, ain't nobody won any more. I like where I'm at."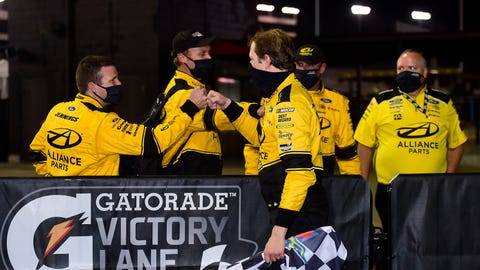 "You know, the way the playoff format is designed, it's meant to not give any free passes, even though there are teams that have performed really well for the majority of the season. With that said, our team is motivated. They're hungry. I'm looking at a group of people, and I think I'm the only one that's ever won a Cup championship on the entire team lineup. Three of my guys that go over the wall come from my truck team, and I'm super excited for them. I've been with them and helped them from kind of day one when they had never pitted a race car before and now here they are competing for a Cup championship. That just gives me butterflies deep down inside."
Source: Read Full Article