Next year, Pirelli, the official tire provider of Formula 1, is hoping to make it a bit easier for fans to understand what's going on tire-wise for those watching the race, both in person and through broadcast. At the United States Grand Prix this past weekend, Pirelli announced that for 2019, viewers will only have three colors of slicks to memorize, instead of the seven used this season. That should make things easier.
Currently, Pirelli uses seven compounds in its race slick tires, ranging from the pink sidewall Hypersoft to the orange sidewall Superhard compound. The compound affects roughly how many laps a tire can do in a stint–the softer the compound, the fewer the laps. They also affect how quickly drivers can complete a lap–again, softer compounds equate to faster lap times. It's science.
But it gets more complicated. For each Grand Prix, Pirelli announces which three tire compounds will be brought to a track, informed by several factors like the climate, the track surface, and the length of the race. So, you could see tires with red (supersoft), purple (ultrasoft), and pink (hypersoft) at one race, and yellow (soft), white (medium) and blue (hard) the next race.
Confused? We are too.
Earlier this year, the FIA and Formula 1 Management (FOM) asked Pirelli to reduce the number of colors for the 2019 season so casual fans could actually comprehend what tires were on a car during the race.
"We had a chat with FIA and FOM to understand how [the viewing experience] works, and it looks like some spectators are confused because there are too many colors, and some spectators are not really interested in technical details," explained Mario Isola, Pirelli's Head of Car Racing.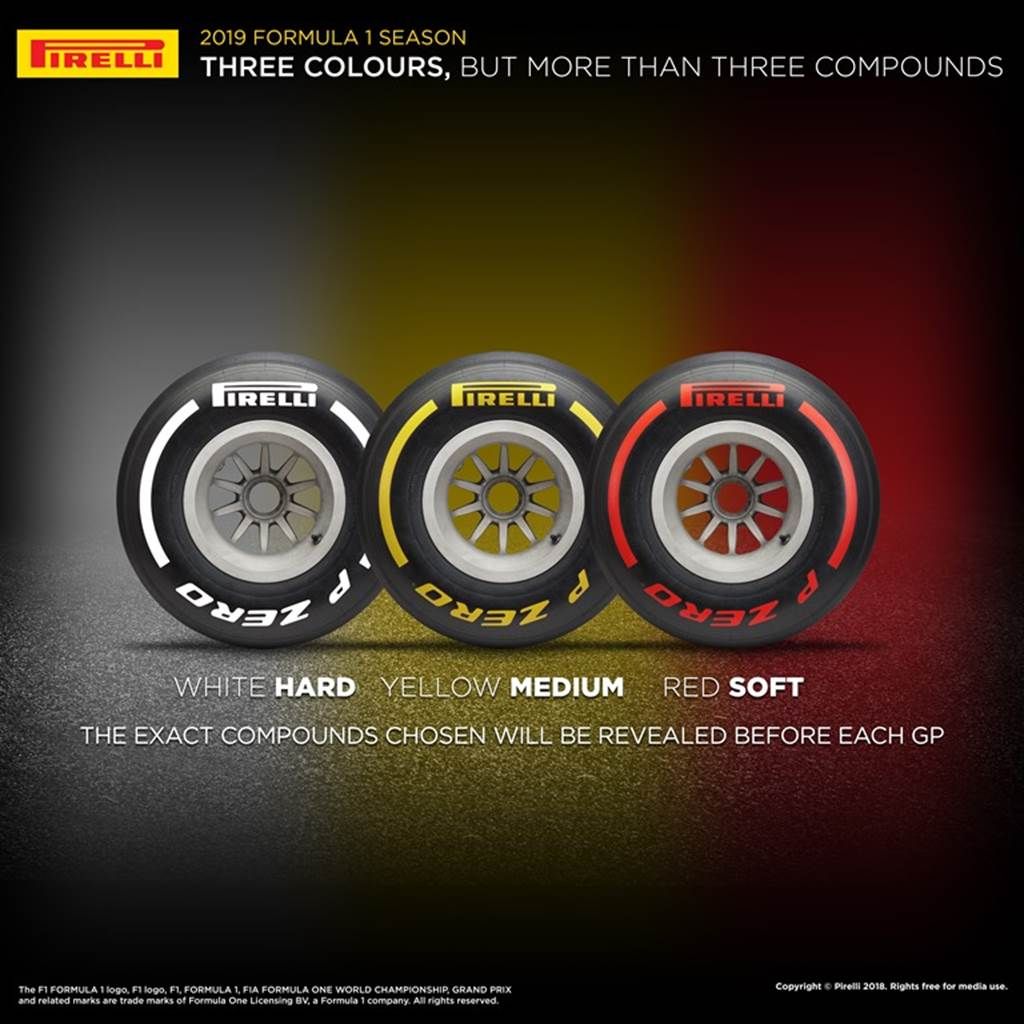 In 2019, there will be three colors.

Pirelli
Tire strategy is arguably the most important element of a race weekend for the teams, but can be very hard to convey on TV, and even harder for those casual fans attending a Grand Prix to keep up with during the race. Having just three colors in 2019–red, yellow, and white–should simplify the experience.
But what if you're one of those F1 super-geeks who know more about the sport than some of the drivers, don't worry. You haven't been forgotten. While there are only three colors, there will still be more than three tire compounds. Pirelli suspects five or six, pending homologation from the FIA late this year. The change is simply meant to bring the layman up to speed quicker with what tires a driver is using. For those who want to go deeper, Pirelli will release an in-depth chart before each race showing which compound the soft tire really is, although they won't have the cheesy, "adjective-soft" names. Instead, they will be ranked alphabetically or numerically, Pirelli hasn't specified yet.
So the most dedicated of fans will still know there are multiple levels of 'soft' tires while casual fans might finally be able to understand what tires are on a car during a race and why. It's the best of both worlds.
Source: Read Full Article