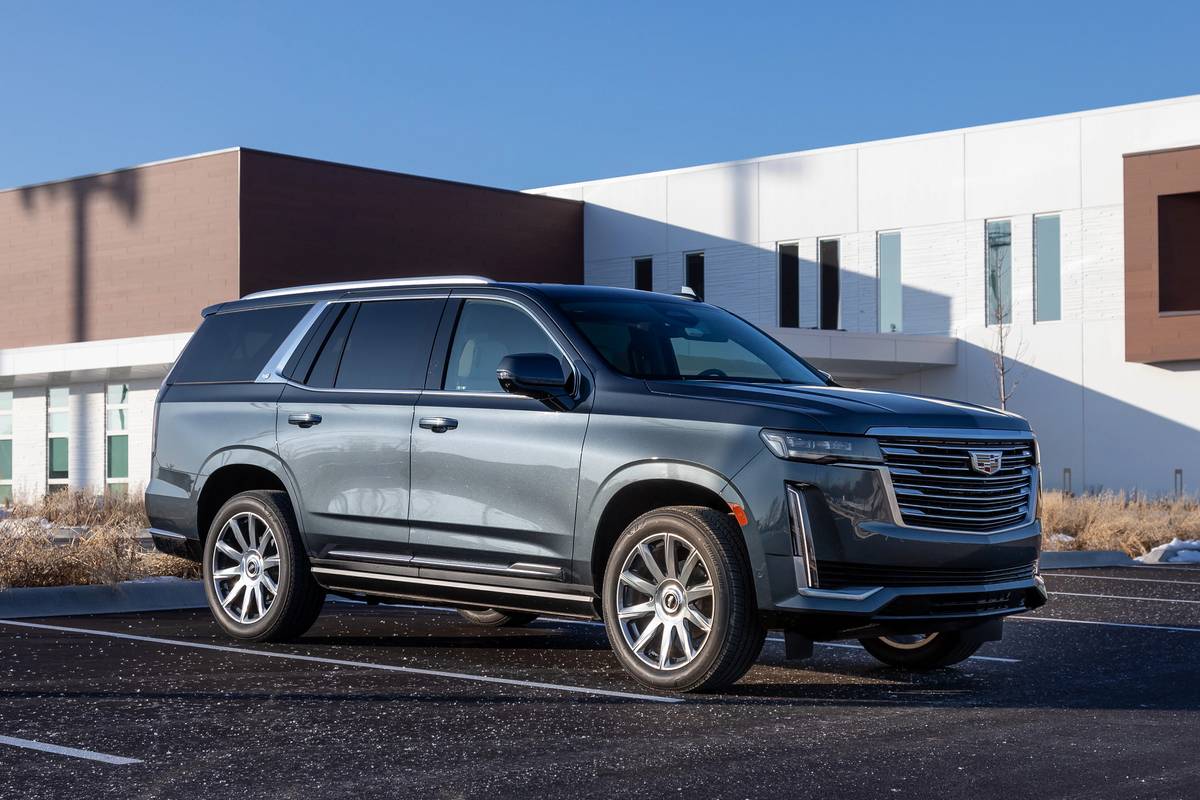 If ever you intended to "slide up in the Escalade" to "get solid like the Ice Capades," as the fella says, now might be the time to make your move. The Cadillac Escalade full-size luxury SUV is back for the 2021 model year, redesigned and ready to face anything its highfalutin' European competitors throw its way. The all-new 'Slade is so fine, in fact, it earned Cars.com's official designation as the Best Luxury Car of 2021 to beat out its fellow award nominees, the BMW X7 and Ram 1500 Laramie Longhorn/Limited.
Related: 10 Biggest News Stories of the Month: Ford Bronco Sport Laps Luxury, Electric, Elantra
In our No. 1 news article of the past week, we explain how the mighty Escalade came to luxuriate in our annual honors.
"With its 2021 redesign, GM's flagship luxury vehicle, the Cadillac Escalade, is now a stunning mechanical tour de force, a luxurious limousine that features impressive interior designs, a far more usable and comfortable cabin than the models preceding it, and technology that's never been seen before in a production passenger vehicle, luxury or otherwise," our editors opined.
The highlight reel for the behemoth family hauler includes two excellent powertrain choices (a muscular 6.2-liter V-8 and a torque-tastic turbo-diesel 3.0 liter six-cylinder), a suspension that lends a "super-smooth magic carpet ride experience," 22-inch wheels, a stunning 38-inch curved display screen that spans much of the cabin width and truly sumptuous cabin appointments. All that luxury, naturally, comes at a commensurate price, with this Caddy starting around $77,000 and topping out at more than $122,000 — so you might wanna snap yours up before Lil Uzi Vert has it implanted in his forehead.
For the full download on Cars.com's 2021 Luxury Car of the Year, follow the link below to our first-place finisher among the past week's most popular stories.
The Escalade factors in again in the second-place story on our weekly countdown, too, as it vies for our top prize: Cars.com's overall Best of 2021 vehicle. Cadillac faces five 2021 model-year rivals for the prestigious (if we do say so ourselves) award, including the Ford F-150, Genesis GV80, Hyundai Elantra, Kia Seltos and Kia Sorento. You'll have to wait until March 4 to find out who wins, but that'll give you time to read up on the other nominees, which you can start by following the link below to our No. 2 article of the week.
Settling for the bronze medal is our update on the whereabouts of the long-gestating Tesla Roadster. Now working on its fourth year without full production since its entree as a prototype, the Roadster will have a "release candidate design drivable" by late summer with production starting in 2022, Tesla CEO Elon Musk tweeted on Jan. 28. Check out our No. 3 article of the week for more on the Tesla Roadster.
Rounding out the week's top five are a full preview of the redesigned 2022 Nissan Pathfinder, at No. 4; and Cars.com's nominees for our Best Value of 2021 award, at No. 5. You'll find more Best of 2021 coverage farther down the list, with nominee announcements for Best Pickup Truck of 2021 and 2021 Family Car of the Year checking in at Nos. 8 and 9, respectively.
Beyond all that, we have headlines on the Ford F-150, Nissan Frontier and Cadillac XT5, so keep reading. Here are the top 10 news stories Cars.com readers couldn't get enough of in the past week:
1. 2021 Luxury Car of the Year
2. Best of 2021
3. When Is the Tesla Roadster Release Date? We're Still Waiting
4. 2022 Nissan Pathfinder: Going Rogue
5. Best Value of 2021
6. Redesigned 2021 Ford F-150 Raptor Bulks Up, Techs Up
7. 2022 Nissan Frontier Gets Major Update, Keeps Its Tidy Dimensions
8. Best Pickup Truck of 2021
9. 2021 Family Car of the Year
10. 2020 Cadillac XT5 Sport: 5 Things We Like, 2 We Don't
Related video:
Cars.com's Editorial department is your source for automotive news and reviews. In line with Cars.com's long-standing ethics policy, editors and reviewers don't accept gifts or free trips from automakers. The Editorial department is independent of Cars.com's advertising, sales and sponsored content departments.
Source: Read Full Article