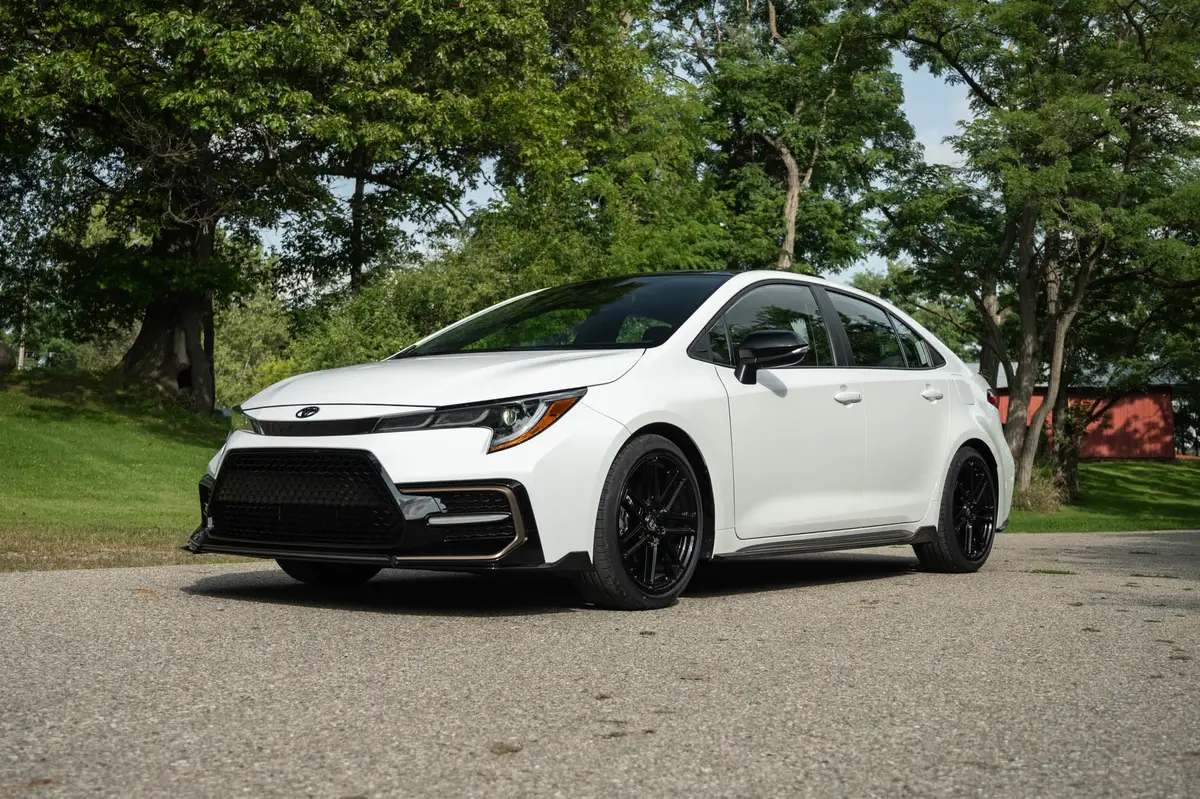 Facing small sedans like the Honda Civic and Kia Forte, the 2021 Toyota Corolla offers lots of value, a reputation for dependability, a comfortable cabin and a lengthy list of widely available active safety features. The 2021 Toyota Corolla Apex Edition, available in SE Apex and XSE Apex variants, builds on this with sportier exterior trim, including standard LED headlights, bronze and black bumper accents, black-painted alloy wheels, a redesigned rear bumper and an optional rear spoiler.
Related: 2021 Toyota Corolla Apex Edition Review: Why Put Track Shoes on an Accountant?
That  doesn't exactly turn the Corolla into a fire-breathing sports car, but the Apex Edition provides Toyota's affordable sedan with some newfound swagger. Inside, you'll find the same five-passenger cabin, and under the hood is the exact same 169-horsepower, 2.0-liter four-cylinder engine offered in other high-trim Corollas. (Lower trims have a 139-hp, 1.8-liter four-cylinder.) 
Unfortunately, that's part of the problem. Despite the visual makeover, the bulk of the Corolla XSE Apex Edition remains the same as the regular Corolla sedan.   
 The Apex Edition does have some mechanical changes, but it's debatable whether they make it sportier or just bumpier on rough roads. Compared to direct competitors like Honda Civic Si and Kia Forte GT, the Corolla Apex Edition puts up a tepid fight and takes a solid share of punches.
You can find our full review of the 2021 Toyota Corolla Apex Edition by clicking the link above. To discover the key attributes that we enjoyed in this (mildly) spicy sedan plus some things Toyota needs to rethink, keep reading.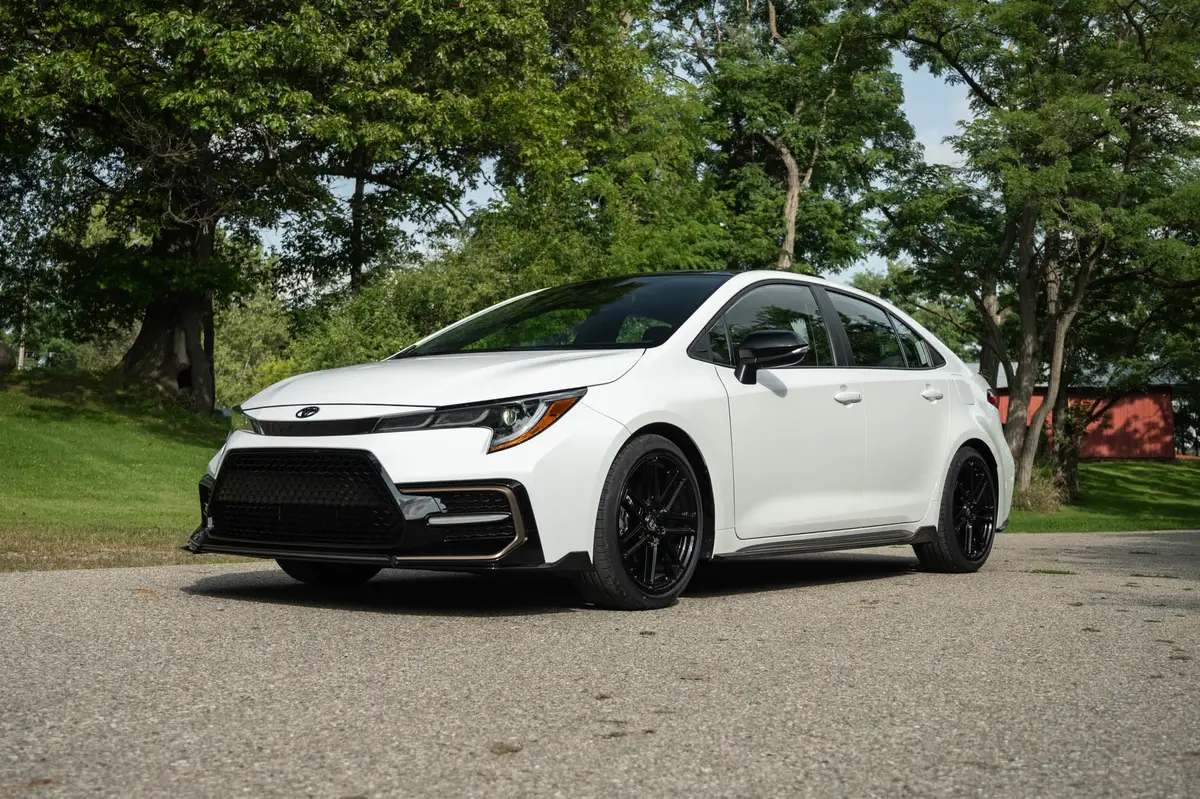 Things We Like
 1. A Corolla at Heart
This isn't meant as faint praise to a car that aspires to be much more than a practical economy sedan. The current generation Corolla delivers lots of value and driving comfort, plus enough widely available safety and driver-assist features to make many luxury sedans blush. It's fuel conscious, too. When equipped with its optional continuously variable automatic transmission, the Apex Edition delivers an EPA-estimated 34 mpg combined.  
 2. Surprisingly Stylish
Yes, we'll admit it, the Toyota Corolla has some sex appeal. Granted, we're talking PG-13 levels of romance, but that's fine for this category of car. The current Corolla — which Toyota redesigned for 2020  — remains a handsome choice among more faddish rivals . The Apex Edition rides slightly lower, thanks to its revised suspension, and details like black 18-inch alloy wheels and trunk-mounted spoiler add extra visual appeal. It's enough to give this Corolla a sporty edge without waving the "give me a speeding ticket" flag too high.   
3. Available Manual Transmission
The art of shifting gears is fading as more cars and trucks go automatic only. Not so for the Corolla Apex Edition, which comes with a six-speed manual gearbox in SE Apex form. A CVT is optional on the SE Apex and standard on the XSE Apex, but the manual is the better choice to get the most out of the 169-hp, 2.0-liter four-cylinder engine. During our test drive, we found the CVT awkward in its operation, with jerky shifts when the car was in its driver-selectable Sport mode. The selectable Eco mode makes the Apex unresponsively slow. Go with the manual if you can find one; it will account for just a fraction of the Apex Editions built.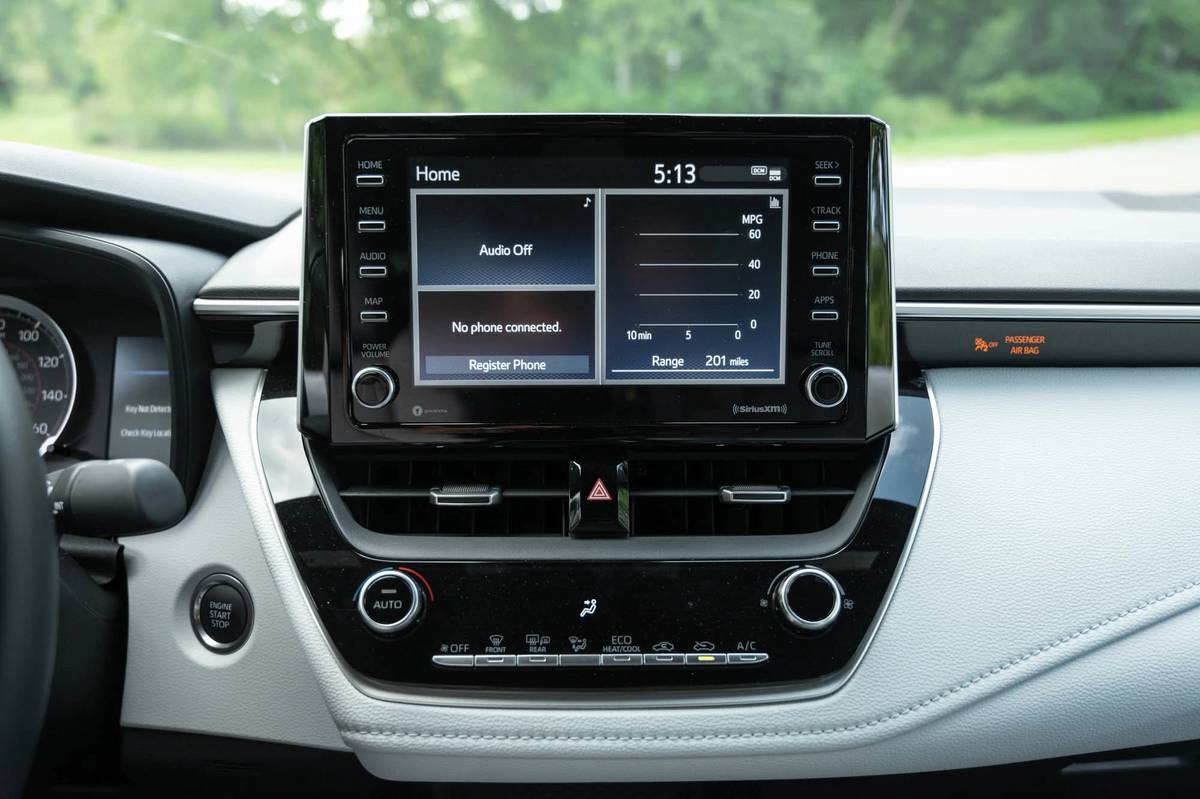 4. Comes Well Equipped
The Corolla Apex Edition comes with comfort and convenience touches like one-touch up and down functionality for all windows, a leather-trimmed steering wheel, an onboard Wi-Fi hot spot and an 8-inch touchscreen  with Apple CarPlay, Android Auto and Amazon Alexa. Like in other Corolla trims, space is plentiful for anyone seated in the front or rear, and large windows make for good outward visibility.
More From Cars.com:
2020 Toyota Corolla Review: Hatchback-Nice With a Trunk and Real Backseat

2021 Toyota Corolla Reaches Peak Sportiness With Apex Edition

2020 Toyota Corolla: 9 Things We Like (and 3 Not So Much)

2020 Toyota Corolla Sedan Snags Hatch Looks, Leaves Powertrains

Research the 2021 Toyota Corolla
Things We Don't
 1. Harsh Ride
Toyota fits the Apex Edition with new shocks and springs, along with beefier stabilizer bars front and rear. As a result, this Corolla sits 0.6 inch lower and rides much firmer than other variants of the compact sedan. Ride quality is one of our biggest complaints in the Apex Edition. It feels amateurish, with large bumps bouncing the car around to rattle everyone inside. It's horribly unpleasant on all but the smoothest roads.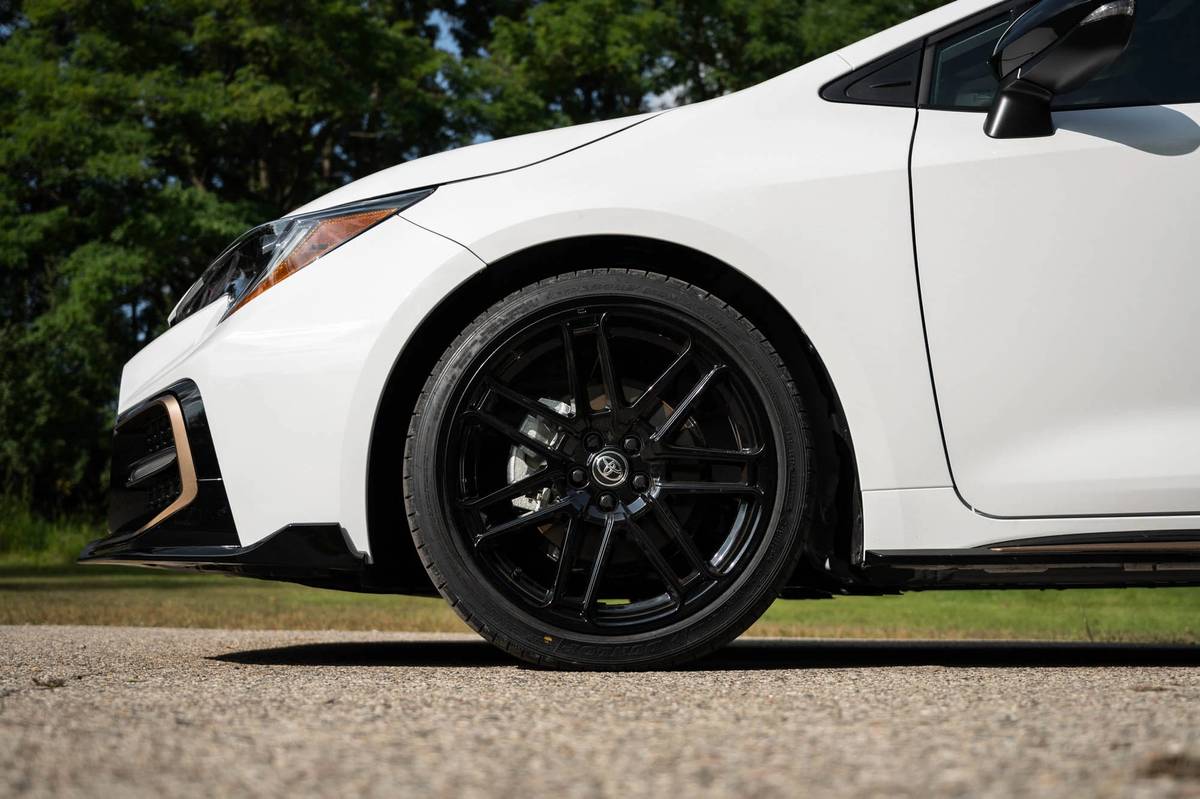 2. Hit-and-Miss Cabin Details
There's much to like inside the Corolla, but some items look chintzy. The stereo's volume and tuning knobs, for example, have stubborn responses, while the tiny climate controls are hard to operate while driving. It's a head-scratcher when there's plenty of space for larger, classier controls.
Related Video:
3. Not Enough Sport in this Sporty Edition
Performance fans will notice the Apex Edition has the same horsepower and steering ratio offered in the regular Corolla sedan. Steering feedback is limited, and acceleration is adequate for an economy sedan but disappointing for one with sporting pretensions. The Honda Civic Si and Kia Forte GT, to name two alternatives, have sharper handling and punchier engines. 
4. Not a Great Performance Value
Our as-tested Corolla Apex Edition stickered at exactly $26,440, including the destination fee. This is a lot of money for a car that has no additional power and intends to go up against competitors with similar or lower pricing but much more enjoyable driving experiences, such as the aforementioned Honda and Kia. 
Cars.com's Editorial department is your source for automotive news and reviews. In line with Cars.com's long-standing ethics policy, editors and reviewers don't accept gifts or free trips from automakers. The Editorial department is independent of Cars.com's advertising, sales and sponsored content departments.
Source: Read Full Article