Number of new cars registered in the UK fell by over 28,000 year-on-year last month, with lockdown keeping dealerships closed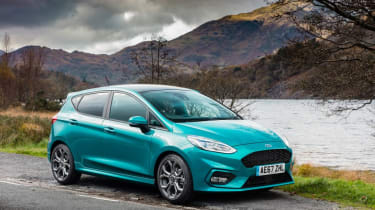 Ford Fiesta
New car registrations in the UK have seen their worst February since 1959, with demand falling 35.5 per cent.
Only 51,312 new cars were registered in February 2021 – 28,282 fewer than in the same month last year – with private and fleet sectors seeing declines of 37.3 per cent and 33.5 per cent respectively, according to the latest figures from the Society of Motor Manufacturers and Traders (SMMT).
Best-selling cars of 2021
Ongoing lockdown restrictions across the UK have kept all car showrooms closed since early January, with many having been shut longer than that under the previous Tier 3 and Tier 4 restrictions.
The Government's recently announced lockdown exit roadmap will not allow dealers in England to reopen until 12 April, alongside all other non-essential retail. The SMMT and other trade organisations have called for showrooms to be allowed to open earlier than that due to their Covid-secure nature.
The decline was consistent across all vehicle segments except luxury saloons, which saw a 3.8 per cent increase in registrations. One positive was electric cars and plug-in hybrids took a 13 per cent market share, up from 5.7 per cent in February 2020
In spite of this, the SMMT warned that increasing uptake of EVs in the run-up to 2030 – when the sale of new conventional petrol and diesel cars will be banned – is a "mammoth task", and that the Budget was a "missed opportunity given the lack of measures to support the market". The Chancellor's decision to extend the furlough scheme was welcomed, though.
March is usually the busiest month of the year for the new-car market due to the number-plate change, but the SMMT now fears a "dismal" reception for the latest 21-plate. The organisation predicted in January that 1.89 million new cars would be registered in 2021, but has now revised this figure down to 1.83 million.
Mike Hawes, chief executive of the SMMT, said: "February is traditionally a small month for car registrations and with showrooms closed for the duration, the decline is deeply disappointing but expected. More concerning, however, is that these closures have stifled dealers' preparations for March with the expectation that this will now be a third successive dismal new plate month.
"Although we have a pathway out of restrictions with rapid vaccine rollout, and proven experience in operating click and collect, it is essential that showrooms reopen as soon as possible so the industry can start to build back better, and recover the £23 billion loss from the past year."
Find out the best cars coming out in 2021 here…
Source: Read Full Article