The new CX-60 SUV will make its debut next month as Mazda's first ever plug-in hybrid vehicle – and it'll soon be joined by the larger CX-80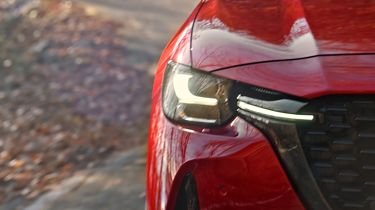 Mazda has confirmed some specifications for its all-new CX-60 SUV. It'll make its debut on March 8, sporting the brand's first ever plug-in hybrid powertrain – and it'll be joined shortly after by a larger seven-seat variant called the CX-80.
The CX-60's plug-in hybrid powertrain will be based around a 2.5-litre four-cylinder petrol engine – and Mazda says the system will have a "power output in excess of 300PS" (around 296bhp). The size of the battery pack and the system's maximum electric range hasn't yet been confirmed but, to be competitive in its class, it'll need an electric range of around 35 miles.
New Mazda CX-5 2022 review
Mazda's new CX-60 and CX-80 SUVs form the company's new "Large Product Group," and will be based on a new scalable platform that's designed for use across several international markets. As the CX-80 will have an extra seating row in the back, it's also possible that Mazda will extend it's wheelbase to make space.
Along with the new plug-in hybrid powertrain, Mazda will also sell both SUVs with a choice of straight-six engines. These are also completely new and will use the brand's Skyactiv-X combustion technology and 48-volt mild-hybrid assistance. The brand has confirmed that 48-volt diesel power is on the way, too.
Wider-bodied variants of the two new SUVs are planned for other markets such as the United States, and will be badged CX-70 and CX-90. A car from the brand's "Small Platform Group" will also be launched in North America and other select non-European markets, badged CX-50.
The announcement came with a new teaser image of the CX-60's headlamp, which is our first official glimpse at the car's styling. It features a new separated daytime running light which is fixed to the radiator grille. The intake also appears to follow the same U-shaped design language set out by the CX-5.
It's worth noting that the CX-60 and CX-80 won't replace for the CX-5. They'll be positioned above the brand's mid-size SUV and will crown the line-up in Europe. So think of them as rivals for the likes of the Hyundai Santa Fe and SEAT Tarraco.
Mazda also reiterated its plans to launch three new electric vehicles by 2025, which will be built on existing architecture. After 2025, the firm will launch a complete range of electric vehicles, which will make use of a dedicated battery electric platform.
Check out the latest on Mazda's Toyota Yaris-based 2 here…
Source: Read Full Article