The electric Volkswagen ID.4 SUV will go on sale later this year, with a maximum claimed range of 311 miles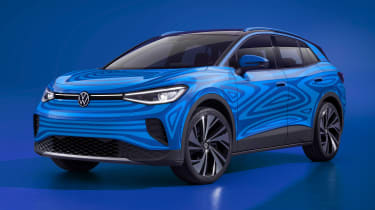 Undisguised images of the new VW ID.4 in production form have surfaced online, giving us our first look at all-new electric crossover. The official unveiling of the model was originally set to take place earlier in the year but was delayed due to the coronavirus pandemic.
It's unclear where these latest images were taken but given the volume of leaked shots it's likely that they were to be used as promotional or marketing material for the model. 
Volkswagen ID.4 Leaked in Full! https://t.co/4Y8JUuMBRG pic.twitter.com/FKmbeHXkhv
The overall design of the ID.4 sticks closely to that of the ID.Crozz concept that previewed the model. Slim LED headlamps are connected by a lightbar at the front-end, which will become a familiar design treatment used across VW's range of future ID. models. 
The model pictured also appears to be the standard version of the ID.4. VW bosses have previously confirmed that more coupe-like version of the SUV will also be launched.
ID.4 official images
Volkswagen has already unveiled a near-production version of the all-electric ID.4 SUV under a light disguise, following the cancellation of this year's Geneva Motor Show. The German brand also confirmed that it's new electric model will go on sale this year in Europe, China and the United States, where it will rival the the Tesla Model Y, Hyundai Kona Electric and Kia e-Niro.
From launch, the ID.4 will only be offered with rear-wheel-drive, although a four-wheel-drive variant will be added later in the model's production cycle. Full details for the powertrain are yet to be confirmed, but Volkswagen has stated that the ID.4 will offer a maximum range of 311 miles, depending on the powertrain.
Best electric cars to buy 2020
The ID.4's performance specs are also yet to be confirmed – although the ID. Crozz concept featured a pair of electric motors that provided a power output of 302bhp and a top speed of 112mph. Volkswagen's MEB platform can also accommodate battery packs ranging between 45kWh and 77kWh in size, which translates to between roughly 200 and 300 miles of range.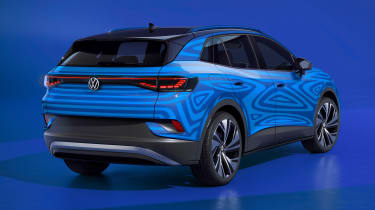 While still camouflaged, the images of this pre-production ID.4 showed that it has adopted a more conventional look than its precursor, the ID. Crozz concept, ditching the show car's rear liftback in favour of a practical tailgate and reinstating the concept's missing B-pillars and wing mirrors.
Some of the concept's design features have been retained, though. Volkswagen's trademark "ID." daytime running lights, LED headlights and blanked-off radiator grille feature relatively unchanged, as does the concept's raked windscreen and rugged black plastic mouldings for the wheel arches and side skirts.
There are clear nods to the ID.3 in its design, too, with Volkswagen making a conscious effort to pen a coherent design language for its electric car line-up. As such, the ID.4 shares a similar rear lighting configuration and comparable silhouette to its hatchback sibling.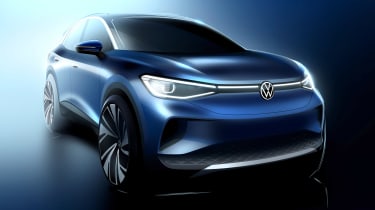 Through the windows of one of the development mules in our spy shots of the car, we recently spotted a "floating" infotainment system and digital instrument binnacle through. Volkswagen has now confirmed that both of these will feature on the production model, along with an intuitive voice control system.
The ID.4 (along with its sister vehicle, the ID.3 hatchback) forms part of Volkswagen's aim of becoming completely carbon-neutral by 2050. The company has also invested one billion euros in electrified vehicles, with the further aim to cut its fleet CO2 emissions by 33 percent by as early as 2025.
What do you make of the new Volkswagen ID.4 SUV? Let us know in the comments section below…
Source: Read Full Article