Eleventh-generation Honda Civic will get a new range-topping Type R performance model – and our exclusive image previews how it could look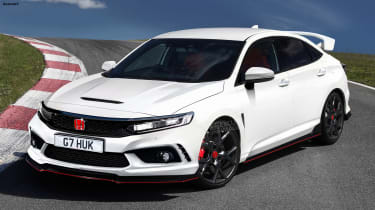 Honda recently teased the saloon version of the eleventh-generation Civic, ahead of its planned debut in Spring next year. In the same announcement, the Japanese brand also confirmed that the Type R hot hatchback will soon make a comeback.
The next-generation Honda Civic Type R is expected to make its debut in 2022 – and it should delight enthusiasts when it arrives. Like the current car, it'll sidestep hybrid assistance in favour of a traditional internal combustion engine.
Best hot hatchbacks 2020/2021
Our spy photographers have already spotted Honda's first Civic Type R mules undergoing their road test programme – and the images show the new car has grown larger than the current model. The car's wheelbase is visibly longer, while its front overhang is more pronounced.
Despite this increase in size, Honda's styling changes for the new Type R appear to be evolutionary rather than revolutionary. Like the upcoming standard hatchback, Honda has softened the car's lines in an attempt to broaden the car's appeal on a global scale, ditching many of the fake vents and giving the car, crisper, cleaner body surfacing.
The current Type R's enormous rear wing and deep front splitter will survive the redesign, though – and the hot hatchback's unusual tri-barrel centre-exit exhaust is expected to make a return, as hinted by the cutout on this prototype's rear bumper.
Inside, the hot hatchback will mirror the standard car's design with a new nine-inch infotainment system mounted atop the dashboard and a fresh digital instrument cluster ahead of the driver. Buyers will also likely get a new pair of sports seats, an updated sports steering wheel and an aluminium pedal box, plus the Type R's signature aluminium shift knob.
However, the new car's most interesting feature will be its powertrain as, while the rest of Honda's range is steadily marching towards electrification, the next Type R won't. The brand recently clarified its EV strategy by announcing its aims to only electrify its "mainstream" European line-up by 2022.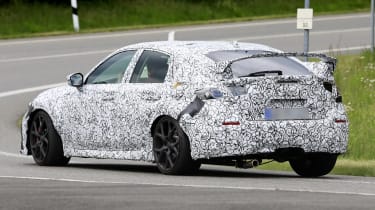 When asked if this included the Type R, Tom Gardener, Senior Vice President at Honda Europe, told us: "We have our main pillars that are going to be electrified. Clearly we have a very famous product – such as the derivative of the Civic, which I guess is what you are referring to in the Type R – but no decisions have been made on that yet.
"We're very much aware of customers' strong appreciation of the current model, and we'll have to deeply consider the best progress forward."
Based on Gardener's statement, we expect the new Type R will use an updated version of the existing car's turbocharged 2.0-litre four-cylinder petrol engine. Naturally, Honda will make a few efficiency tweaks – and power will rise over the current 316bhp, to help keep the hot hatchback competitive with the new Volkswagen Golf R. It's almost certain that the Type R will retain its six-speed manual gearbox and front-wheel drive set-up, too.
Production of the model will also move, from its current base in Swindon, which is due to close in 2021, to one of Honda's facilities in Japan.
Honda Civic Type R timeline
1996 (EK9)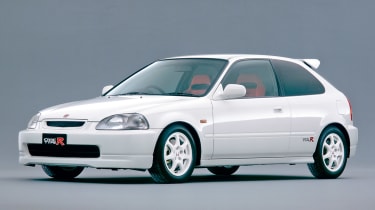 The very first Civic to wear the Type R badge was built in Japan as a three-door hatch. It had a 1.6-litre VTEC engine that developed 181bhp.
2001 (EP3)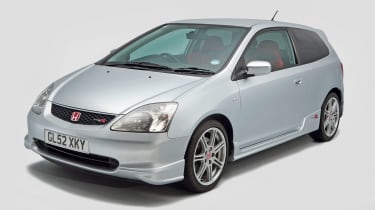 The EP3 generation Type R was the first to be manufactured at Honda's Swindon plant and sold overseas. It was powered by a 197bhp 2.0-litre VTEC engine.
2006 (FN2)
Two versions of third-generation Type R were launched: a four-door saloon for Japan and a three-door hatch for Europe, both with the same engine as the EP3.
2012 (FK2)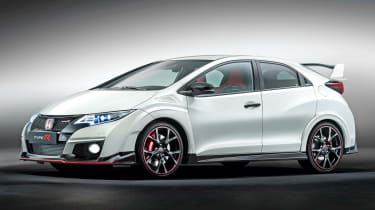 Honda moved to a five-door hatchback body for this generation. The Type R also had turbo power for the first time, with a 306bhp 2.0-litre four-cylinder.
2016 (FK8)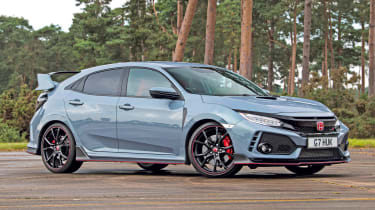 Current Type R will be the last produced at Swindon. It's the most powerful version yet, with 316bhp, and was the first to be exported to North America.
What do you think of our exclusive Honda Civic Type R image? Let us know in the comments section…
Source: Read Full Article