New-car registrations saw a nine-year low in October 2020 with 1.6 per cent decline, half of which was due to Welsh lockdown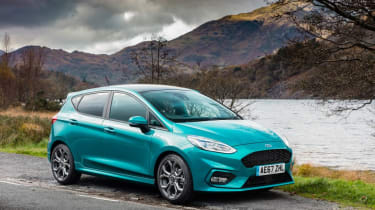 Ford Fiesta
New-car registrations in the UK dropped 1.6 per cent year on year in October 2020, with more than half of the decline caused by the Welsh "firebreak" lockdown subduing demand.
Some 140,945 new cars left dealer forecourts in the month – the worst October since 2011 and 10.1 per cent lower than the average figure recorded over the past decade.
Best-selling cars in the UK 2020
Demand across much of the UK was sustained by the arrival of new models and financial incentives, but the Welsh lockdown that came into effect on 23 October caused a 25.5 per cent decline in that region, according to the Society of Motor Manufacturers and Traders (SMMT).
Overall, there were 0.4 per cent and four per cent increases in private and business car registrations respectively, but fleet registrations were down 3.3 per cent – equivalent to 2,500 vehicles.
October 2020's performance was flattered by that of the same month last year, which saw supply issues and political uncertainty due to Britain's expected departure from the EU on Halloween, all of which contributed to a hefty 13.1 per cent decline.
As of mid-October 2020, the UK car industry was expecting to have registered 1.66 million new cars by the end of the year. With English lockdown closing showrooms through most of November, though, this figure has now been downgraded to 1.56 million. This will equate to a total annual loss of around 750,000 new car registrations and a £22.5 billion loss in turnover, making 2020 the weakest year for the industry since 1982.
Mike Hawes, chief executive of the SMMT, commented: "When showrooms shut, demand drops, so there is a real danger that with England today entering a second lockdown, both dealers and manufacturers could face temporary closure.
"What is not in doubt, however, is that the entire industry now faces an even tougher end to the year as businesses desperately try to manage resources, stock, production and cashflow in the penultimate month before the inevitable upheaval of Brexit.
"Keeping showrooms open – some of the most Covid-secure retail environments around – would help cushion the blow but, more than ever, we need a tariff-free deal with the EU to provide some much-needed respite for an industry that is resilient but massively challenged."
Find out the best cars coming out in 2021 here…
Source: Read Full Article