The Citroen Ami Buggy opens up the small urban EV to a more adventurous style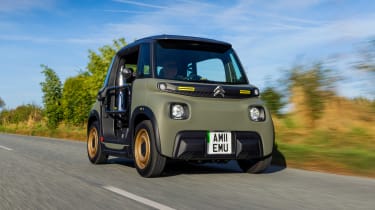 4.0 out of 5
How we review carsBuy used for less at Buyacar
Verdict
The Citroen Ami Buggy is less practical and more expensive than its Ami or Ami Cargo siblings, but it's almost certainly the most fun. The regular Ami brings bags of charm, while the pared back Buggy model manages to hit a real sweet spot in its execution and will no doubt sell by the bucketload when Citroen decides to bring more examples to the UK.
Citroen has taken its answer to future urban mobility, the Ami small EV, and given it the full 'Point Break' treatment, leaving the Ami Buggy as a stylish, stripped-back version of its low-cost quadricycle, that's ready for plenty of outdoor adventures and short-haul trips to the beach.
The original Ami caused a stir when it debuted back in 2020, having been teased as a concept the previous year, and it has since enjoyed healthy sales – reportedly shifting more than 30,000 units globally in standard and commercial Cargo form.
As mentioned above, the Ami isn't classed as a car in this country – legally, it's a quadricycle, which means even a 16-year-old is allowed to drive it on public roads as long as they have a full AM moped licence. And, when Citroen released an ultra-limited series of the Buggy last year, all 50 units sold out in France in less than 18 minutes, while this year's follow-up run of 40 EVs allocated for the UK went the same way.
More reviews
Road tests
New Citroen Ami 2022 review

So, demand is definitely there for the Ami Buggy's particular brand of electric mobility, and the French manufacturer is likely to make a further production run available in 2024 for its growing fan base.

At £10,495, the Buggy will cost you around £2,500 more than a standard Ami, following a 'less is more' recipe often employed by supercar brands looking to inject more dynamic flair to a particular model. While the Buggy may not bring any extra power or pace – its quadricycle status limiting it to a top speed of 28mph – Citroen has focused on upping the fun factor.

Has it succeeded? Absolutely. You can't help but smile as you approach the little EV, with the most noticeable change being the hinged black bars in place of the regular doors, and a zipped fabric section in place of the large glass roof.

The Khaki exterior colour and black protective trim give it a chunky, purposeful appearance, while the reinforced bumpers, skid plates, wheel arch extensions and rear spoiler add to the chunky design.

Citroen has included zip-through clear plastic doors that roll back when not in use, although these are merely a token to prevent the worst of the weather, because they only extend to cover the upper part of the door opening, leaving the lower section still exposed.

There's something of the fairground ride experience as you climb in and close the side safety bar in place with a heavy clunk, but it actually feels relatively reassuring. The grey plastic interior is fashioned to be able to wipe down easily, while the yellow trim highlights lift the ambience, and overall the Ami Buggy feels robust and well-made.

The no-frills approach continues with just a single digital readout and the drive mode buttons found to the side of the steering wheel – away from their usual home between the side sill and the driver's seat to help protect the electrics from any water ingress. Onboard connectivity is limited to a single USB port that sits just below a cradle for your mobile phone, while there's a small circular recess on the dash which houses a (optional) bluetooth speaker.




All Ami models are left-hand drive with the passenger seat set back slightly in the cabin. Storage options are limited, but do include space behind both seats – large enough for a soft bag or jackets – along with a small, zippable compartment that attaches to the steering wheel and plastic trays across the dash that can hold various oddments.

Starting up and getting going is easy, with a traditional key and a prod of the D button to engage the electric motor. The Buggy is plenty quick enough off the line to keep up with regular traffic (taking a little over 5.0 seconds to reach 20mph), although just a smidgen more power would be welcome. Citroen says it has no intention of offering any power upgrades due to the strict quadricycle laws in France, and in truth, it doesn't really take away from the experience out on the road. In fact, it's quite liberating to be able to keep your foot pressed to the floor when navigating your way through 30mph zones.

It all feels stable enough cruising along at the upper end of the Ami Buggy's ability, and the little EV copes with the usual pockmarked tarmac and other more challenging routes off the beaten track remarkably well. Its diminutive dimensions allow for a 7.2-metre turning circle, too, which trumps the 8.5-metres offered from a London cab and makes life a lot easier in more congested areas.

Retaining the same 46-mile range as the rest of the models in the Ami family, the Buggy should be practical enough, while recharging the 5.4kWh battery takes just four hours to replenish from empty to full.

| | |
| --- | --- |
| Model: | Citroen Ami Buggy |
| Price: | £10,495 |
| Powertrain: | Single electric motor, 5.4kWh |
| Power: | 8hp |
| Transmission: | Single speed, front-wheel drive |
| Top speed: | 28mph |
| Range: | 46 miles |

Source: Read Full Article