The new Dacia Jogger has arrived, but does it offer the perfect balance of space and value-for-money? We find out…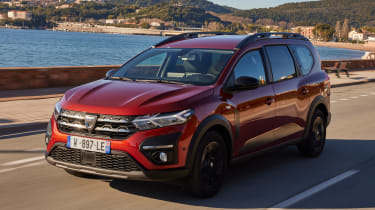 4.5 out of 5
Verdict
The Dacia Jogger has huge potential to shake up the seven-seat SUV market, but also to draw in buyers from conventional Golf-sized hatchbacks. It's spacious, comfy, well specced and hugely practical, and the prices look astonishing. If the finance deals are as good as they are tipped to be, then it's already hard to see how the mid-spec Jogger could possibly miss out on an extra half-star when we try it on UK roads in a few weeks' time.
Dacia is a brand absolutely on fire at present, with its Sandero scoring a podium place in the European sales rankings in 2021 – ahead of its Renault Clio cousin, no less. Now the Romanian brand is setting its sights on the people-carrier market with the Jogger.
In typical Dacia fashion, this is not your normal MPV. For starters, its styling is downright odd – a basic supermini profile up to the B-pillar, where there's a sudden 40mm step up in the roof height. Once you've noticed it, you can't unsee it – and yet it almost works, because the rest of the Jogger's profile turns into a mish-mash of SUV and estate car. The tailgate has neat vertical tail-lights that help to maximise the aperture into the metre-wide load bay.
Best people carriers and MPVs 2021

The car is based on the same CMF-B platform as the Clio and the Sandero, but the wheelbase is stretched to the max – to 2,898mm, in fact, so the gap between the axles is more than 250mm longer than you'll find in a current Volkswagen Golf.

Then, of course, there's the price positioning. Every Jogger in the UK will have seven seats as standard, so you might expect Dacia to nudge the numbers beyond the £20,000 mark. After all, even VW's ageing Touran starts at £27k these days, and Citroen's even older Grand C4 Spacetourer will set you back a couple of grand more again.

But no. In fact, the bulk of the Jogger range will cost less than an entry-level Ford Fiesta. Even the fully laden launch edition weighs in at less than £17,500, and while Dacia hasn't announced any representative finance numbers, there's a growing expectation that most of the range will cost less than £200 per month – off the back of a single month's deposit.

In 2023 this new model will become Dacia's first hybrid when it gets the same electrified 1.6-litre powertrain as the Clio. It's a mild set-up, with a modest 1.2kWh battery, but Dacia says it'll spend up to 80 per cent of its time running on electricity around town.

But for now, there's a single engine choice – a version of Dacia's 1.0-litre three-cylinder petrol unit that delivers 108bhp and 200Nm of torque, paired with a six-speed manual gearbox. Performance looks acceptable on paper rather than stellar; 0-62mph takes 11.2 seconds, and you'd have to presume that the car in question didn't post that figure when it was seven up and fully laden.

There's more variety in the trim levels, with a typically sensible-looking entry point and two further editions that are likely to prove more popular. The cheapest Jogger variant looks well named, since Essential brings 16-inch steel wheels with plastic covers, body-coloured front and rear bumpers, tinted windows, rear parking sensors and air-conditioning.

It does without any sort of infotainment display but includes a smartphone holder on the dashboard, and you can use Dacia's own app to play music, or navigation apps like Waze. It really doesn't look a bad line-up of equipment, accompanied as it is by seven-seat practicality and a price tag of just £14,995 – over £2,000 less than the cheapest Fiesta.

Step up to a Jogger Comfort and you'll add front parking sensors, a reversing camera, keyless entry, an electric parking brake, extra padding on the steering wheel and climate control – plus you'll get an eight-inch infotainment display that offers Android Auto and Apple CarPlay connectivity. This already looks the likely sweet spot of the range, at £16,595.

However, here we're trying the fully laden, special-edition range-topper, called Extreme SE. It includes 16-inch alloy wheels with a black finish, black roof bars and door mirrors, heated front seats, floor and cargo mats, and navigation integrated into the same eight-inch media system. It costs £17,395.

Whichever version you might pick, there's no doubting the practicality, as the Jogger could indeed transport seven adults in relative comfort. There's a simple enough mechanism to get the second-row seat out of the way, although the gap to wriggle through into the back row is perhaps a little narrow. Once you're there, however, there is a surprising amount of knee room, your feet can slide under the seat in front of you and there's lots of headroom. Armrests are integrated into the side trim, along with a cupholder and a 12V socket that could allow smartphone charging.

The amount of space in the second row is arguably more impressive, with legroom that's far beyond any conventional C-segment hatchback, with the possible exception of Skoda's spacious Octavia.

Dacia claims over 60 possible seating configurations and while it's a little disappointing that the sliding bench seat tech from the Renault Captur hasn't been repeated here (dropped on grounds of cost, complexity and headroom, apparently), you could easily argue that it isn't really needed anyway.

With all seven seats in place, the Jogger's boot capacity stands at 212 litres. Fold down the third row and run the car in five-seat configuration and you'll have an impressive 699 litres to play with. And if you remove the final two seats entirely (they weight 10kg each, around the same as a multipack of big mineral water bottles) and fold down the second row, there are 2,085 litres to play with – comparable with the maximum on offer in the aforementioned Grand C4 Spacetourer. Dacia's clever roof bars offer the scope for further loads to be carried above the vehicle, too.

With raw stats, dimensions, capacities and prices like this, only an utterly foul driving experience would make the Jogger anything less than a tempting proposition. And while it's not about to set any pulses racing, in practice it's more than good enough on the road.

The 1.0-litre motor does its best work between 2,000rpm and 3,500rpm, although it'll pull from around 1,750rpm. It's pretty refined, too, with a slight growl as the revs rise and a bit of turbo whine if you demand extra performance in higher gears – such as when you're climbing a long hill on a motorway. The most pronounced noise at speed coming from wind rush around the A-pillars, though; the powertrain is polite enough.

So is the ride, for the stretch in wheelbase – accompanied by squidgy 16-inch wheels and a 200mm ride height – has made the Jogger more comfortable around town than many a conventional hatchback, including its Sandero sibling. It does a great job of crossing potholes without allowing huge thunks to transfer to the cabin – and while there is some roll if you throw it at a corner at higher speeds, it generally remains settled.

Involvement is not the Jogger's forte, mind you. The gearshift is positive enough but there's a slightly notchiness to the shift, and the steering is a little heavy and vague around the straight ahead. We'd also say it feels a teeny bit slow for rapid urban manoeuvres.

The cabin feel and quality should be familiar to anyone who's sat in a Sandero. It's all solid enough and there are cleverly textured finishes in key areas across the centre of the fascia and on the armrests, plus sensible buttons for all of the major features and easy-to-use rotary controllers for the heating and ventilation. Comfort and Extreme SE editions get two USB sockets up front, but it's a shame that only the upper one can be used to transfer data between your phone and the infotainment.

We wouldn't pay extra for the in-house navigation system of the Extreme SE model, but the rear parking camera of Comfort would have appeal; the cinema-style seating, with each row sitting slightly higher than the one in front of it, means that you're likely to see a lot of foreheads and headrests through the rear-view mirror, and not much else.

| | |
| --- | --- |
| Model: | Dacia Jogger Extreme SE TCe 110 |
| Price: | £17,395 |
| Engine: | 1.0-litre 3cyl turbo petrol |
| Power/torque: | 108bhp/200Nm |
| Transmission: | Six-speed manual, front-wheel drive |
| 0-62mph: | 11.2 seconds |
| Top speed: | 114mph |
| Economy: | 47.1-49.6mpg |
| Emissions: | 132g/km |
| On sale: | Now |

Source: Read Full Article