Have updates have made the drop-top Ferrari Portofino M better than ever? We find out…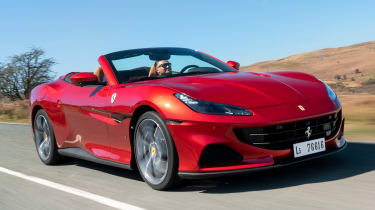 4.5 out of 5
Verdict
Thanks to the latest round of updates, Ferrari's newest open-top option delivers a wider spread of ability than ever before. The Portofino M feels even more exciting when driving keenly, and more relaxing when you're not. Viewed as a GT car, it might be a little cramped compared with some rivals, but from an enthusiast's point of view it's a hugely impressive machine.
While the Ferrari Portofino M's name might be familiar, that newly added M suffix is key to this latest open-top GT car's appeal. M stands for Modificata, a term the Prancing Horse has used on its previous mid-life facelifts, including the flat-12 512M and the beautiful front-engined GT, the 456M. Each of those cars gained various refinement and styling tweaks, and the Modificata treatment here means the same for the marque's current entry point to the range. 
The Portofino has been subjected to a host of upgrades, many of which have been applied following experience gained from the brand's Roma – a car which under the skin is mechanically similar. Its key feature remains, however. The aluminium retractable hard top is identical to before, giving coupe-like security and refinement when raised, and folding away in just 14 seconds to transform the car into an open top 'Spider'.
New Ferrari Roma 2020 review

But while some of its mechanical make-up might be closely related to the Roma, Ferrari has elected to keep completely distinct cosmetic designs for the pair. Styling changes between the original Portofino and the M are subtle; the front bumper features larger air vents at the sides, and additional vents higher up the arch to improve airflow. At the back there's a revised diffuser, in part made possible by a new exhaust system (more on which later).

More reviews

In-depth reviews

Road tests

New Ferrari Portofino 2018 review

Inside, the cabin remains much the same as before. It's a shame that the Roma's vertical dashboard layout, complete with a portrait touchscreen, wasn't integrated here, but an entirely new interior architecture would have been a little too much of a stretch. There are a few equipment upgrades, however. 

Those living in colder climates will be pleased to see the addition of heated seats, and seat ventilation is available for warmer days. A variety of advanced safety systems, including adaptive cruise control with stop and go, blind spot monitoring, lane departure warning and traffic sign recognition, are all available.

Under the bonnet, the 3.9-litre V8 has benefitted from the same tweaks as the Roma's unit. Revised cam profiles have helped boost output, as has a new turbo speed sensor, which allows the turbine to spin 5,000rpm faster than before.

While emissions-busting exhaust particulate filters have pegged things back slightly, the deletion of the rearmost silencers contributes to an overall output that increases by 20bhp. Total power now matches the Roma; there's 612bhp at 7,500rpm, and peak torque remains the same 760Nm as before.

Prod the steering wheel-mounted starter button and the engine barks into life, settling to a burbling idle that almost provokes you into stabbing the throttle at the first opportunity. Pull the steering wheel mounted paddle to engage first gear, and a gentle squeeze of the throttle causes the Portofino to smoothly roll away. Impressively so, for a dual-clutch gearbox, which can often be jerky at low speeds. 

There's a new transmission here – gone is the old seven-speed unit, replaced with a lighter, more compact box that has an extra ratio. The new highest gear is set longer for better cruising, while the first seven are all shorter than before to boost acceleration. 

On the move, one of the first things that strikes you about the Portofino M is just how well it rides. Even with the adaptive dampers in the firmer of their two settings, the ride is on par with many hot hatchbacks. Prod the Bumpy Road mode button on the steering wheel, however, and the whole system relaxes a step further, to the point where the Portofino becomes a genuinely smooth cruiser. 

Combined with the new longer eighth gear, which sees the revs sit comfortably below 2,000rpm at 70mph and, while it can't quite match a Bentley Continental GT's long distance credentials, it fulfils its grand tourer brief better than ever.

But the supercar side of its persona has become more pronounced now, too. While it's not quite as sharp to drive as the Roma – its responses ultimately dulled slightly by that roof mechanism that results in a 94kg weight penalty – relative to its British rivals, the Ferrari feels agile and keen to turn into corners. Along with the well-controlled ride, it gives the driver huge confidence, regardless of the conditions. 

With new, shorter lower ratios and more power, acceleration is truly savage. The 0-62mph time of "3.45 seconds" is impressive in itself, but perhaps more telling is the 0-124mph time of 9.8 seconds – a full second faster than the previous Portofino. Top speed is quoted as "greater than 199mph".

It's the assault on the senses that accompanies each pedal press against the bulkhead which excites the most though. The angry, guttural roar towards the red line; the flash of the gear shift indicator lights on the top edge of the steering wheel; the snap of the eight-speed gearbox as the next ratio is engaged and the squirm from the rear tyres as they barely contain the Maranello-built V8 at full chat. This may be just the 'baby' of the Ferrari range, but it's every bit as thrilling as you could hope it to be.

The power delivery is very different to a Bentley V8 or V12 – where the Continental delivers a huge thump of torque from low down, the Ferrari's V8 offers a real incentive to rev the car out in a very un-turbo like fashion. That's a deliberate choice from Ferrari's engineers too. The torque curve is trimmed off through the first six gears in order to give a more linear power delivery. Extra torque isn't needed in those early gears either – in the torrential wet weather during our time with the car, little more than half throttle applications in second and third gear would light up the rear axle. 

That's in Sport mode, where the car's stability control system allows a reasonable amount of slip. Now, however, the F1-style manettino switch on the steering wheel offers a fifth mode: Race. Here, Ferrari has endowed the Portofino with the latest iteration of its Slide Slip Control. 

Using the various on board stability control systems, SSC enables the driver to play with the balance of the car quite liberally. The system will make any slides feel as natural – yet predictable – as possible, but there's a safety net there to help you out too. It inspires plenty of confidence.

Prices for the Portofino M start from £175,345, but that's long before you dive into the wonderful yet alarmingly pricey world of the Ferrari options list. Carbon fibre dashboard inserts add £2,496 to that total price, while a surround view camera – a useful feature, but hardly the preserve of ultra luxurious vehicles – costs £3,456. It won't be much of a stretch to assume most Portofino Ms you see on the road will cost well over £200,000. 

Are there any downsides, then? Well strictly speaking, the Portofino has back seats, but they're not fit for human use – maybe luggage at a push. The infotainment system is a little clunky too, with the likes of those new heated seats buried within sub menus, while loading times and screen graphics are starting to show their age. 

Those small quibbles aside, it's a brilliant all rounder. The same can be said for the alternatives though, so with no wrong answer at this price point, the choice will come down to personal preference. 

If you need peerless long distance comfort and a luxurious cabin, then the Continental GT might be the car to have. If a retractable roof isn't a priority and a slightly sharper drive matters, then get yourself a Ferrari Roma. However, thanks to its modifications and updates, the Portofino M covers an awful lot of bases.

| | |
| --- | --- |
| Model: | Ferrari Portofino M |
| Price:  | £175,360 |
| Engine:  | 3.9-litre V8 twin-turbo petrol |
| Power:  | 612bhp/760Nm |
| Transmission:  | Eight-speed automatic, rear-wheel drive |
| 0-62mph:  | 3.5 seconds |
| Top speed:  | 199mph+ |
| Economy/CO2:  | 28.5mpg/224g/km |
| On sale:  | Now |

Source: Read Full Article