The new Honda Jazz isn't much fun to drive, but it's safe and predictable, and the hybrid drive system is easy to get along with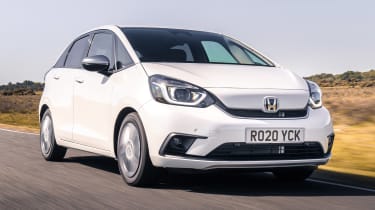 3.5 out of 5
Verdict
There is much to like about the new Honda Jazz. Its hybrid powertrain is impressively refined and, on the basis of this short drive, remarkably efficient in the real world. The car retains its clever practical touches too. But the ride is a little too choppy on 16-inch wheels, and we're just not convinced that this high-end EX edition is the sweet spot of the range, given its price. We look forward to trying a more modest SR, which has all of the important kit, the same powertrain, smaller wheels and lower monthly finance rates.
Advertisement – Article continues below
The Honda Jazz certainly does a good job of splitting opinion. To its fans, it's the supermini that is clever enough to behave as a small family car when required. For countless others, it's a conservative small car designed for an older generation.
In fact, the Jazz is designed to be both of these things. It's just that in the UK in particular, it has struggled for almost 20 years to break out of this love-hate relationship – although Honda insists that sales numbers for the outgoing version stood up well in a market under pressure from small SUVs.
Best superminis 2020

Still, it's time for another attempt to break the stereotype with the new Jazz, designed to not only keep the car relevant to its devoted customer base, but also attract more conventional (and yes, that probably means younger) buyers – the people who care about fuel efficiency, running costs and connectivity as much as they do practicality.

The new car's looks are unmistakably Jazz, mind you. There are slimmer A-pillars to help improve forward visibility, and the roof height has been reduced by 10mm, but the overall profile is still that of a small MPV more than a supermini.

More reviews for Jazz

Car group tests

Suzuki Baleno vs Honda Jazz vs Nissan Note
Honda Jazz vs Skoda Fabia vs Nissan Note

In-depth reviews

Long-term tests

Long term test review: Honda Jazz

Road tests

New Honda Jazz Sport 2018 review
Honda Jazz EX Navi review
Honda Jazz CVT automatic 2015 review

Used car tests

Underneath it all is what looks like an astonishingly complex powertrain for a small car. Called e:HEV, it comprises a 1.5-litre Atkinson-cycle petrol engine and two electric motors. One of these acts as a propulsion system, the other converts energy from the petrol engine into electricity that can be fed through for immediate use or stored in a small lithium-ion battery that's integrated into the system.

The set-up allows the Jazz to have three driving modes. In EV Drive, used mainly around town, the propulsion electric motor drives the vehicle, taking its power from the car's lithium-ion battery. In Hybrid Drive the petrol engine is used to drive the second electric motor, producing enough power for the propulsion motor to drive the wheels while also trickling some extra juice into the battery where possible. Honda expects this setting to be used in everyday driving along A- and B-roads.

In the final mode, Engine Drive, a clutch bypasses the two electric motors, allowing the combustion engine to drive the wheels. The car will decide when this is the most efficient propulsion method available to it – but think 'motorway cruises' and you won't be far off the mark.

There's no conventional gearbox, incidentally – but that doesn't mean the Jazz risks being hampered by a CVT transmission in the same way as Toyota hybrids of old. In fact, the system can play around with the mix of engine revs and electric motor torque based on the car's speed and the throttle position, creating artificial 'steps' to make you think you're just driving a conventional automatic. Got all that?

The Jazz range is easier to understand. All cars are offered with the same e:HEV system, so that's the powertrain and transmission choice out of the way. Then you're down to trim levels – and there are only three of them. SE is the entry point, with prices starting from £18,985 (or £199 a month on an early PCP deal). The basic kit list is sound, with climate control, cruise control, folding heated mirrors, automatic wipers and headlights, 15-inch wheels and the folding rear seats.

It's worth noting, though, that this model only gets a five-inch infotainment system without any smartphone connectivity; for the nine-inch set-up, including Android Auto and wireless Apple CarPlay, you'll need to step up to SR (from £20,185), which also brings front and rear parking sensors.

The range-topping edition is called EX. It increases wheel size to 16 inches and adds heated seats and steering wheel, leather on the wheel and gearknob, a rear-view camera and navigation on the same infotainment screen. That's the version we're trying here, with a price tag of £21,385.

The EX trim level also dovetails across into the Crosstar, which takes the same specification and introduces a raised ride height, some body cladding, an upgraded eight-speaker audio system, the option of a contrast roof colour and, curiously, water-repellent seat fabric. It costs from £22,635.

Do these prices look high when a conventional Ford Fiesta can be yours from just £15,885? They do to us. But then that hybrid tech doesn't come cheap. And Honda's real focus for this model may well be the new-generation Toyota Yaris Hybrid, which is likely to be much closer on price.

On the road, the good news is that the powertrain goes some way towards justifying the expense. It's not the last word in performance, but the figures involved – 108bhp and 253Nm – are enough to make the Jazz seem sprightly if you push it, and comfortable even if you don't. Compare it with mid-spec three-cylinder turbo petrol editions of rivals, and it performs pretty favourably; 0-62mph takes 9.5 seconds.

It's efficient, too. Honda's UK test route was eased by COVID-19 levels of traffic, but even so, over several hours and along a mixture of motorways, A-roads and urban rat runs, we saw an average north of 70mpg on the trip computer. That's real-world economy that even mild hybrids (cars with glorified starter/generators, in other words) can't hope to match, and official numbers of as little as 102g/km on the tougher WLTP test cycle are encouraging.

Powertrain refinement is generally top-notch. There's a little electric motor whine from time to time, but if you're cruising along an A-road, you won't be troubled by any engine or motor noise. Hard acceleration does get the revs soaring, of course, but even then, the note is fairly subdued and relatively smooth.

The chassis is a good match for all of these attributes, because it's basically sound yet resolutely unwilling to inch towards anything you might call entertainment. The transmission isn't interested, for starters, but the steering has a little too much play around the straight ahead and does a poor job of letting you know what the front wheels are doing. It's easier to have fun in a Yaris Hybrid – and a Fiesta's a positive laugh a minute by comparison.

Admittedly, this make-up suits the Jazz's character – and its likely customer base – but on that score we have more concerns about the ride quality. There's sophistication there, but it's still too easily upset by broken surfaces – the types of road we have lots of in UK towns and cities. It's another reason why the more modest trim levels might be worth a look, since they sit on 15-inch wheels instead of the EX's 16s.

The practical side of the Jazz hasn't been forgotten, meanwhile, although it's been maintained instead of enhanced. The boot is a respectable 304 litres – so more than in the Yaris or a Fiesta – and this expands to a useful 1,205 litres (floor to ceiling) if you fold the rear seats down. Equally, the famous Magic Seats in the second row remain, so you're able to fold up the bases like a cinema seat to help you slide items across the rear floor.

Passengers aren't hard done by, either. Four six-footers can be accommodated without any grumbles about knee or legroom, and only those of them with the most bouffant of corona-haircuts will catch the headlining above the rear seats.

Cabin quality feels up to usual Honda standards, and while there are some hard finishes, notably in the door linings, almost everywhere that you'd actually touch is padded and soft. And Honda is at last making real strides in infotainment. The Jazz's nine-inch set-up is quick to respond to inputs and has all the smartphone connectivity you could want – to the point where we wouldn't bother spending the extra to get navigation on an EX variant.

| | |
| --- | --- |
| Model: | Honda Jazz e:HEV EX |
| Price: | £21,385 |
| Engine: | 1.5-litre 4cyl petrol electric |
| Power/torque: | 108bhp/253Nm |
| Transmission: | Single-speed automatic, front-wheel drive  |
| 0-62mph: | 9.5 seconds |
| Top speed: | 109mph |
| Economy: | 61.4mpg |
| CO2: | 104g/km |
| On sale | Now |

Source: Read Full Article