The Hyundai Kona has been revised for 2021 and we find out just how much it's improved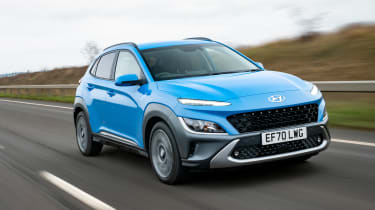 3.5 out of 5
Buy used for less at Buyacar
Verdict
The updates to the Hyundai Kona improve its overall experience, with an efficient and effective mild-hybrid powertrain, a more composed and comfortable ride, and some useful tech upgrades in the cabin. But these gains aren't enough to shove the car to the front of the pack; the Kona still isn't as good to drive as the best small SUVs, and it continues to lag behind the likes of the Renault Captur and Ford Puma on practicality.
Hyundai will soon have an embarrassment of riches in the small SUV class. The Korean brand has a new offering, the Bayon, on the way in the coming months. And it will be joining a facelifted version of the Kona in the line-up.
Here, then, is the revised version of Hyundai's 'original' small SUV. It's had a little more than the typical mid-life nip and tuck too; yes, the usual updates like headlights and bumpers are present and correct, but there's also a redesigned bonnet, and the changes are sufficient to make this car around 40mm longer overall than the outgoing version. The overall effect is to give the car a slightly more aggressive, chunky stance – perhaps even making it more of a crossover and less of a baby SUV. There's also a new N Line trim level that tries to add a sporty look.
Best hybrid cars to buy 2021

Under the bonnet, the Kona gets an updated range of engines. The 1.6-litre turbo unit at the top of the line-up gains some extra power, moving up to 195bhp, and the diesel motor (yes, here's a car still available with one) gains a 48-volt mild-hybrid system.

More reviews

Car group tests

Peugeot e-2008 vs Hyundai Kona Electric vs Kia Soul EV
DS 3 Crossback E-Tense vs Kia e-Niro

In-depth reviews

Hyundai Kona Electric review
Hyundai Kona review

Road tests

New Hyundai Kona N prototype review
New Hyundai Kona Electric 2020 review

Used car tests

The same tech is also available as an option on the Kona's 1.0-litre, three-cylinder turbocharged petrol engine – and it's this powertrain that we're driving here. The engine itself produces 118bhp, and is the same unit that is likely to appear in higher-end i20s later this year.

The hybrid system uses an integrated starter/generator and a small lithium-ion battery to give the combustion engine a boost when pulling away from rest. It also benefits, though, from Hyundai's Intelligent Manual Transmission – a six-speed manual gearbox that has no physical connection between the clutch pedal and the clutch. This sensor-based solution means that the engine can be switched off when the car is cruising along – and then fired up again, thanks to the 48-volt hybrid tech, when required.

It's a complex piece of engineering but in practice works extremely well. You won't feel much extra shove when starting off but once you're up and running, you'll have to rely on the visual cues on the instrument panel – the rev-counter needle flicking up and down – to tell that the engine is being cut in and out. It's incredibly smooth in its transition – astonishingly so when you think that you can be doing 70mph at the time.

The engine has enough power to cope with a car of the Kona's size, but not quite enough to ever make it feel like it's capable of really punchy performance. The 0-62mph dash takes a leisurely 11.9 seconds – making the electrified version of this engine slower than the non-hybrid edition in either manual or auto form. It's more efficient, though, with claimed average economy of 46.3mpg, and based on our experience with the car, this should be achievable in everyday use.

The Kona has also received tweaks to its chassis and suspension, and while they're not enough to transform the car into a vehicle with real appeal for keen drivers, they do give the model a bit more dynamic polish. The most pleasing development of all is better bump absorption, making the Kona an effective tool on scarred urban roads, even on our Ultimate model's 18-inch alloy wheels.

Body control feels a little tighter than before too, so while the inert steering and taller body still don't really play ball and deliver enjoyment on twisty roads, the overall package feels like a more effective compromise than it did before. It's a result, we'd like to think, of the UK testing instigated by Hyundai's head of vehicle dynamics, ex-BMW M division man Albert Biermann.

In the cabin the biggest upgrade comes in tech, thanks to a new 10.25-inch digital instrument cluster, as seen first in the all-new i20. It's crisp and easy to use – an ideal companion, in fact, for the similarly sized infotainment system that comes as standard on this Ultimate trim level. It remains one of the best set-ups you'll find in any vehicle, frankly, with clear graphics, a great interface and quick responses to inputs. Recent upgrades have improved its connectivity further, thanks to fresh functionality in Hyundai's Bluelink phone application.

The rest of the cabin gets some new materials but they don't do much to lift the overall experience. It's not that it's badly screwed together or lacking soft-touch fabrics in key areas; it's just that the fascia is a sea of black, grey and dark grey plastic, with only the very occasional flash of chrome to brighten proceedings.

Nor, it must be said, has the facelift done anything to address one of the Kona's key weaknesses: rear packaging. Two adults can fit in there, even behind a couple of six-footers, but once in place, they're unlikely to thank you for anything approaching a long journey.

The boot remains pretty unimpressive too – not helped, still, by a relatively high floor that's designed to accommodate the circuitry of the hybrid and pure-electric editions. The Kona's capacity is 374 litres, so it isn't going to challenge the Renault Captur, Peugeot 2008 or Ford Puma on practicality.

| | |
| --- | --- |
| Model: | Hyundai Kona Ultimate 1.0 T-GDi 120pS 48V MHEV |
| Price: | £25,960 |
| Engine: | 1.0-litre 3cyl mild-hybrid turbo petrol |
| Power: | 118bhp/172Nm |
| Transmission: | Six-speed manual, front-wheel drive |
| 0-60mph: | 11.9 seconds |
| Top speed: | 112mph |
| Economy: | 46.3mpg |
| CO2 emissions: | 138g/km |
| On sale: | Now |

Next Steps

Source: Read Full Article