The new McLaren 765LT will spring from 0-62mph in just 2.7 seconds and go on to hit a top speed of 205mph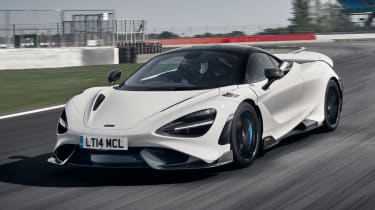 5.0 out of 5
Verdict
Between the 720S and the Senna, the McLaren 765LT feels skewed more towards the latter in its positioning. It offers 75 to 80 per cent of the Senna's performance and feel for less than 40 per cent of the price. The performance in every area is astonishing, plus it has exclusivity on its side. But that you can exploit and engage with the 765LT is the real triumph. In this area of the market, no one makes a driver's car like McLaren.
McLaren's 'Longtail' LT models have always hit the mark. The first roadgoing model, the 675LT, arrived in 2015 to critical acclaim, and Woking is hoping its new creation, the 765LT, is as well received.
Familiar numbers, re-ordered, but the car is – technologically, at least – a big step on. In McLaren's own words, "the next chapter in the Longtail story begins with the 765LT," which is quite some statement.
McLaren 720S review

But then you look at the numbers and you realise the British supercar brand is telling the truth. The 4.0-litre twin-turbo V8 makes 756bhp (765PS, hence the name) and 800Nm of torque. The car weighs just 1,229kg dry; that's 80kg less than the already-slender 720S and around the same as a Ford Focus, yet it has six times the power of your average family hatch.

That means 0-62mph comes up in 2.7 seconds, but off the line the 765LT is traction-limited, such are its great reserves of power and torque. The more impressive stat is that it will streak from 0-124mph in seven seconds dead. Forget supercar rivals, that's superbike-fast.

Thank new aluminium pistons, a head gasket borrowed from the Senna, a stronger fuel pump and a shorter final drive compared with the 720S for that.

There are also bespoke springs and damping calibration for this LT compared with its 'normal' cousin; the front track width is up by a subtle 6mm, it's 5mm lower at the front, and there's a bigger rear wing as part of the active aerodynamics for up to 25 per cent more downforce.

Lightweight wheels and sticky Pirelli Trofeo R tyres save 20kg, while the bespoke titanium exhaust system with its quad outlets is 40 per cent lighter than an identical steel set-up.

On track, the way the car brakes, steers and turns is effortless. Once those tyres are into their operating range, the confidence the LT inspires is massive. A few years ago it'd be hard to think that 756bhp in a car weighing so little would be so exploitable, but the McLaren never seems to want to bite.

It moves around under power, it moves around under braking, and it moves around in slow and high-speed corners if you subtly lift the throttle a little to trim your line, but it doesn't feel intimidating.

Instead, the sensations it feeds back and the dynamic traits it exhibits inspire confidence. The 765LT is on your side, so you start to use this movement to help you manipulate what you want the car to do on the circuit (our test was limited to the track).

It manifests itself as involvement and – importantly – fun. As serious a performance machine as the 765LT is, it has a lighter side that indulges you.

You're hard-wired into what the car does, so you react to it quickly. The steering is superbly detailed, the rate of response is just right and the grip plus the excellent brake feel – helped by the Senna-spec front calipers – is key to the car's handling.

You can trail the brakes and drive the car hard, deep into the corner, lean on the huge grip, and punch away from the exit using the engine's grunt, short shifting if you need to control wheelspin and improve traction, such is the massive mid-range punch.

With no road driving, it's tough to tell exactly how the 765LT rides, but over the best approximation of bumps on the track (Silverstone's saw-tooth kerbs) the adaptive Proactive Chassis Control II suspension offers more compliance in its damping than you might expect from a track machine.

There's also no loss of space in the 150-litre front boot, but the rear screen is now polycarbonate to save weight, so access to any luggage behind the carbon-fibre race seats that come in the MSO Clubsport pack is a little trickier. Doubly so if you go for the Clubsport Pro pack, because this adds a titanium harness bar as well.

| | |
| --- | --- |
| Model: | McLaren 765LT |
| Price: | £280,000 |
| Engine: | 4.0-litre 8cyl twin-turbo petrol |
| Power/torque: | 756bhp/800Nm |
| Transmission: | Seven-speed dual-clutch, rear-wheel drive |
| 0-60mph: | 2.7 seconds |
| Top speed: | 205mph |
| Economy: | 23mpg |
| CO2: | 280g/km |
| On sale | Now |

Source: Read Full Article