The new luxury Mercedes-Maybach GLS SUV arrives to rival the Rolls-Royce Cullinan and Bentley Bentayga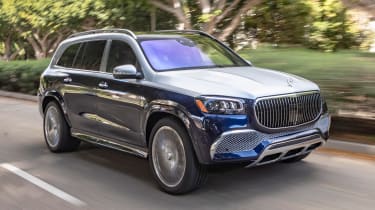 4.0 out of 5
Verdict
The Mercedes-Maybach GLS feels like a perfectly credible rival for the Rolls-Royce Cullinan and Bentley Bentayga. It offers a more comfortable ride than the two British heavyweights as well as more high-tech driver assistance and better infotainment. However, some may be unable to look beyond the fact that it is simply a dressed-up GLS. And at this end of the market, image counts.
It has taken quite a while, but Mercedes has finally come up with an answer to the booming success of the Bentley Bentayga and Rolls Royce Cullinan. A year after the launch of the second-generation GLS, the company is upgrading its largest SUV with Maybach prestige to create this: the Mercedes-Maybach GLS.
As opposed to the just-revealed Maybach S-Class, the luxury GLS retains its original dimensions and wheelbase. However, it also piles on lots of glitz and glamour, and some spectacular design touches.
Best luxury cars 2020/2021

The luxury SUV distances itself from the regular seven-seat GLS by replacing its three-seat rear bench with two large lounge-like armchairs in the back – if you go for a top-spec First Class model like this. They feature reclining backrests and extendable footrests that can transform the seats into airline-style beds at a touch of a button.

More reviews for GLS

Car group tests

Mercedes GLS vs Audi Q7
Mercedes GLS vs Audi Q7

In-depth reviews

Mercedes GLS review
Mercedes GLS (2015-2019) review

Road tests

New Mercedes GLS 2019 review
Vision Mercedes-Maybach Ultimate Luxury concept review
New Mercedes GLS 2016 review

If those in the back need more space to stretch out, the front passenger seat can be folded almost entirely underneath the dashboard. For busy business people a pair of foldable tables sprout from the rear centre console and, if they want to toast a successful deal, they'll find a champagne cooler between the seats, too.

The First Class pack is a £7,000 extra, but when this car is going to cost £160,985 at the very least, that's unlikely to be a deal-breaker for potential customers.

Elsewhere inside, you'll find more leather and wood than in any other SUV, swathes of LED ambient lighting, and miles of decorative stitching that complements the plush and spacious new rear quarters. But it's not only the space that makes the difference, it's also the silence. Working with the svelte ride quality, Mercedes has developed a new cabin divider and installed a solid wall between rear seats and boot. It might cost a few litres of capacity and a bit of flexibility, but it enhances the sense of tranquillity.

While passengers moving from the Rolls-Royce or Bentley are unlikely to feel out of place, the driver might be missing something he'd otherwise get in this car's British rivals. The Maybach GLS is offered solely with eight-cylinder petrol power, while the two Brits can be specified with smoother, silkier 12-cylinder engines.

The German car uses Mercedes' familiar 4.0-litre turbocharged V8 with mild-hybrid assistance, and total power stands at 549bhp and 730Nm torque. The 48-volt system doesn't have a big impact on overall performance, but it adds just a little bit of punch when moving off from a standstill. It's also designed to help boost fuel economy, but unsurprisingly the Maybach GLS is still a thirsty thing; Mercedes claims 24.1mpg and CO2 emissions of 304g/km.

With the Maybach GLS weighing around two and a half tonnes, you might expect getting up to speed to be a noisy and slow affair, but the engine delivers a big slug of torque from low down in the rev band and the big V8 is very well isolated from the cabin; there's little to hint at the huge amount of work going on under the bonnet.

Even if you floor the pedal and bring all 549bhp and 730Nm to life – resulting in 0-62mph in just 4.9 seconds – the engine's noise remains a rather distant hum. The nine-speed automatic shifts up quickly and smoothly in an attempt to keep progress as calm as possible. But this is not an SUV to hustle down a fast road; it feels big and heavy at all times, so a more laid-back and relaxed approach suits it far better.

As you'd expect with an SUV focused on refinement and comfort, the steering is very light and the air suspension soft. All of the systems are optimised for maximum comfort in the rear seats, such as the e-active body control, which is designed to eliminate even the faintest hint of roll through corners.

The Maybach really does cocoon you from the outside world. And when you've seen enough of it you can simply roll up the electric sunblind for even greater privacy.

| | |
| --- | --- |
| Model: | Mercedes-Maybach GLS First Class |
| Price: | £167,735 |
| Engine: | 4.0-litre V8 turbo with 48-volt mild hybrid |
| Power/torque: | 549bhp/730Nm |
| Transmission: | Nine-speed automatic, four-wheel-drive |
| 0-62mph: | 4.9 seconds |
| Top speed: | 155mph |
| Economy/CO2: | 21.4mpg/304g/km |
| On sale: | Now |

Source: Read Full Article