Mercedes will pull the wraps off its Vision EQXX EV prototype next year – and the company says it will have a real-world range of 620 miles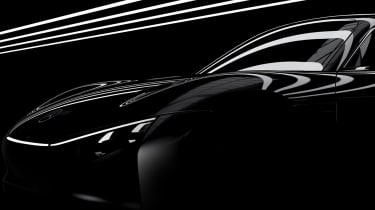 Mercedes has finally nailed down a launch date for the Vision EQXX prototype. The firm's revolutionary electric car prototype will make its debut on 3rd January 2022, with a claimed real-world range of 1,000km (620 miles).
The Vision EQXX is much more than just a show stand trailer queen, though. Mercedes says the prototype previews its future electric vehicle technology and, although it won't directly spawn a new Mercedes EV, bosses have already confirmed that some of the findings from the project will eventually trickle down into the brand's production cars.
Top 10 longest range electric cars 2021
The prototype was first teased during Mercedes's 2020 strategy presentation. Company management boss, Markus Schafer, has now released another teaser image to accompany this new announcement, which offers a glimpse at the EV's front three-quarters.
Engineers working on the project claim that, rather than increasing battery capacity (and with it, weight), improving a car's aerodynamic efficiency is key to unlocking such a long range figure. Mercedes engineers explained: "The easiest way is to put a bigger battery in the car, but it leads to diminishing returns. The key is efficiency of vehicle and powertrain."
Earlier this year, Schafer also mentioned that his team was working on improving the output of its battery packs, saying: "In terms of aerodynamics this project aims at going even beyond what's been achieved with the EQS, already the world's lowest Cd series production car ever. And we are also working on increasing the energy density by an additional 20 per cent at the cell level compared to the EQS."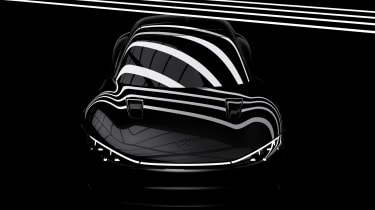 Mercedes's teaser images give a clear picture of the engineers' aerodynamic intentions. The prototype has a tiny frontal area, while the transition from the bonnet to the windscreen has a shallow rake to aid airflow. Vents and gills have been kept to a minimum, too, with the only noticeable intakes being mounted on the bonnet.
Speaking at the last preview for the EQXX, Schafer said: "We're talking about the future of Mercedes-Benz. And naturally it's pretty much all about numbers, facts and data. But we all know the real magic happens when impressive technological achievements become reality in a car. That's why I'm very proud to give you a preview of our Vision EQXX.
"Back in 2020, we initiated an exciting next step in electric vehicle development and put together a cross-functional, multi-disciplinary team of experts supported by specialists from the Mercedes-AMG F1 team.
"We instructed them to aim beyond 1,000 km on one charge. But not by making the battery bigger. Anybody could do that. No, they're working with a normal sized battery, destined for series production in a forthcoming Mercedes compact car. Efficiency is the new currency!
"Our eDrive experts are making rapid gains in efficiency and pushing the boundaries of what's possible in terms of eMotor, inverter, battery design, packaging and thermal management. They're chasing marginal gains that compound to substantial increases in range. Our goal is to integrate these new technologies in future Mercedes road cars."Now click here to read all the latest news on Mercedes' latest EV, the EQB SUV…
Source: Read Full Article