We hit the road in the sensational new 518bhp Porsche 911 GT3 RS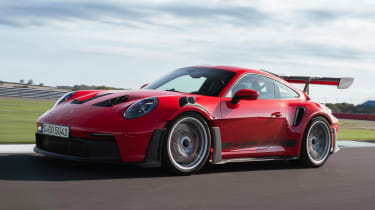 5.0 out of 5
Buy used for less at Buyacar
Verdict
However good you think the new 992-generation 911 GT3 RS might be, think again. And then double it. From its mind-boggling aerodynamic grip to the raw performance from its flat-six engine and extraordinarily intense driver involvement, the RS is a line-in-the sand kind of car. Truly, there will never be anything else quite like it.
Most Porsches, especially quicker 911s, tend to be defined by their engines. Not so the new £178,500 992 GT3 RS. For despite being propelled by one of the all-time great flat-six motors – one that revs to 9,000rpm and produces an ear-splitting 518bhp in the process – the latest RS is defined not by its incredible 4.0-litre flat-six unit but by its aerodynamics.
At its top speed of 184mph (14mph lower than a regular GT3's because the gearing has been shortened to make it punchier on track) the RS produces a quite staggering 860kg of downforce when its electronically adjustable rear wing is fully deployed. It also features a new, huge single radiator in its nose that occupies what would normally be the luggage area, purely to accommodate two new underbody flaps, without which its almighty aerodynamic grip would simply never arrive.
New Porsche 718 Cayman GT4 RS 2022 review

So although that still spectacular engine has new cams and generates a touch more power than a regular GT3's to give an even sharper 0-62mph time of just 3.2 seconds, the RS makes its biggest moves forwards courtesy of the amount of grip it generates and via the extra speed it can carry though corners – not down the straights that sit between them.

More reviews

Car group tests

BMW M4 Convertible vs Porsche 911 Cabriolet: 2022 twin test review

In-depth reviews

Road tests

New Porsche 911 Sport Classic 2022 review
New Porsche 911 GTS 2021 review
New Porsche 911 GT3 Touring Package 2021 review
Porsche 911 GT3 manual 2021 review
New Porsche 911 GT3 2021 review

Used car tests

Used Porsche 911 (991, 2011-2019) review

It's a bold and typically interesting philosophy that Porsche has embraced in this instance – to eschew the pursuit of pure horsepower to find other ways of making the RS faster and more exciting to drive. But then to be honest, the engineers had few other options available to them beyond turbocharging the GT3's engine, and they were never going to go down that route.

The truth is, European emissions regs have become so strict of late, Porsche knew it couldn't squeeze much more horsepower out of its 4.0-litre flat-six; in the end they conjured another 14bhp out of it, big deal. Instead, they had to give the car more grip to make it faster, hence they went to town with the aero and gave it slightly wider Cup 2 tyres plus a range of chassis upgrades to achieve the same result.

Some range of upgrades it is, too. On a steering wheel that now contains no less than seven new buttons and rotary controls, you can individually adjust the settings for the bump and rebound characteristics of the dampers through eight different stages, the pre-load and on-power load settings for the diff, the level of intervention from the traction and stability control systems individually, plus the shift speeds of the dual-clutch gearbox. And that's before you go anywhere near the button marked DRS, which allows you to alter the angle of that vast rear wing to adjust the level of downforce and therefore drag.

As in the regular GT3, there are three different drive modes to choose from; Normal, Sport and Track. But only in Track mode do you get full use of all the toys. In Normal, which is the start-up mode, you can't adjust the dampers or diff, which means you can't leave a GT3 RS set-up like a track monster for someone else to climb in and get bitten by. Everything defaults to a nice predictable factory setting every time you turn it off, in other words, which is useful.

Yet if it all seems like way too much to get your head around, don't fret, because in practice the RS is nowhere near as bamboozling to drive as you might think. Not to begin with, and unless you're seeking to extract the last few per cent out of it, which is not something you'll feel the need to attempt very often given how damn rapid it is, and how exciting it is to drive, even at seven and a bit tenths.

To begin with, in fact, it feels, sounds, steers, changes gear, and basically drives quite a lot like the GT3 on which it's based, which is no bad thing. The immediate sensations are all familiar, in other words, even it feels like a slightly bigger car from behind the wheel because the bodyshell is based on that of the 911 Turbo, not the regular 992 Carrera, with most of the new body panels being made from carbon composites to help keep the kerb weight down to 1,450kg.

But then like all the truly great driver's cars, the RS keeps things back from you to begin with. It goads you into thinking that anyone with a bit of bravado could climb aboard and start setting lap records in it, right from the word go. And to an extent that's probably true, they could, because it's that quick, even at eight tenths.

But to get the best out of it, to go quicker in it and find out what really lies beneath its new carbon-composite skin, you need to delve deeper into its vast box of secrets. You need to play with the toys a bit, because if you don't, the magic within will lie mostly untapped.

It's not an especially easy thing to unlock, and it shouldn't be, but when you do finally get a glimpse of what this car is truly capable of, how extreme its abilities are, the sights and sensations that greet you are truly magnificent. Genuinely. Yet you always climb out of it knowing there's more to come.

Such restrained wizardry makes the new GT3 RS a very special car indeed. Maybe even the best yet, and there have been some quite good ones over the years.

| | |
| --- | --- |
| Model: | Porsche 911 GT3 RS |
| Price: | £178,500 |
| Engine: | 4.0-litre flat-six petrol |
| Power/torque: | 518bhp/465Nm |
| Transmission: | Seven-speed dual-clutch autoomatic, rear-wheel drive |
| 0-62mph: | 3.2 seconds |
| Top speed: | 184mph |
| Economy/CO2: | 21.1mpg/305g/km |
| On sale: | Now |

Next Steps

Source: Read Full Article