We get behind the wheel of the Smart #1 Brabus to see if the performance range-topper is worth the extra money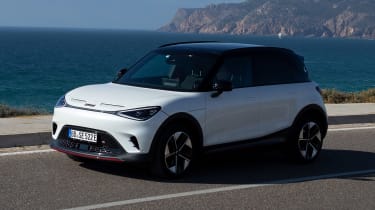 3.0 out of 5
Verdict
The Brabus #1 has huge straight-line pace and a nicely finished cabin, but the fact that this supermini-sized crossover will cost you north of £40,000 is still hard to overlook. There's not really any more driving pleasure to be had here than with the regular versions, and the extra motor also cuts the official range to under 250 miles. This might just be a case of more being less.
Smart and Brabus have enjoyed a relationship for two decades now, on everything from the baby ForTwo to the Roadster. So it was inevitable that the German 'luxury performance' brand would breathe over the new #1 SUV. Sure enough, a #1 Brabus will be available at the same time as the rest of the main range – from early spring 2023, in the UK's case.
There are plenty of visual cues from the outside that this is a 'special' #1; there's a different design of 19-inch alloy wheels, bespoke paint colour combinations, red highlights on the exterior trim and a longer spoiler that extends beyond the end of the roofline. Inside, you get posher grained plastics and materials, plus Brabus logos on the headrests and in the infotainment – although the system's animations and interface foibles are sadly still present here.
Best electric SUVs to buy now

Under it all, there's a significant upgrade in performance, because this #1 gets an extra 154bhp/200Nm motor at the front axle, boosting overall outputs to 422bhp and 543Nm. The top speed remains the same as for regular editions, at 112mph, but the extra grunt and traction cut the 0-62mph time to just 3.9 seconds – a seriously rapid figure for a car the size of a large supermini, and one that elevates the #1 above anything that can be found in the Kia Niro or Hyundai Kona. Even BMW's iX1 is outgunned.

The Smart feels fast, too, although you'll need to stab the drive-mode button at the base of the infotainment screen to cycle through the profiles, and pick Sport or Brabus to get the full performance that's on offer. Do this and the powertrain delivers sledgehammer wallops of instant torque that will send the #1 Brabus all too quickly towards its maximum speed.

These modes also remove some of the assistance from the steering in a bid to deliver more sporty 'heft'. In truth, there's still not much involvement to be had, and the steering feels a little compromised by the extra motor at the front. The chassis can also still come close to unravelling if you're too harsh with your inputs; the front tyres break traction first, and then the system seems to start allowing some slip at the rear, before changing its mind. Let's just say that you'll end up squirting the Brabus between corners like a mini-GT, instead of pointing it at apices like a hot hatch.

The ride backs this up, too; there's a firm edge to it, as you'd expect with a weight of 1,900kg, but as with the regular #1, there's enough sophistication in the damping to keep it tied down in most situations.

| | |
| --- | --- |
| Model: | Smart #1 Brabus |
| Price: | £43,000 (est) |
| Engine/battery: | 2x e-motor, 62kWh (usable) |
| Power/torque: | 422bhp/543Nm |
| Transmission: | Single-speed automatic, four-wheel drive |
| 0-62mph: | 3.9 seconds |
| Top speed: | 112mph |
| Range: | 248 miles |
| Max charging: | 150kW DC (10-80% in |
| On sale: | Spring 2023 |

Source: Read Full Article