First real look inside the cabin of new concept destined to morph into seven-seat electric SUV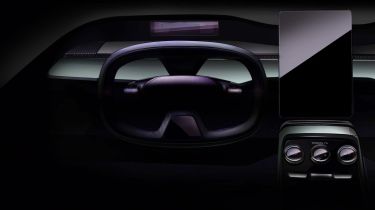 A new sketch has revealed the dashboard design of the Skoda Vision 7S – the company's new electric seven-seater SUV – which will be revealed on 30 August in concept form. The new concept will preview Skoda's next design language inside and out.
Based on the sketch, you can expect the Vision 7S to come to market packing a huge, free-standing, portrait-style infotainment screen. The steering wheel also gets a new look with four spokes and with what looks like touch-sensitive controls.
Best electric SUVs to buy now
Below the portrait infotainment screen, you'll find three large, haptic rotary controls, with more buttons beneath. These will likely be used to control the car's ventilation system. A large centre console provides space to store and charge smartphones and other devices.
Because most of the car's functions will be controlled via the centre touchscreen and digital dashboard display, conventional buttons will be in short supply giving the cabin a minimalist design, with a wraparound theme that emphasises width.
Expect the Vision 7S to make the most of its EV powertrain with a lounge-like cabin with a flat floor and a floating centre console that make the car feel lighter and brighter than a conventional alternative.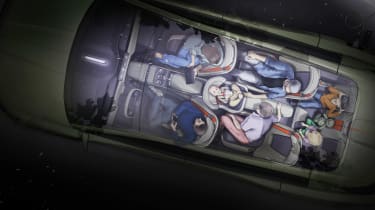 The latest teaser follows an image released last month showing the Vision 7's interior layout complete with seven seats.
The top-down sketch shows that the concept has, in effect, a 6+1 layout, with two adult seats in each of the three rows and then a novel centrally mounted child seat, which would place a baby right in the centre of the vehicle. This is likely to be a show-car element, with the space in the middle of the car ultimately being used for three seats, to deliver a full seven-seater.
Other elements of note include what appears to be a light bar in the middle of the dashboard top – potentially a reference to Skoda's Bohemian glass culture – and, in a sign of the brand's developing self-confidence, a Skoda text logo on the outside of the C-pillar.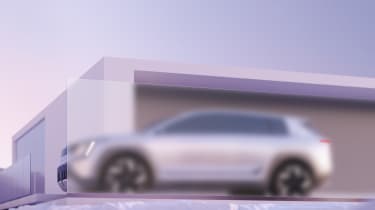 Skoda says that the Vision 7S will alter its dashboard configuration when the driver wants to relax – during a recharge, for example. The steering wheel and instrument cluster will slide forwards, while the large central touchscreen will move from a portrait layout to a landscape format to make it better suited to watching entertainment. This is confirmed by the 'Drive/Relax' switch in the centre console, which illustrates the screen rotating, and the teaser image, which shows the landscape screen featuring shortcuts to media sources such as YouTube and Netflix.
Skoda also says the car will feature backpacks integrated into the second-row seat backs, and phone mounts in the backs of the front seats to allow middle-row passengers to enjoy entertainment on the move.
Now read our list of the best electric SUVs on sale right now…
Source: Read Full Article