John McIlroy thinks there's cause for optimism after talking to the Italian firm's CEO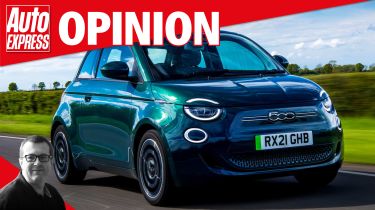 The very best people in business, I've noticed, tend to belie their age. And sure enough, when Fiat CEO Olivier François, pointed out to me during a recent Zoom chat (me in a cluttered study in Berkshire, him in a swish-looking kitchen in Milan) that he's only just turned 60 years of age, I had to raise an eyebrow.
Olivier is fizzing right now, and with good reason: Fiat's all-electric 500 has been well received and the company is just about to tap into the huge potential for parts and platform-sharing with its Stellantis group stablemates: Peugeot, Citroen, Vauxhall/Opel and DS. Development costs for new models, he freely admits, can be cut by up to three quarters, in some cases.
Convertible Fiat 500X Dolcevita confirmed for UK market
There was a key point in our conversation, in fact, when I offered what I think is a UK-specific phrase to describe Fiat's current position: sleeping giant. Frankly, François could have taken exception to this, not least because his brand scored the biggest global volumes of the whole Stellantis group in 2021. But instead, he seized it positively. "A sleeping giant? I love that," he grinned. "That's exactly my point of view. We have not even started awakening the giant."
Fiat has been a part of European culture, and many British driveways, for generations. My own family had a series of them, including Stradas and Regattas, and I learned to drive in an Uno before exploring the grip levels of Puntos on the back roads near my home.
François' plan, as you can read overleaf, is to build on this brand recognition with two clear pillars of models. They will be sold not at massively high prices, but in impressive volumes, and with sensible profit margins.
"We need to be obsessed with synergies," he says. "If we do this, you will have the satisfactory margin level of the mass-market brands of former PSA, combined with the biggest volume of Stellantis." It makes sense to me, and we can't wait to see the cars it delivers.
Read our full review of the all-electric Fiat 500 here…
Source: Read Full Article