The Volkswagen Golf GTI will soon get a new special edition model to celebrate its Sapphire anniversary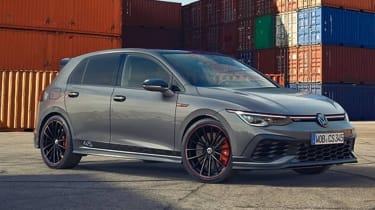 Volkswagen will soon launch a special edition version of the Golf GTI to celebrate the car's 45th Anniversary. The first-generation model was launched back in 1976 where, along with the Autobianchi A112 Abarth and Simca 1100 Ti, it helped carve out the hot hatchback genre.
Judging by these images, the Volkswagen Golf GTI Edition 45 will feature a range of cosmetic tweaks. Revisions will be limited to a fresh set of alloy wheels, a new front splitter, a black tailgate spoiler and some "45" branded decals for the car's doors. There's also a new diffuser at the rear with a larger twin-exit exhaust system.
New 316bhp Volkswagen Golf R on sale from £39,270
Inside, we're expecting a new sports steering wheel and a fresh pair of sports seats, branded with the same "45" motif. The dashboard will probably receive the same special edition badging and the infotainment system could feature some unique graphics.
The current Golf GTI's turbocharged 2.0-litre four-cylinder petrol engine has 242bhp and 370Nm of torque, which is enough for a 0–62mph time of 6.2 seconds and a top speed of 155mph. It's mated to a six-speed manual gearbox as standard – and the locking differential from the limited edition Golf TCR is now fitted on all models.
Beyond that, Volkswagen offers the 295bhp Golf GTI Clubsport with lightweight modifications for track use and the flagship Golf R with 316bhp and all-wheel drive. There's no word yet on whether or not this 45th Anniversary edition will gain a power boost over the standard car but Volkswagen will be carefully judging whether there's room for another power option in what is already a tightly packed range.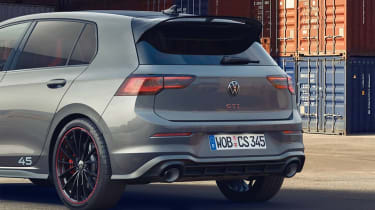 If Volkswagen did decide to make the GTI 45th Anniversary Edition more potent, it could be in line for a fairly substantial hike in power to justify its existence. Volkswagen has pulled this trick before – when the previous-generation Golf GTI was improved with the brand's Performance Pack and power jumped from 218bhp to 242bhp. We'll wait to discover Volkswagen's plans with interest. 
Interestingly, with this 45th Anniversary model arriving so early in this Golf's lifecycle, we're faced with the prospect of the Mk8 GTI also being around to celebrate its 50th anniversary in five years time. At that point, the 2030 ban on petrol and diesel cars will be looming so you'd have to question whether this will be the last Golf GTI we ever see. 
Now read our review of the Mk8 Volkswagen Golf GTI. Let us know your thoughts in the comments below…
Source: Read Full Article