Anyone looking for a reliable, fuel efficient, compact and easy to drive petrol hatch at a reasonable price tag won't go wrong with the Hyundai Grand i10 Nios.
BHPian Phantom_510 recently shared this with other enthusiasts.
I am going to share an ownership experience of our car. The car is a Hyundai Gi10 Nios MY2021. It has been two and a half years since the car came home. It has covered a total of 21,0171 trouble free kms (at the time of writing this article) till now. The Gi10 Nios is basically my father's commuter, a workhorse. He uses it for the office commute and driving it around the town.
The car search begun in the year 2021. We narrowed down to a few options and my father had a certain budget and only a particular type of car (hatchback) in his mind. Our priorities were a good engine and gearbox, ride quality (comfort), easy to drive nature and vfm.
The choices were Swift Vxi, Tiago Xt, Gi10 Nios magna petrol.
Test drives started with the Maruti. The Swift with it's eager engine and alert handling instantly fired up the enthusiast inside me. I had certainly thought of finalising it. However, there were a few issues like it's long waiting period (2-3 months), slightly jittery ride quality and overall experience of the sales people.
Then, I went for the Tata Tiago test drive couple of days later. A great vfm package. It had mature on road behaviour (ride n handling, comfort), felt quite solid and well priced. But, the only chink in the armour was it's 1.2L 3-pot Revotron engine which is absolutely fine in isolation showed it's flaws when test driven after sampling the 1.2L K-12M 4-pot motor under the bonnet of Swift. The engine made it feel underwhelming to me. For a first time buyer these things are not at all a deal breaker.
N.B- These are just my own observations and shouldn't discourage anyone reading this article from purchasing either of the above cars. They are great cars and has their own strengths but unfortunately it didn't suit our requirements well.
Lastly, it was time to check out the Hyundai Gi10 Nios. Big surprise was the cabin experience for a car of it's price. Sure, it's neither a Maybach nor a Rolls (pun intended) but certainly exudes a feel good factor that is better than the others in that price range. The test drive experience was rather good. Stand out aspects were- It's impressive low speed ride quality, light controls, cabin experience certainly makes one feel hard earned money being well spent. Test drive vehicle was a 1.2L Kappa petrol which packs in stellar low rpm refinement and excellent tractability. The engine being mated to a slick shifting 5 speed MT with a light clutch makes driving a stress free affair. It puts one into a zen mode (pun intended) within seconds. When compared to the best in class K-12M. The 1.2L Kappa only losses out to it in terms of flatout/ outright performance, as the K-12M with its shorter stroke configuration spins up more eagerly. The Nios on the other hand with it's longer stroke configuration and a higher kerb weight feels more laidback. On the flip side, Nios felt noticeably more torquier in the higher gears at low speeds. One could pull it literally in the 4th gear from as low as 30 kmph with the A/C like a champ without clutch slip or the engine gasping for breath. 5th gear could be comfortably slotted as early as 45 ish kmph. All these attributes started really making sense to me as it would fit our purpose perfection. Hence, it was chosen.
My father booked the car within couple of days after the test drive. He decided to go for the Magna 5MT variant in silver colour and was delivered within 20 days. It has been quite a fuss free experience ever since then. The after sales service is superb, they keep in touch and keeps reminding about the upcoming services. The maintenance costs are cheaper than Maruti. What else a middle class car buyer could ask for.
It excels in providing a very relaxed driving experience. A perfect car for dense traffic with its torquey engine, light controls (steering and clutch) and an extremely tight turning radius. It packs in surprising amounts of space for average sized Indians. The rear seat with its generous under thigh support and the seat back rest being set at relaxed recline angle makes for a very comfy experience even for the rear occupants.
I was skeptical about it's fuel economy initially as most of the people would rate 1.2L Kappa to be a guzzler. However, it surprised me with it's fuel sipping abilities. Dual variable valve timing works! And it's there for a reason. It is as frugal as the K-12 M series if not more. My father drives with a heavier foot (than me) and still the car delivers anything from 15 to 17 kmpl with the A/C running (mostly highway runs).
Pure city driving with A/C on, 4 people on-board with spirited style (upshifting late) would still yield anything from 11kmpl (bumper to bumper) to 14 kmpl (flowing traffic).
Pure city driving with A/C on , 4 people on-board with gentle driving style (upshifting early) will give 13 kmpl (bumper to bumper) to 16 kmpl (flowing traffic).
Out on the highways with 4 people and A/C it would deliver 17 kmpl @ 80 – 100 kmph in top gear.
An easy 19/20 kmpl if driven with restraint @ 60-75 kmph (with 4 people and A/C) in topgear.
It even returned more than 26kmpl with A/C once when i tried my best to eke out the best possible efficiency. I have uploaded an amateurish video on YT.
In the end i would like to mention that we're really satisfied with the purchase. Anyone looking for a reliable, fuel efficient, compact and easy to drive petrol hatch at a reasonable price tag won't go wrong with the Hyundai Gi10 Nios.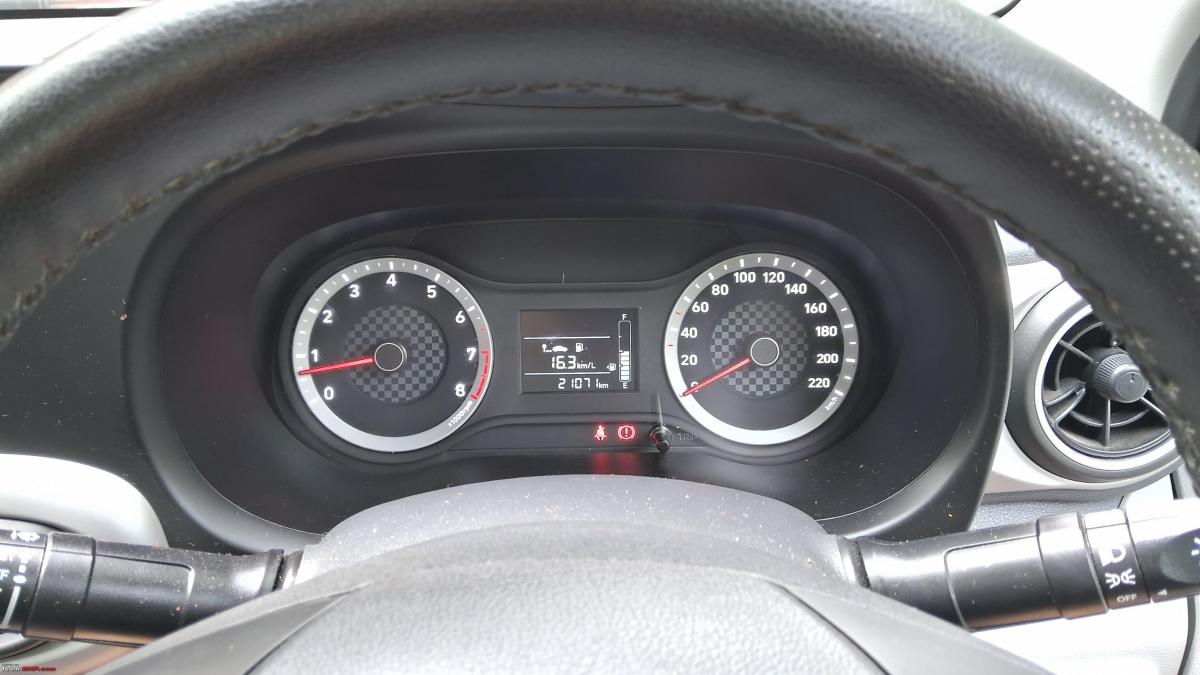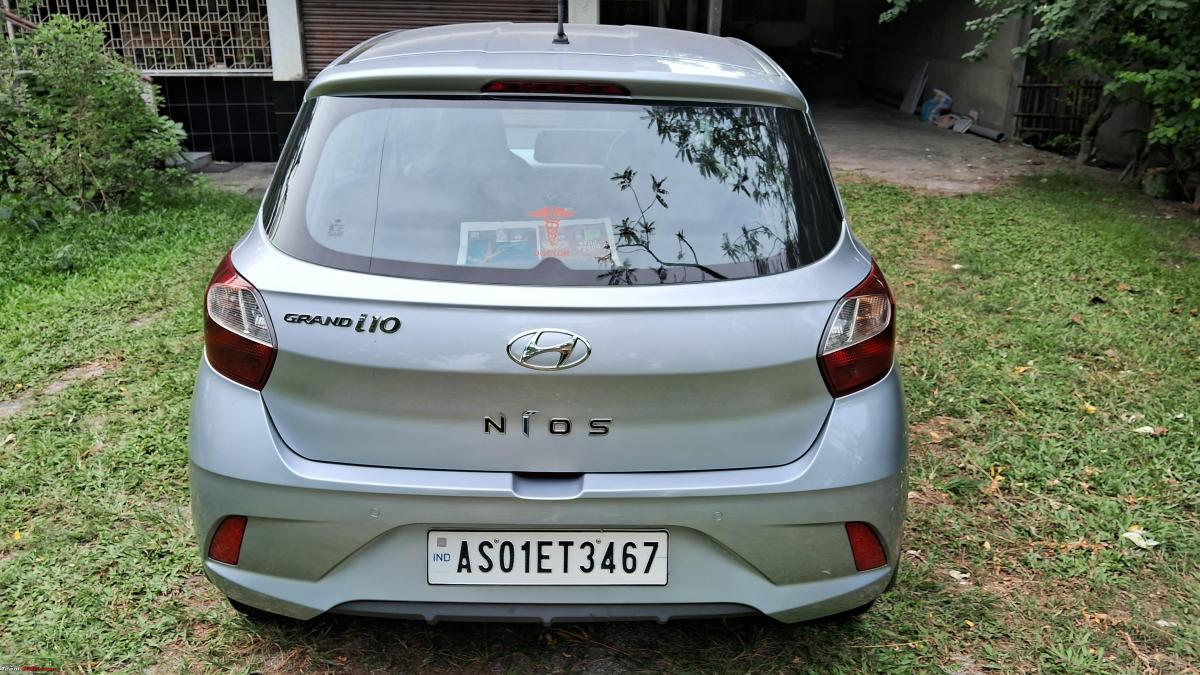 Read BHPian comments for more insights and information.
Source: Read Full Article