The bike is plenty powerful and can be quite dangerous if you are not careful.
BHPian starjohn123 recently shared this with other enthusiasts
I really missed riding my RR 310 and felt like this is probably the right time to get another bike but the Aprilia RS 660 was never ever on my radar.
The usual contenders where from Kawasaki ,Honda and Triumph. The Ninja 650 , Z900 , Ninja 1000 and Honda's CBR 650R. I was even seriously considering the Triumph Street Triple 765 RS.
My requirements were as below:
Less weight , lower the better. Ideally below 180 Kgs. My RR 310 was 174 Kgs and I was barely able to manage it's weight.
Less heat. If heat dissipation is good , it does not matter.
Feature laden bike , TFT screen , LED headlights. The RR310 really spoiled me here.
Super Sport looks(fairings), not a deal breaker if the first 3 requirements are satisfied.
In-line 4 noise, not a must. I know I'll have to compromise on a lot of things like safety , heat and weight for this.
So with my first requirement I had to drop the Z900 ( 209 kgs ) ,CBR 650R ( 206 kgs ) and the Ninja 650 ( 193 kgs ) as they weighed a lot. Though I think I could have managed with the Ninja 650 as it was a highly practical bike in every other aspect.
So I was finally contemplating buying the ballistic but practical 765 RS. It ticked all the boxes perfectly , except the full fairing. It weighed just 166 kgs , had power of about 123 Bhp and 77 Nm torque , giving it an astounding 728 Bhp/ Ton power to weight ratio.
Not to forget the sweet sounding triple. This was the bike for me, certainly nothing else can beat this British beauty. I also want to point out that Triumph is probably loosing a few customers by not making the Daytona 765 RS. I believe they made one last in 2020 but at a very limited run just for USA.
So I started the usual Team BHPian ritual, watching ton's of Youtube videos on the 765RS , reading our own pages for ownership reviews. Then one day I saw a comparison video of the 765RS and the Aprilia RS 660. There were pros and cons for both as in fairings on the RS 660 but the power on the 765 RS was much better. The RS 660 weighed 169 kgs had 100 bhp and 67 Nm of torque giving it a power to weight ratio of 591 Bhp/Ton, no slouch this one but with lesser weight( 166 kgs ) and more power ( 121 Bhp and 77 Nm ) the 765 RS was more powerful 728 Bhp/Ton. What's also more interesting to note is that the 765 RS does 0-100 kmph in 3.1 seconds ( claimed ) while the RS 660 does the same in 3.3 seconds ( claimed ) , that's already Porsche GT 3 territory. Realistically owners have got up to 3.7 seconds with the RS 660 and that's not slow by any stretch of the imagination.
But it was too late , my mind wasn't working straight after watching the RS 660. I didn't care that it had less power than the 765 RS anymore. The other reviewers also started praising the Aprilia RS 660 for it's nonchalant ability to be the best of both worlds. It was a great comfortable road bike as well as great on the track. It looked aggressive but it wasn't punishing on the rider. It started brining flashbacks of my RR310 for being a similarly versatile bike.
The reviewers main comparison of the RS 660 was with the Yamaha R7 , Honda CBR 650R and MV agusta Brutale and even there they said the only drawback was the RS 660s pricing. I feel the high tech electronics have to be blamed for that.
Anyways I walked into the dealership here in Australia Peter Stevens just to have a look. My jaw literally dropped seeing it. I mean what would you do if you saw something similar to this.
I didn't tell anyone at home and just booked the bike then and there itself. Got it within few day's and I don't regret buying it at all. The bike is simply stunning from all angles.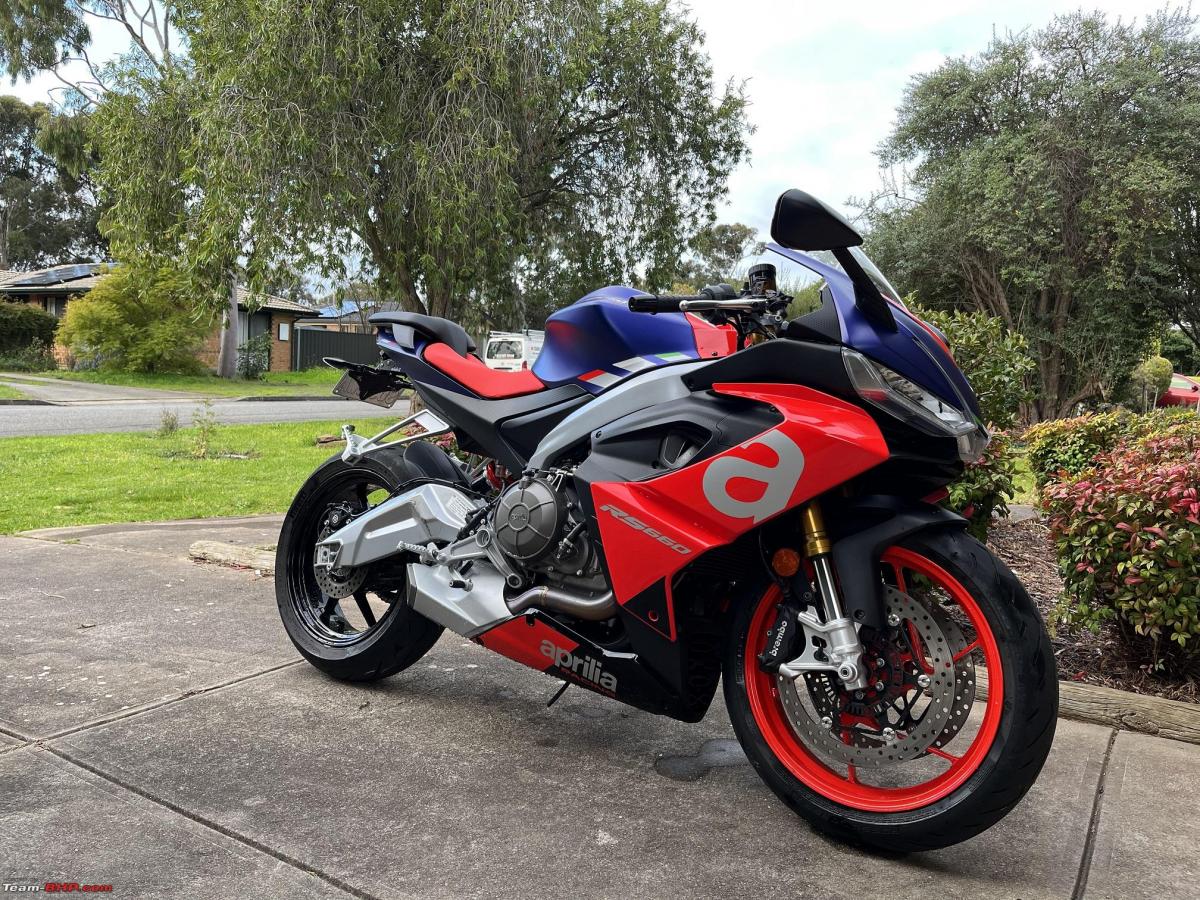 The bike is really exclusive and get's attention wherever it goes. Lot of thumps up from strangers and many enquiring about what bike it is.
Cons:
No distance to empty reading on the dash.
Can you believe it ? Such a feature laden bike and Aprilia does not have this vital info on the dashboard. They haven't even made a firmware update for it yet.
Aprilia owners on the other hand were ridiculing me for such a request. They were like , be happy that you atleast got 6 fuel bars on the dash. Guess these are
just Italian motorcycle ownership things.
Seat height is a bit high.
One issue I have though is that the seat height is higher than my RR 310. RR 310 was 790 mm while the Aprilia's is 820 mm. So me being 5'7″ I can't put both my feets on the floor while siting on the bike. I can only put one feet on the floor comfortably or I have to tip toe.
Engine Oil Consumption and procedure to check engine oil level is horrible.
To check engine oil level I literally need to plan a long ride. I kid you not. As per the manual , you can't just idle the bike to warm it up. You need to ride it for 15 kms to warm it up and then come back home , turn it off. Hold the bike steady on a level ground and ask my daughter or wife to come help remove the dip stick. Wipe it clean and insert it back without screwing it and remove it again and check the dipstick level.
Another huge problem is that you just can't read the dipstick. Aprilia owners had suggested to sand the dipstick so that the oil level is readable , but this didn't work for me. I just place the dipstick flat on a white sheet of paper or thick 4 ply tissue paper , to get the reading.
To make matters worse , I think the engine is consuming some amount of oil. So it's going to be really tough doing this continuously.
No proper rear rocker panel cover.
From factory we get only a small plastic sheet as cover to protect it from scratches. Though I have not got any scratches , over time when the plastic sheet peels off, dirt gets stuck in it and it looks really very ugly. Luckily there is an easy fix for this as you can buy the cover for it separately.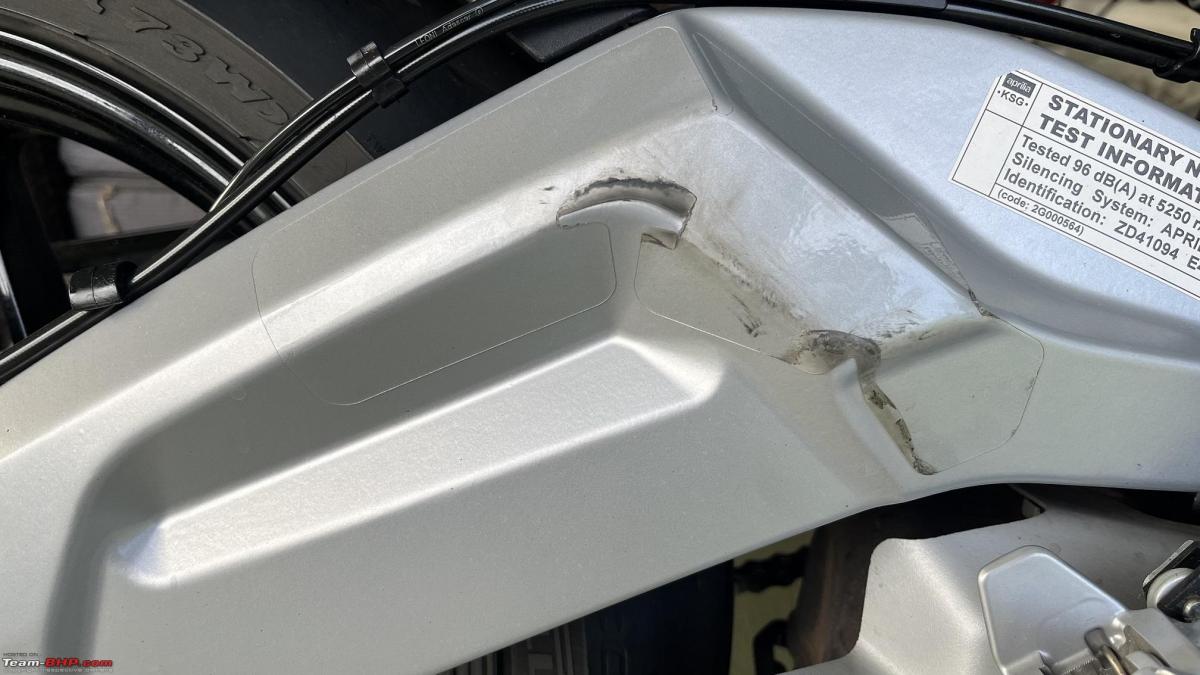 Pros:
Loads of Electronic Gizmos.
The bike has next level electronics like wheelie control, 3 Levels of Control for AEM ( Aprilia Engine Map ) , 3 Levels of AEB ( Aprilia Engine Braking ) , 8 Levels of ATC ( Aprilia Traction Control ) and 3 Levels of ABS. All the above can be individually controlled in Individual Mode as seen below. There are 3 riding modes Commute , Dynamic and Individual. Initially I used to ride only in Commute mode , now after gaining some confidence that I can control the bike I ride it in Dynamic mode. I'm still not confident enough to fiddle with Individual settings , so no Individual mode for the time being.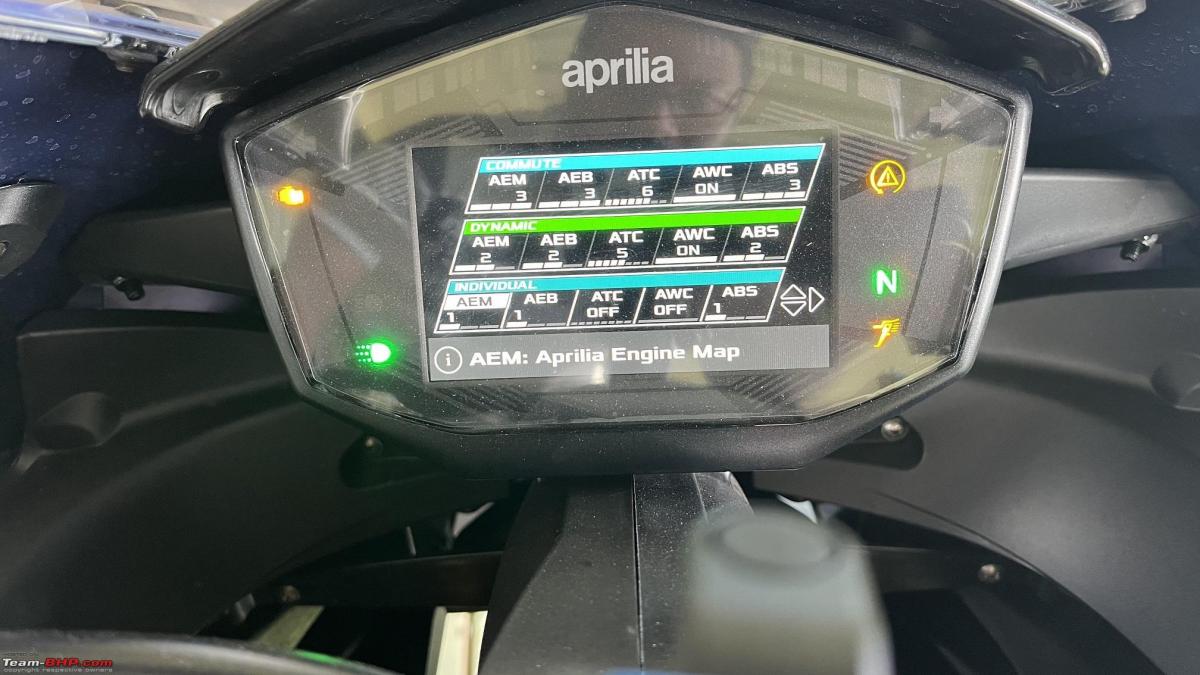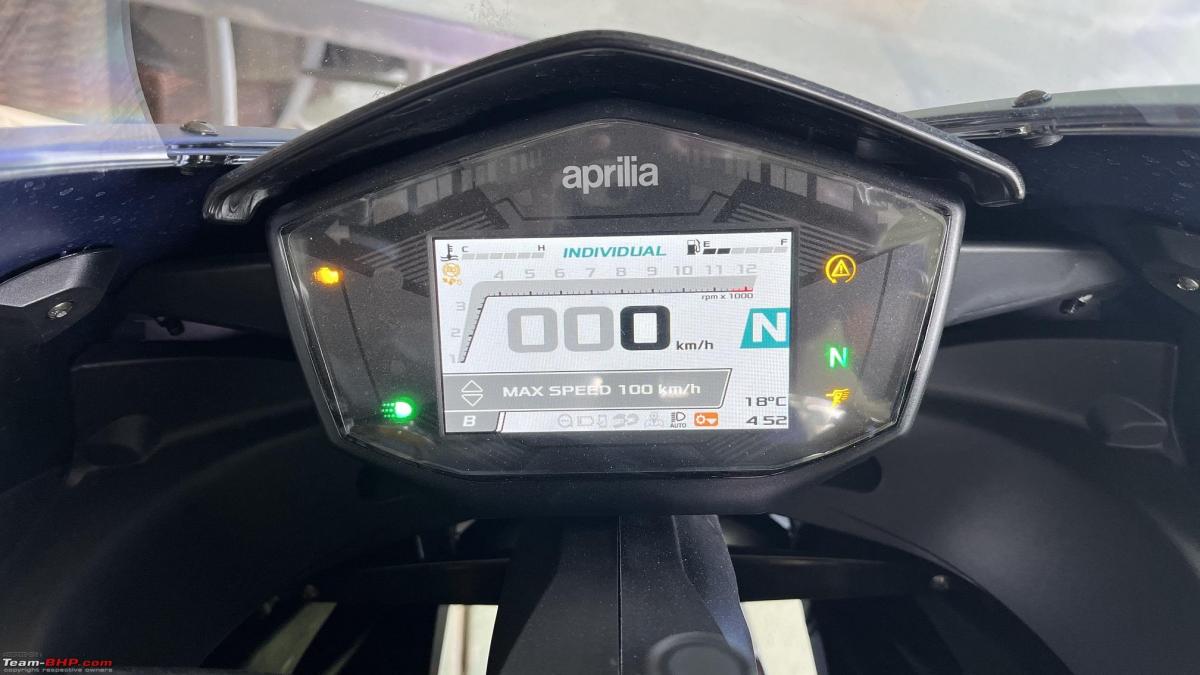 Super Light weight for a fully faired Motorcycle. Just 169 Kgs.
Powerful Twin Cylinder Engine.
100 bhp and 67 Nm of torque giving it a power to weight ratio of 591 Bhp/Ton. 0-100 Kmph in 3.3 to 3.7 Seconds.
Stunning looks. An Italian Exotic , turns heads everywhere.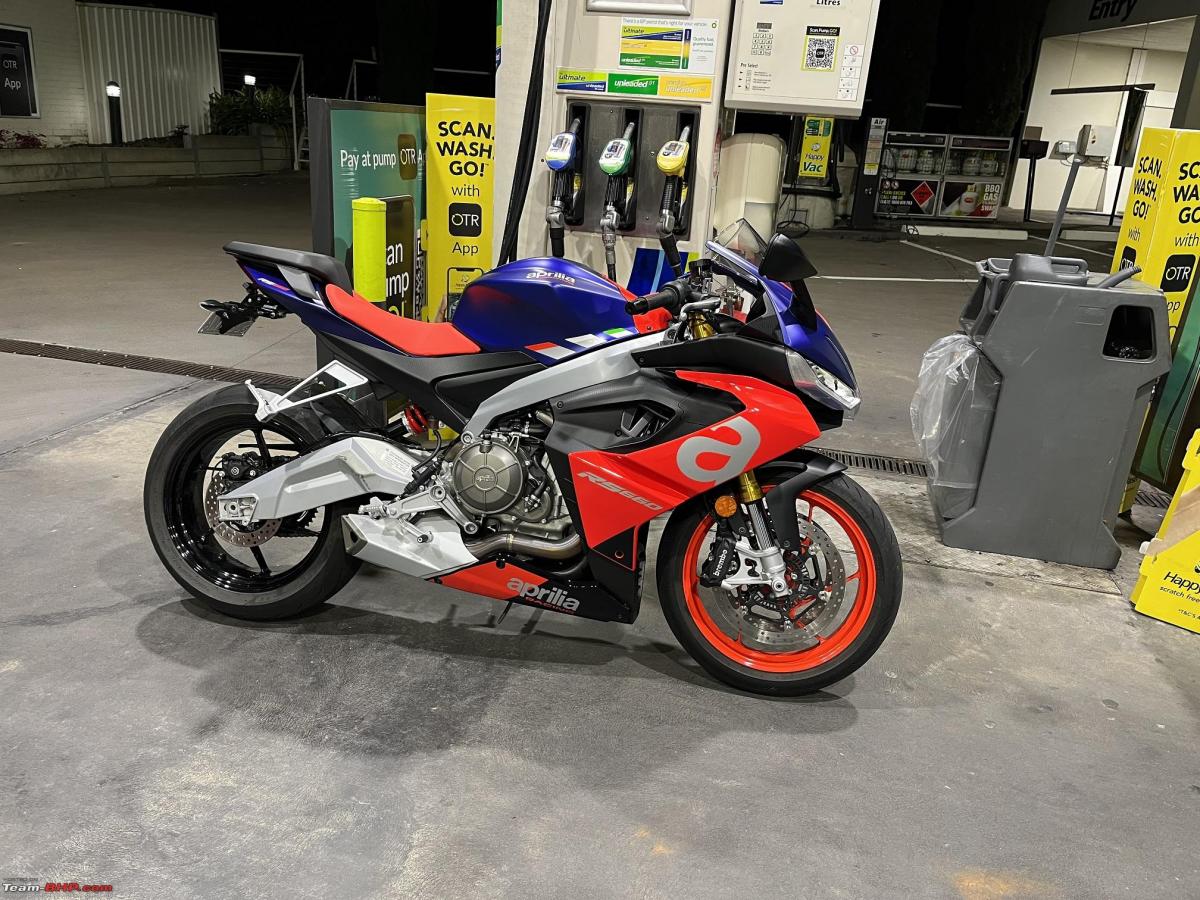 Excellent Braking System with ABS.
The front brakes are Dual 320 mm Brembo Radial Calipers with metal braided brake hose. They are top spec Stylemmas as well.
The rear brake is a single 220 mm disc brake.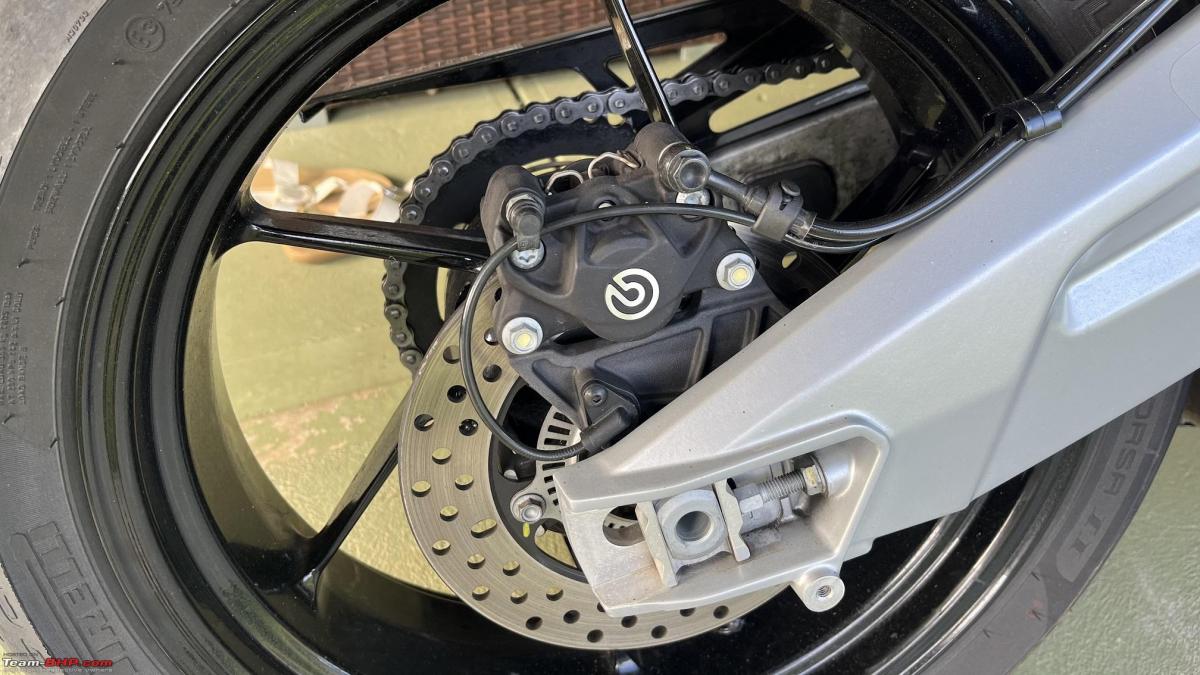 The bike is plenty powerful and can be quite dangerous if you are not careful. Luckily here in Australia you can't ride this bike without an R-date license. Unfortunately in India we don't have such a concept as bike specific Licenses and that's why we see a lot of young rider deaths in these powerful motorcycles. A 650 Interceptor and an RS 660 are not same bikes just because they are twin cylinders and have the same cc's. They are poles apart.
Apart from the above Pro's , the bike also has Bi-directional Quick Shifter which works seamlessly , but I don't use it often.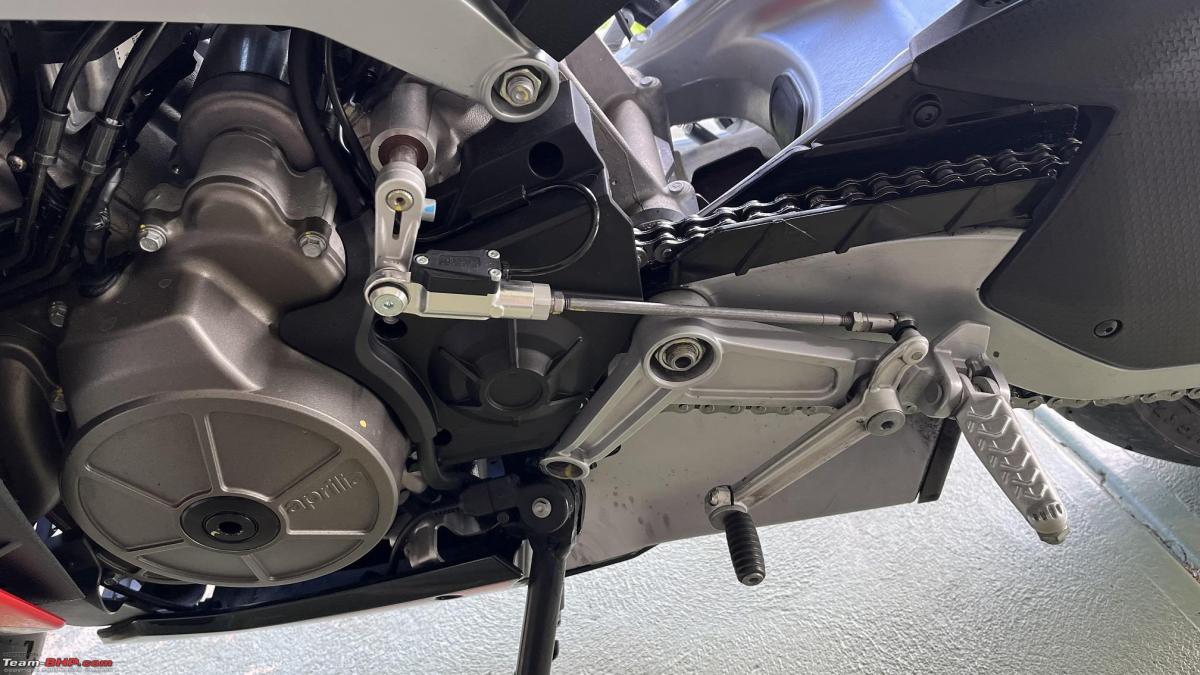 Both front and rear suspension are fully adjustable.
Front is a Kayaba 41 mm upside down fork. Adjustable for Rebound , Compression and spring pre-load. I honestly don't understand this and probably will never play with these settings unless I hit a track.
The rear suspension is a mono-shock adjustable with counter spring, rebound and spring preload.
The Tyres are quite special.
Front Tyres are Pirellis Rosso Corsa 2's 120 / 70 R17 , super sticky on the road.
Rear are the same Rosso Corsa 2's but 180 / 55 R17.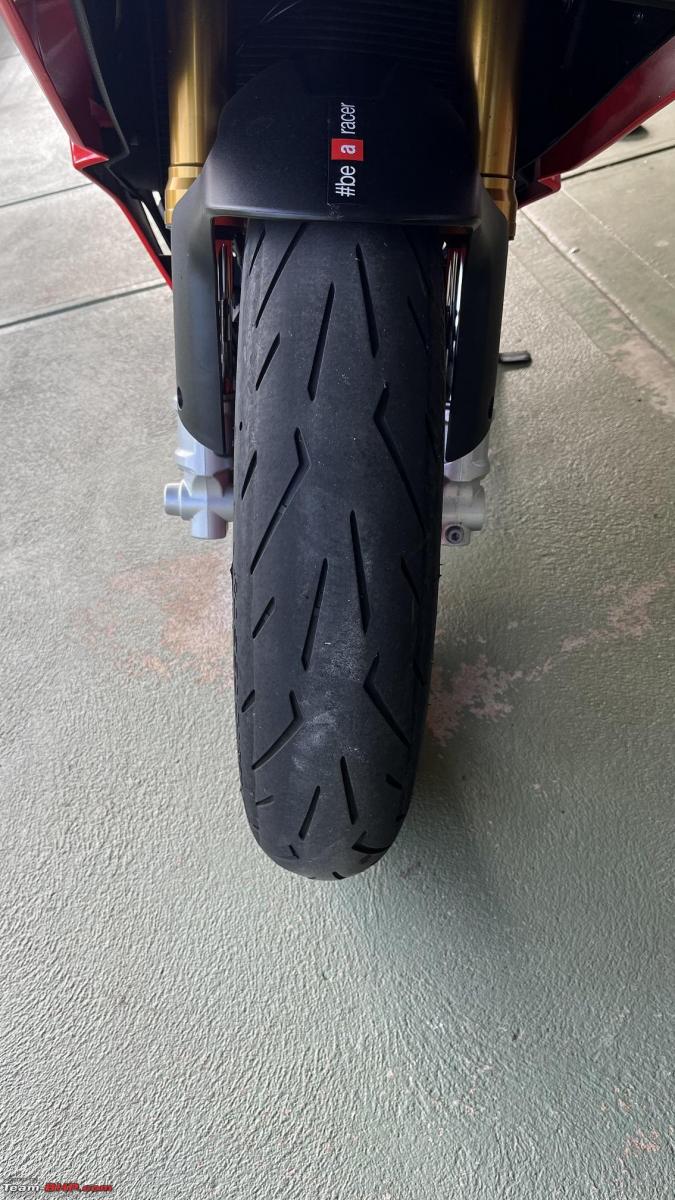 A very important feature on my bike is Cruise Control. It can be activated by pushing the button in the pic to the left for 2 seconds and then pushing it once again to set the desired speed. It only works when the rpm is 3000 and above.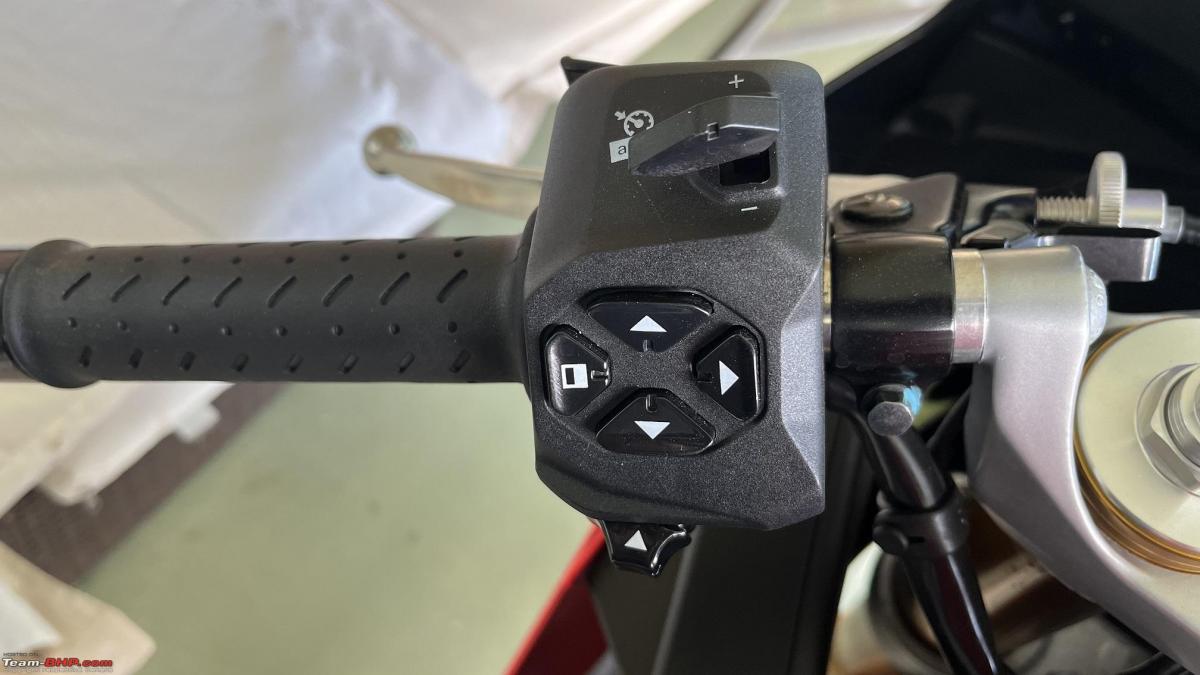 The bike can run on Minimum 95 Octane fuel.
Reliability is a question mark as this is a fairly new bike and there are reports of few owners having their engines replaced. Fortunately being a 2022 model , some of the chinks might have been ironed out. Also being a higher compression engine , this is a bit more reliable than the KTMs engine as per a reliability report shared by Fort9 on his channel. So that's kind of a relief.
The bike has been good fun so far and I am enjoying it a lot but have to keep reminding myself to control the throttle as it could get me into trouble here as laws are much stricter.
I have shared 2 vlogs here , one as soon as I purchased and another one of a long trip I had with a friend of mine in his Triumph Bonnie.
Thank you so much for taking the time to read this post.
Check out BHPian comments for more insights and information.
Source: Read Full Article