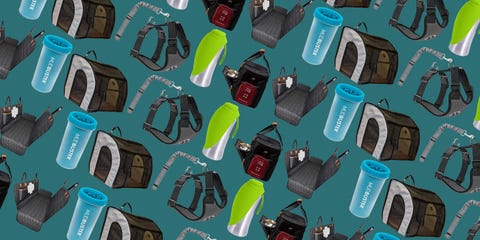 If you're planning to take a road trip with your faithful pup, you should know we've come a long way since the days of just tossing him in the backseat and heading for parts unknown. We now know there are safer ways to travel with your pet—cleaner ways, too. These products will keep your dog calm, happy, and safe on your jaunt, so hopefully he won't act like he's going to the vet next time you load him up.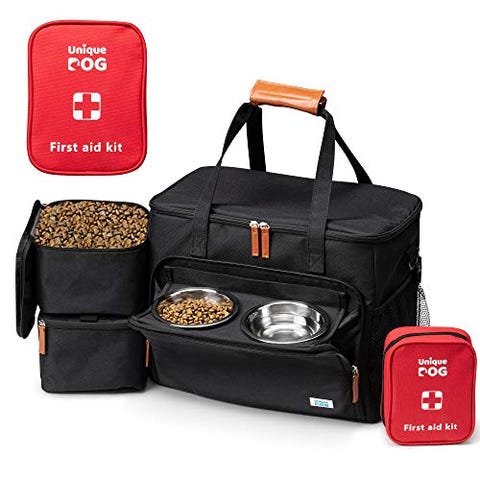 This doggie travel bag by Unique Dog features an elevated bowl stand to keep your pup's head upright when eating. It also has a bowl for water, two food storage containers, and multiple extra pockets.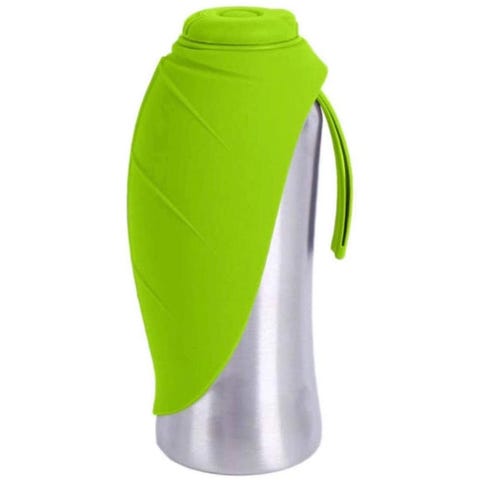 This portable and reusable water bottle from Pacific Paws Northwest holds 27 ounces and also works as a bowl. It comes with a wrist strap for easy transport and is BPA- and PVC-free.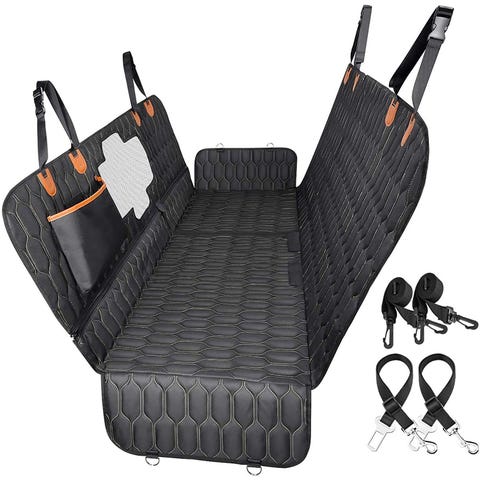 This hammock from OKMEE converts to a bench seat car protector if that works better for you. Maximum open size is 53 x 59 inches. A mesh viewing window allows fresh air to flow to your pet and lets you to see him or her.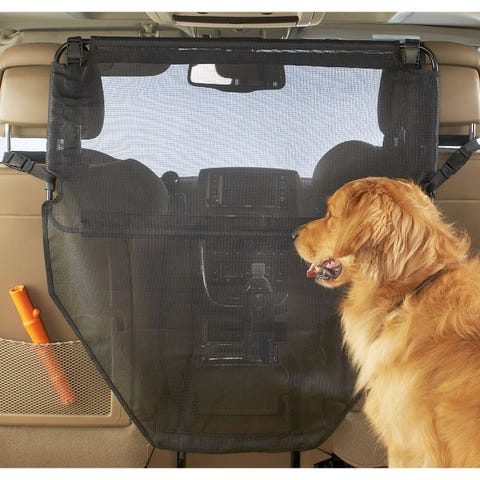 This compartment separator from High Road keeps your dog in the back seat but with a good view of the front. This gate features a padded steel frame and comes with four adjustable straps.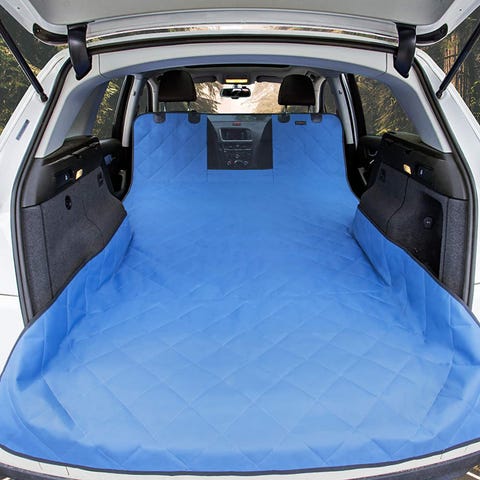 This waterproof liner from iBuddy measures 90 x 52 inches and will keep hair, scratches, liquids, and dirt off your interior. It's non-slip and takes just one minute to install.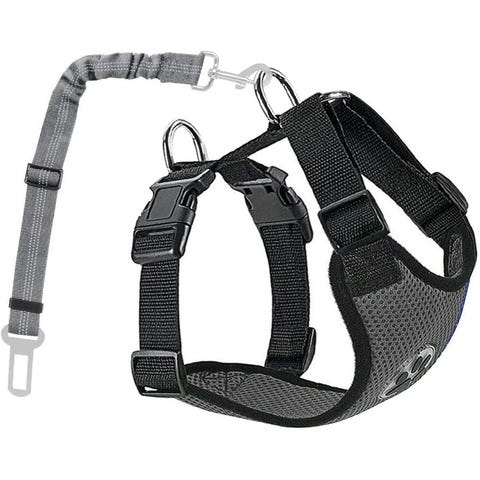 This safety vest from AutoWT is made from double mesh fabric and is adjustable for size. There are two buckles on the chest piece, which makes it easy to slip on and off.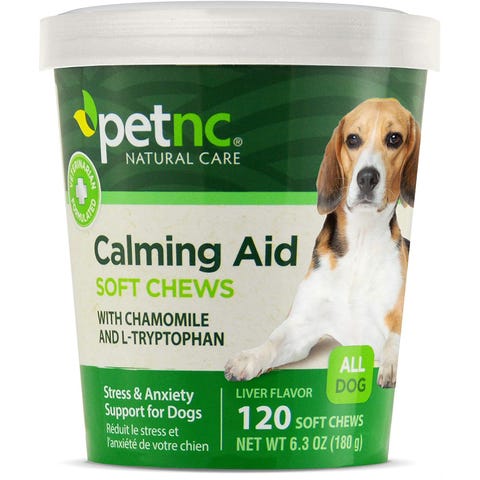 If your dog is a nervous traveler, check out these soft chew treats from PetNC that have chamomile and tryptophan (the same chemical in turkey makes you sleepy) for a calming effect. It's a 120 count.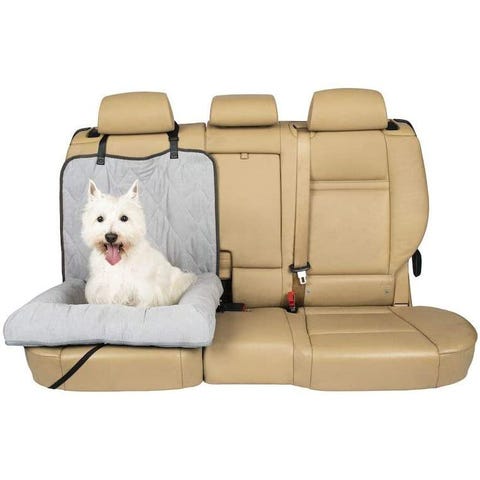 This small seat from PetSafe will accommodate dogs up to 30 pounds and will protect your seats from hair and scratches. It can be used with a seat belt harness and dog vest tether.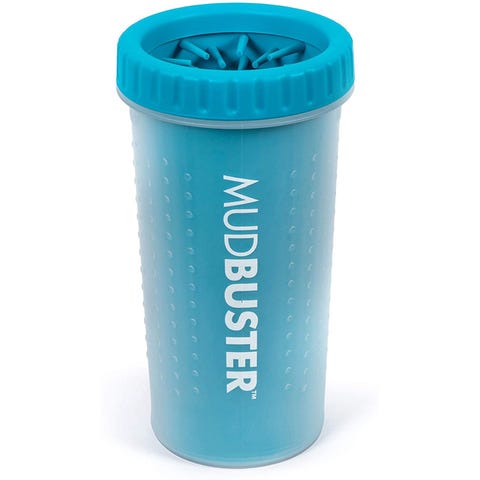 The Mudbuster by Dexas measures about 9 inches by 5 inches to stick your dog's paws in before they get back in the car after a pit stop. It's dishwasher safe.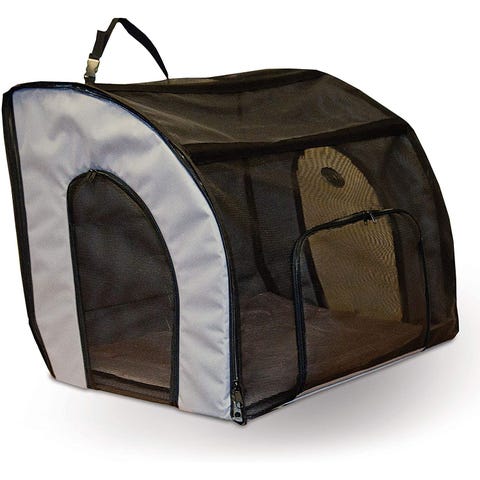 This carrier from K&H folds flat for easy transport, secures safely with any seat belt, keeps pets from distracting you while you're driving, and features multiple exits. It's offered in multiple sizes.
Source: Read Full Article