I was surprised at how brilliantly that front end tucks in and wants to turn. It is now in proper Porsche 911 territory.
BHPian Reesnat recently shared this with other enthusiasts.
Was in Dubai for a holiday and got to drive the G80 M3 on track at the Dubai Autodrome, thanks to the team at BMW India who helped facilitate it, was a great experience!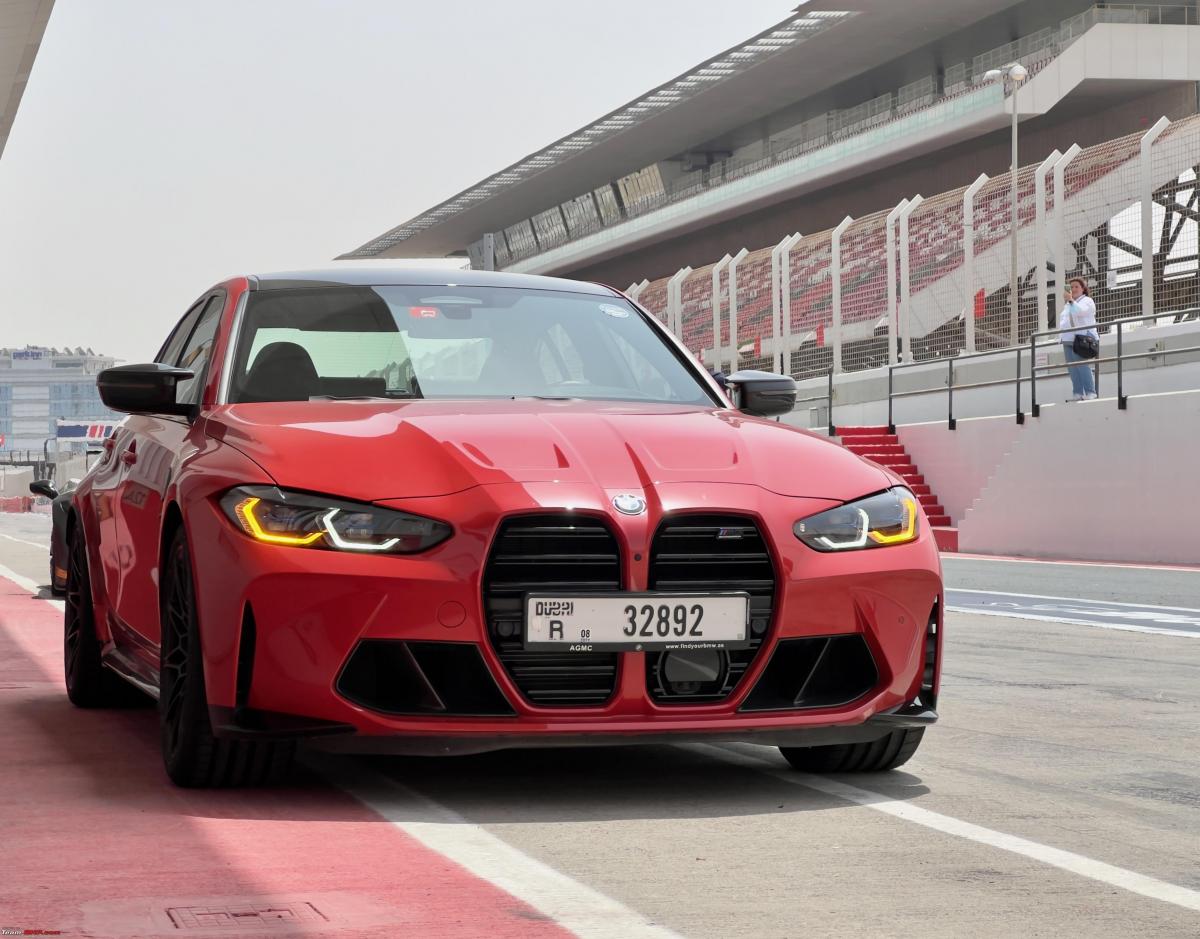 Here are some of my impressions after the short stint on track with it:
Pros
Fantastic engine, really pulls!
Amazing front end agility
Tons of grip and confidence-inspiring chassis
Multiple levels of traction control
Hides its weight beautifully
Cons
ZF Torque Converter Gearbox does not have the engagement of the DCT
Steering felt lighter than I would have liked, especially on the track
The looks – the grill does look better in person, I'll say that for sure. Still, in bright colours, I can see how it may not be for everyone. For me personally, I've grown to really like the M4 in Dravit Grey.
I was really impressed with how the M3 drove on the track. Coming from my M2C and some memories of driving the F80 M3, I expected the car to feel heavy and less willing than it did. From the very first corner, I was surprised at how brilliantly that front end tucks in and wants to turn, the front end of this generation is now in proper 911 territory. The chassis balance and handling is a significant step forward from the earlier generation, no two ways about that. It's a lot more sophisticated and well mannered than before, and if needed also a hooligan if let loose, this is the main trait of an M car and that is still very much intact.
Gearbox
The ZF gearbox has been tuned very well, it does what it's supposed to, quick and smooth. BUT, it just doesn't have the 'smack' of the M-DCT in the previous generation which is so satisfying and fun. On the track, that very smack can probably unsettle your car mid-corner with how aggressive it can be, so in some ways, the ZF may be better from a performance standpoint for track days. Still, the joy of that DCT was sorely missed for me, for a car this aggressive, that would have been the perfect match.
Impressions vs
M2C – The playful little brother. No doubt the G80 M3/M4 are significantly better cars from a performance and dynamics standpoint, the front end and handling on these cars is a big step forward. Having said that, the M2C's playful character with that DCT is all about big smiles and fun, this car doesn't take itself as seriously as its bigger brothers.
M340i – The sensible choice. Let me say this right at the outset, anyone thinking 340i is 90% of the M3 at half the price is clearly missing the point. M340i is a fantastic value proposition for the performance on offer, but vs the M3/M4, it's a sporty sedan and not a sports car. The difference in how they drive is huge (as you would expect). Buy the 340i for bang for buck performance, but don't think it's almost an M3.
To summarise, I was super impressed and think these are a big step forward and feel like proper sports cars and have really closed the gap to the 911, and not just the base 911, but the Carrera S.
Check out BHPian comments for more insights and information.
Source: Read Full Article