The Ford Fiesta entered the Indian market at the right time when many potential buyers wanted something "different" from the Honda City in that segment.
BHPian Shreyfiesta recently shared this with other enthusiasts.
Tribute to the Fiesta, Ford India's Smilestone Sedan!
Disclaimer: This thread is going to be awfully long as I'm planning to pen down the complete story of the Ford Fiesta brand in the Indian market.
Introduction
Popularly described as the 'Josh Machine' by most petrolheads, the Ford Ikon touched Indian grounds for the first time in 1999. Ford was committed to ensuring that the Ikon was designed, engineered and built with the Indian consumer in mind. Ikon was a proper enthusiast's car in all manner. It was this car that made sharp handling and fun available for the Indian petrolheads before the arrival of City VTEC and MK1 Octavia RS. Ikon's 1.6 ROCAM petrol version was actually positioned to excite the most discerning and 'Joshful' buyer who wanted to express his 'Josh' attitude.
2003 saw the introduction of facelifted Ikon, christened as 'NXT' by Ford. The sedan had received upgrades on both mechanical and cosmetic sides during this update. A more powerful 1.3 ROCAM unit replaced the sluggish 1.3 Endura, power output figure was raised to 70bhp from 58bhp. Post-2003 Ikons were far better than the pre-facelift ones in terms of equipment levels, fuel efficiency, handling and refinement. Basic 1.3 variants became a very tempting choice in the entry-level sedan segment for those who were looking at a no-nonsense car.
Fusion was touted by people as a car that falls in no segment. Indians were not ready for such an expensive small car, nor expected that design too. Mondeo was an excellent machine for driving enthusiasts, but most of the owners suffered from reliability issues. Many users had problems with its electricals like the power seat adjusters and 6CD changer. Facelifted Mondeo with extra features and refreshed looks came out in 2005, but by then people had lost interest in the model because of the bad reputation created by the earlier version.
Ikon and Endeavour were the only good-selling models in Ford's product portfolio. Though the Josh Machine used to do well in the market in terms of sales, Ford was really in need of another sedan to fill the wide gap that existed between Ikon and Mondeo. That's how the Fiesta was born. Of course, the Fiesta brand played a key role in establishing Ford as a maker of solid driver's cars in India.
Chapter 1: Development of B376, a mid-sized sedan from Ford
After the Ikon, Ford India once again began to work on developing appropriate models of cars that would match the special requirements of India's car market. Known at first by its codename B376, the Fiesta used Ford's 'shared technology approach', which was a way of saying platform sharing. The B376 shared many common bits and pieces with the B256 European Fiesta on which it was based, but this model was unique for India. So, when the work on the Fiesta started in October 2002, it was for an all-new, India-spec model. It took nearly two years from design freeze to prototype.
The sedan was specifically designed to meet Indian conditions, Fiesta was truly a product of and for the Indian market. Engineers from India were involved in the design and development stages of the car. Back in the day, there existed a trend in the Indian car market towards diesels. Two factors – high fuel prices (cost for 1 litre diesel was less than ₹ 30 IIRC) and the less noisy, hybrid diesel engines that were capable to compete with petrol variants on performance. Ford India used to source its petrol engines from within India while diesel engines were imported from Europe.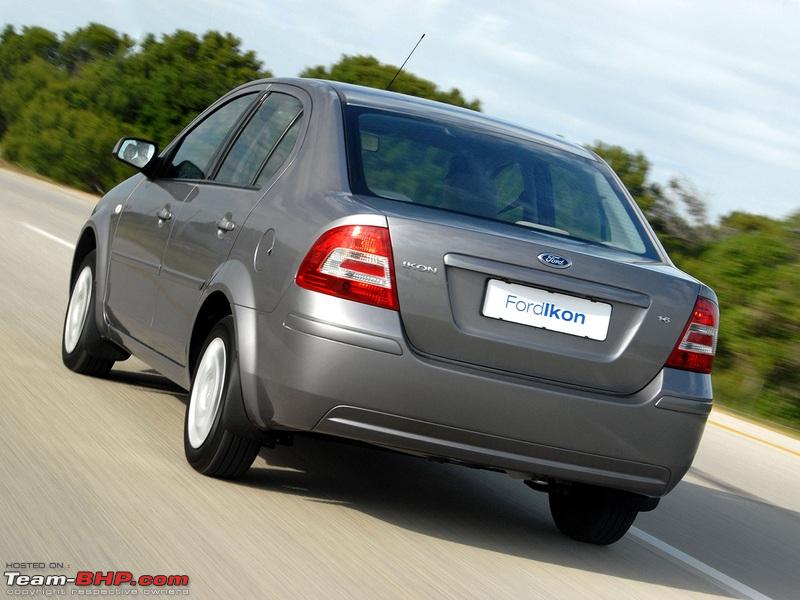 Team behind the Fiesta comprised of Ford engineers from India, Australia, UK, Japan, Spain, Belgium, Germany, Sweden and Korea. About 82 prototype vehicles and 90 pre-production vehicles were built before the actual production started. Over 700,000 test kilometres were driven and over 11,000 individual tests were undertaken before introduction. Unique water wading tests included leaving the vehicle in 450mm of water for eight hours. Fiesta had undergone more than 25 crash tests too. A dedicated team of over 150 put in over 500 man-years of work. An average of 14 engineers from Ford Australia were on-site in India each week through 2004-05. The team had made close to 650 trips to India and other countries to design, test and launch the Ford Fiesta.
Engineered specifically to adapt to Indian road conditions, the Fiesta combined its high stability with exceptional driving comfort. Optimised steel strength in critical areas along with structural reinforcement, ensured that the passengers were unscathed even in a frontal offset collision. Even the suspension was specially tuned to minimize discomfort to passengers. Generic electronic module present in the Fiesta was the equivalent of having a computer managing the car's engine diagnostics and electrical functions. Also, it came equipped with GEM sensors that oversaw all critical functions.
Chapter 2: Introduction & Success
Fiesta entered our market at the right time when many potential buyers wanted something "different" from the Honda City in that segment. It was extremely roomy inside and had fantastic ride quality too. If we needed power, we had to opt for the 100bhp 1.6 DuraTec, if economy was our style, we had to go ahead with the 1.4 DuraTorq. Interiors were modern yet immensely practical. Autocar India in its November 2005 issue had claimed that the Fiesta is a well-balanced combination of clean looks, classy interiors, precise handling and comfortable ride. Unlike the second-gen City's love me or kill me looks, the Fiesta's design looked so clean and proportionate.
Cover page of ACI's November 2005 issue.
Sensing the need of the Indian car market for a perfect mid-sized sedan, Ford finally brought its Fiesta to our country in November 2005. Ford had silently axed the 1.8D Endura version of Ikon sometime in early-2005 before the entry of Fiesta. 1.6 Rocam petrol of Ikon also was withdrawn soon after Fiesta's launch. Ikon was moved onto a lower entry-level sedan category, with only the 1.3 Flair being produced.
The Fiesta was originally introduced in four variants:
1.4 EXI Petrol – 80bhp at 6000rpm & 127Nm at 4000rpm
1.6 ZXI Petrol – 100bhp at 6500rpm & 146Nm at 3400rpm
1.6 SXI Petrol – 100bhp at 6500rpm & 146Nm at 3400rpm
1.4 ZXI TDCi Diesel – 68bhp at 4500rpm & 160Nm at 2000rpm
Cover page of Ford Fiesta's official brochure from 2005.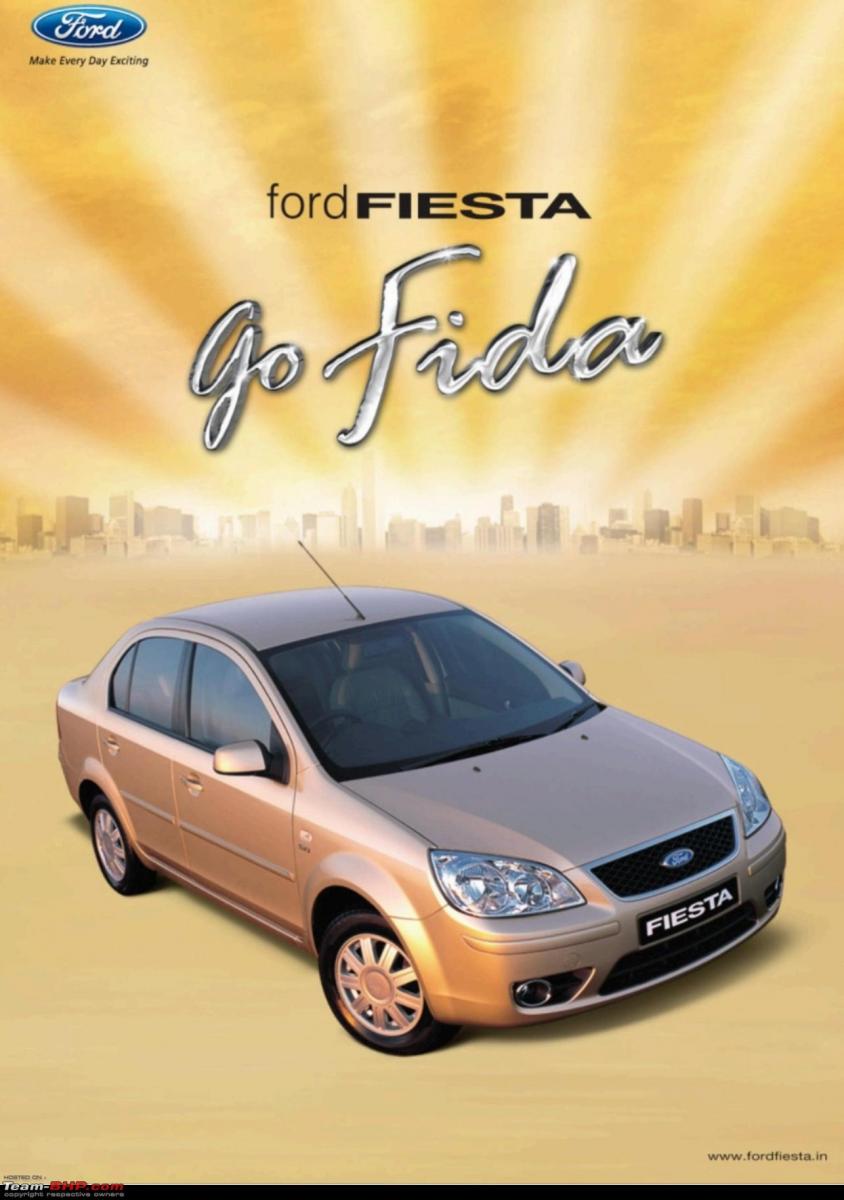 Basic variant 1.4 EXI was equipped with tilt-adjustable steering, all-door power windows, central locking, tachometer, etc.
Semi variant ZXI was EXI + audio system, rear defogger, front reading lamp, etc.
Top-end variant SXI was ZXI + electrically-adjustable ORVMs, leather-wrapped steering wheel, alloy wheels, double-din audio system, keyless entry, etc.
ABS was available as an option on all variants except 1.4 EXI for ₹ 25,000. Initially, the Fiesta was offered in eight exterior colours: Diamond White, Moondust Silver, Vitro, Platinum, Paprika Red, Flare and Jewel Violet. The basic variant EXI had a 7-spoke wheel cover while ZXI came with a more beautiful 5-spoke set. For the fact to be said, all versions of Fiesta were perfectly tuned to suit India's driving conditions with emphasis on refinement, fuel efficiency and driveability.
A picture of the Fiesta from the same brochure. Shown here is an SXI in Flare orange shade.
Abhishek Bachchan was the brand ambassador for Ford Fiesta. The main idea was to establish the 'Fiesta' nameplate and Ford had achieved very much with Abhishek's endorsement. The company had received bookings for 2,000 units of the Fiesta model within two weeks from launch. The deliveries commenced in the second week of December. While 68 percent of the orders were for the diesel version and 32 percent opted for petrol. With its clean styling, build quality and performance, the Fiesta became an instant success in our market.
Abhishek Bachchan and Ford Fiesta on a 1.6 Duratec petrol advertisement. This colour was called Jewel Violet.
The unprecedented success of the Fiesta had the company 'fida' in the Indian market. Diesel variants of the Fiesta, fitted with the Duratorq engine, was rolling out of dealer showrooms fast. In the incredibly price-sensitive Indian market, one of the most important reasons for the Fiesta's incredible popularity was its low fuel consumption for the truth to be told. Fit and finish levels on the Fiesta were notches above the Ikon. The success of Fiesta and the continued market response for Ikon attracted more entrepreneurs to take Ford vehicle dealerships.
Another advertisement of the Fiesta 1.4 TDCI, featuring a 1.4 ZXI TDCI in Platinum shade with SXI alloys.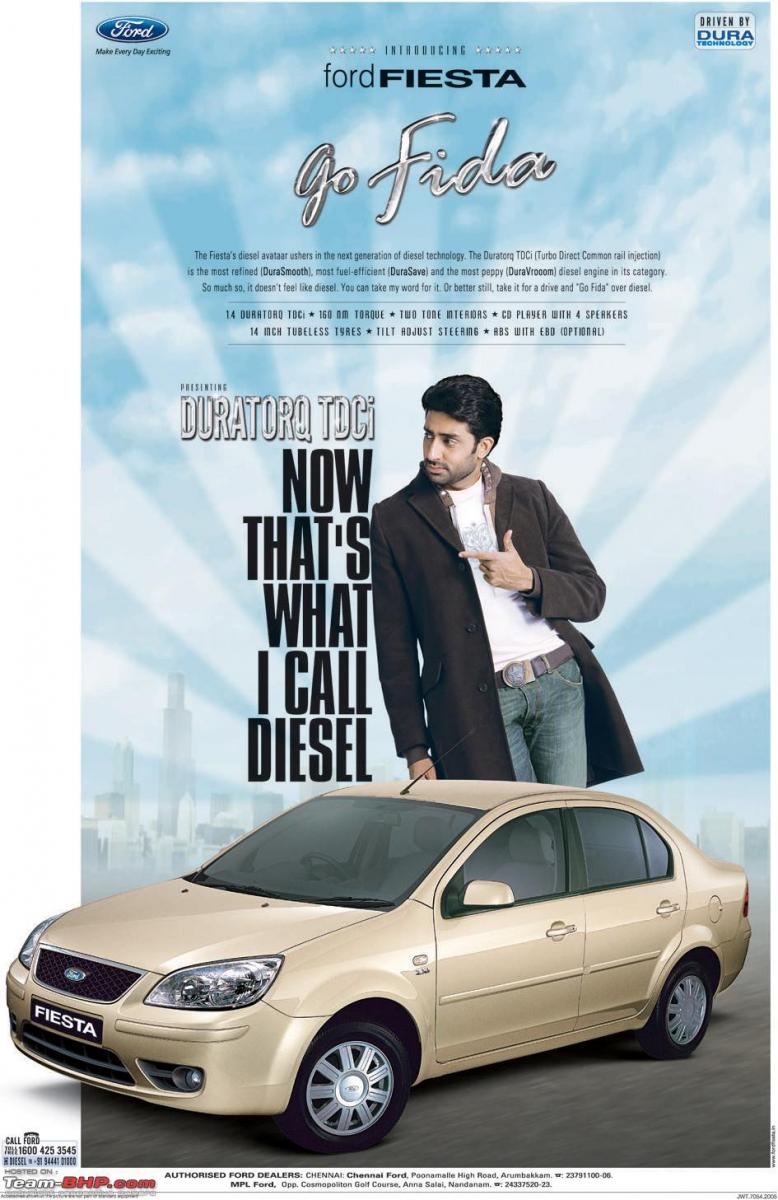 Back then, Ford had around 110 dealers across the country, they had trainers from Ford Australia for talking to dealers on accounts, finance management and other areas. Even then, poor after-sales service used to be a sore point for Ford owners. Of 42,000 Ford vehicles sold in India in the calendar year 2006, Fiesta's share was over 17 percent. With the introduction of the 1.4 ZXI petrol variant in February 2007, the company expected the Fiesta's sales to go up. By then, the sedan had entered the Limca Book of Records for returning an average of 22.4kmpl for petrol and 31.5kmpl for diesel.
1.6 SXI petrol's advertisement from mid-2006.
EVERYTHING ABOUT THE FIESTA
Exterior Design
The Fiesta used to turn heads back in the mid-2000s, I'm not sure whether it will do the same now or not. No doubt, it was a handsome, well-proportioned sedan at the time when it was introduced. Fiesta's design lacked Ikon's 'look at me' attire, but was unmistakeably a Ford from every aspect. It actually looked like a toned-down Focus from some angles for the fact to be told. The big radiator grille with diamond mesh design and the strong chin with a wide air intake and circular fogs were typically Ford. The roofline swooped nicely into the C-pillar, which in turn merged seamlessly into the boot, this Fiesta was was a real three-box sedan. Rear-end design was dominated by Mercedes-inspired big taillights (think about the W203 C-Class and W211 E-Class).
The headlights on the Fiesta were mounted higher up and the mesh grille projected outwards. These made the car look very good, but this isn't extraordinarily eye-catching by current standards.
The Fiesta had better line and form in terms of boot integration than most other sedans of that era. Then again, the Fiesta was no beauty queen from the rear.
Luckily, Ford's designers had avoided the high boot design of the Ikon, which seriously hampered rear visibility while reversing. Shut lines were tight enough and the paint job from the factory looked great. The 175/65 R14s were aesthetically insufficient, such small footwear for Fiesta's large proportions made it look puny. Ford traded aesthetics for practicality here, the usage of narrower tyres was for better fuel efficiency. Anyways, the Fiesta had erased memories of the frugality that characterised the Ikon. When launched, the latter had cheap plastics, even cheaper door trim, no internal boot release and just one reversing light. No such mistakes were there with the Fiesta.
Virtually all the body panels were flat and almost every line on the car was straight. This was, of course, a way of ensuring ease of production and repair, and was a part of the bigger plan of making a cost-effective car.
Interior
The minimal usage of chrome itself gave the Fiesta's cabin a certain sparkle. Three-spoke steering wheel borrowed from the Focus was spiked with chrome at the edges and the short-throw gearshift lever had a shiny treatment as well, like the one seen on Fusion. The round air-con vents were an iteration of those on the Fusion and were easily adjustable too. Total and trip distance odometers were positioned neatly at the centre of the instrument cluster as a tamper-resistant LCD panel, which also displayed a distance to empty figure. Plastic quality of the interiors was light years ahead of the Ikon's, but it was still a couple of notches below Honda City's. Ford's designers had utilised every available bit of space and turned them into niches, cubby holes and trays, even the parcel shelf at the rear became bigger compared to the one on Ikon. The door pockets and all were deep and large enough for big bottles.
Traditionally, Fords have their own sporty appeal and the Fiesta also stuck to its roots. The steering wheel had the right material, the right size and the right thumb holding points.
Forward travel of front seats was increased in the Fiesta for two reasons. One, for making it comfortable for short drivers, who don't need to stretch to reach the pedals. The other benefit was that by pulling an empty front passenger seat all the way forward, it was possible to generate a huge amount of legroom at rear. High seating position, fair amount of legroom and under-thigh support at the rear made the sedan ideal for long drives behind the chauffeur. But for sheer rear seat comfort, the Honda City, with its low floor, was still the king, and its advantage eroded only when the Fiesta's superior ride came into play.
The SXI variant came with leather seats, in-dash six-CD changer and some amount of aluminium for the interiors.
Ride and handling
The Fiesta rode on McPherson struts with larger coil springs up front and a twist-beam setup at the rear that allowed for more boot space. Shod with 14-inch, 175 section tyres, it rode exceptionally well on good roads and takes bad roads in its stride, literally. In terms of ride quality, the Fiesta was a status quo as well. Ford knew how to build a chassis and they also knew how to suspend it. The Fiesta's ride quality taught a lesson on how a car should go over bumps to those guys who were used to Japanese mid-sized cars. In fact, it was so good, it was quite easily the best in its class during those days. However, it still had the tendency to thud more and transfer suspension noise to the passengers whenever it found an inch or two-wide gap in the road.
Picture of a Fiesta 1.6 Duratec SXI from Auto India's December 2005 issue.
Fiesta also achieved an optimum compromise between ride and handling. While it lacked the razor-sharp handling of the Ikon, the steering still felt well-weighted and inputs were seldom lost in translation. The well-weighted steering, coupled with the presence of a mechanical pump instead of EPS, gifted the car with more feel and more predictability. In fact, the Fiesta was an excellent handler that even made newbie drivers look good. Body control was exceptional, especially over undulated surfaces, and the super-stiff chassis had a taut feel. Handling of the Fiesta inspired confidence and low-speed ride trumped the City many times over. The same applied to the brakes, which backed by ABS, provided progressive retardation, unlike the Ikon's hasty braking antics.
Powertrains and performance
1.4-litre Duratec Petrol:
82bhp out of the 1.4-litre 16-valve DOHC was a good 12bhp below the Hyundai Accent and 6bhp below the Opel Corsa, but the power from the Fiesta actually felt adequate. The lesser engined variants were looked down upon and were termed as underpowered during those days. But in the case of Fiesta, it revved really nice and had a razor smooth power delivery all through the rev range. This 1.4-litre Duratec version was actually targeted against the City's 1.5-litre 77bhp i-DSI model, then again, Fiesta had a significantly more amount of punch compared to the City. The Fiesta 1.4 went from 0 to 60 in 5.9 seconds, down by just a fraction on both the Esteem and the Ikon 1.3 Flair. On the 0 to 100 kmph run, the Fiesta clocked 14.0 seconds, a good two seconds behind the Esteem. It was actually this 1.4-litre Duratec Petrol version the direct competitor of Honda City, and not the 1.6-litre petrol one.
A Fiesta 1.4 Duratec EXI being test-driven by BSMotoring in March 2006.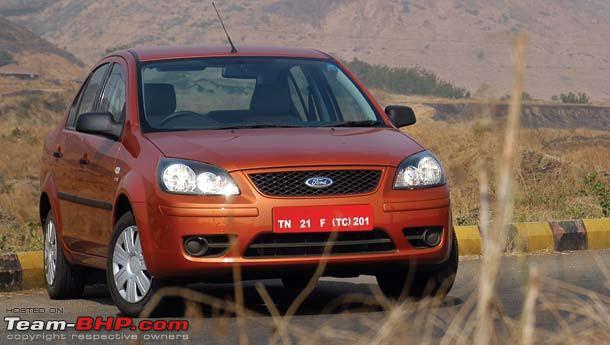 1.6-litre Duratec Petrol:
If power was what you were after, there were lots of it in the 1.6-litre 100bhp Duratec 16-valve petrol, which was the same engine that powered the Fusion but had a remapped ECU. Ford had lowered the compression ratio and this engine was designed to run optimally on 91 octane petrol, it was the standard octane rating for the Euro III emission era. Fiesta was not blessed with the Ikon's razor-sharp response. The all-aluminium, high-tech Sigma unit was a more mature motor, which delivered a uniform spread of power across the rev range. It was fairly refined and quiet at low revs but the motor used to get quite buzzy and audible when it started nearing the 6700rpm redline. Although the performance was similar to the Fusion's, it was more than adequate. The dash to 100kph in 11.4 seconds made Fiesta one of the fastest cars in its class.
The Panther Black Fiesta 1.6 Duratec SXI which BSMotoring test drove back in November 2005.
1.4-litre Duratorq Diesel:
Fiesta's 1.4-litre, 8-valve, diesel unit was a huge improvement over the Ikon's 1.8-litre Endura oil-burner. This all-aluminium diesel was the lightest and smallest diesel offered by Ford. What made this engine special was the refinement itself, it spoke like a diesel, but in a very soft manner. The engine was capable to develop a peak power of 68bhp at 4000rpm and 160Nm of extreme torque output at 2000rpm, paired with a 5-Speed manual gearbox. The strong mid-range rush of torque and the turbo's initial responsiveness and push made the Fiesta a fantastic urban diesel. This diesel came with a high-pressure common rail system, TDCi in Ford speak. There was a tiny pilot injection just before the main event that gave a small early burn to soften the edge of the big bang. This, and the fact that the diesel used an all-aluminium block meant that it weighed 20 kilos more than its petrol sibling. In terms of driveability, the diesel was brilliant. Actually, this small diesel motor set new standards of refinement in the sub-10 lakh sedan segment and made the Accent's 1.5 CRDi motor feel like a pneumatic hammer.
A picture from the Fiesta 1.4 TDCi vs Accent CRDi comparison done by TopGear in January 2006.
MINOR UPDATES & SPECIAL EDITIONS
March 2006 – 1.4 EXI Duratorq enters the game:
Responding to customer feedback, Ford launched an EXI diesel version of the Fiesta in March 2006. This variant offered the buyers a sensational package of outstanding driving dynamics, comfort, and fuel efficiency. This entry-level variant came with a host of standard features including a tilt-adjustable steering column, distance to empty trip computer, tachometer, door ajar indicator, central locking and two-tone interiors.
May 2006 – Ford introduced Fiesta 1.4 SXI Duratorq:
In response to customer feedback, Ford India released the SXI trim for 1.4-litre Duratorq diesel version too in 2006. It was identical to the 1.6 SXI Duratec in terms of features. In the first phase, this 1.4 SXI Duratorq was available only in select markets like Andhra Pradesh and Punjab, but it was released across the country by mid-2006.
October 2006 – Fiesta completes one year in Indian market:
The Durasport limited edition of Ford Fiesta was unveiled in October 2006 to celebrate one year of success of the model in our country. This special edition was available in two variants: 1.4-litre EXI and 1.6-litre ZXI, priced at ₹ 6.1lakh and ₹ 6.5lakh respectively. Only 500 units were manufactured and the colours available were Moondust Silver and Panther Black.
March 2007 – 1.4 ZXI Duratec replaced 1.6 ZXI Duratec:
The 1.4-litre ZXI petrol complemented the Fiesta range with value-added features, and the 1.6 SXI Duratec was discontinued. Now, the Fiesta Duratec petrol family constituted of 1.4 EXI, a 1.4 ZXI and a 1.6 SXI. The entire ZXI series after this update boasted additional attractive features including programmable keyless entry and driver seat height adjust mechanism. From 2007 onwards, SXI range began to come with ABS as standard. Alloy wheels became optional in top-end SXI variants, this forced customers to get Aura's five-spoke alloys for an additional ₹ 22,000.
July 2007 – Limited Edition Fiesta for commemorating 50,000 units sales:
Ford added more punch to Fiesta range by releasing one more limited edition to celebrate 50,000 sales of the sedan in July 2007. This particular limited edition package was available on EXI and ZXI variants of both petrol and diesel. Five-spoke alloys, reverse parking sensors, dual-tone leather seats, side graphics, rear spoiler etc were the extra features that this edition had. The launch of the Limited Edition Fiesta saw two more colours added to the Fiesta range: Brush Steel and Jeans Blue. An electric sunroof was available in the Limited Edition Fiesta at an additional cost of ₹ 30,000.
September 2007 – A 1.6 Fida Edition for no reasons:
For no reason, the Fiesta had again received a limited edition variant called 'Fida 1.6' in September 2007. Except for the turn indicators on ORVM and Kenwood MP3 player, all other features mentioned as limited edition extras were present on the SXI variant too. I think Ford was just trying to push the sales of the 1.6 Duratec petrol version. It was the version with the lowest sales, compared to the 1.4 Duratec and 1.4 Duratorq diesel.
February 2008 – Ford revises the entire Fiesta range, 1.6 ZXI came back:
The aggressively priced Pace series of the Fiesta added more excitement to Ford's product range. 1.4 ZXI Duratec was replaced by the more powerful 1.6 Duratec ZXI in this update. From February 2008 onwards, all Fiesta variants began to get driver-side airbag and turn indicators on ORVMs as standard.
Continue reading about the Ford Fiesta tribute for BHPian comments, insights and more information.
Source: Read Full Article