My interim car was a Honda City. It served its purpose well & didn't let me down even once.
BHPian IanNazareth recently shared this with other enthusiasts.
Greetings everybody!
I decided to make this thread more image biased for the simple reason that most people today are pressed for time. If you'd like some help or a more detailed description, I'm a ping away!
Family Car History
My Family has always had cars around since I first learned to cry. It goes way back to the 80s when my grandfather owned a Red Tata pickup for company deliveries that my dad drove during his teen years.
Following that he bought a Maruti 800 (First gen), two more Maruti 800s in the 90s, a first generation Zen, a Tata Indigo and then finally the last car he owned, a Tata Manza.
He had a very strict rule about replacing the car after 5-6 Years and he did so diligently.
From these, the only ones I've driven or seen were the Zen (Yes, 4-year-old me was asked to pick a colour and I blurted out "Yellow", there was no changing my mind after that). Funny thing, this yellow Zen was with us for 15 years and was the first car I learned how to drive on.
1996 Maruti Zen (Stayed with us from 1996 to 2011)
The Tata Manza was his last car that we retired back in 2019 before I started buying my own cars. He hasn't driven since due to partial vision loss. He really did love his cars and that feeling has passed down to grow into the petrolhead in me.
Dad standing beside his 2011 Manza the day we handed it over to cars24 in 2019.
1st Car – (Skoda Rapid 2015 1.6 TDI Elegance Black Package)
After 8 years of the Manza Diesel and the previous Indigo Diesel before that, I was sold on the idea of getting another. The torque steer the Manza produced just left a smile on your face as you were pushed back into your seat for the initial few seconds. It was a dream to drive and so we needed another Diesel Turbo!
It didn't take me long to find my way into German engineering, being a spectator on the forums for a few years and my love for the VW group companies led me to pick out a Rapid over the net. Went straight to the dealer, liked the car (the black package did most of the selling), wired him the money on the spot, and got back that evening having bought my first car!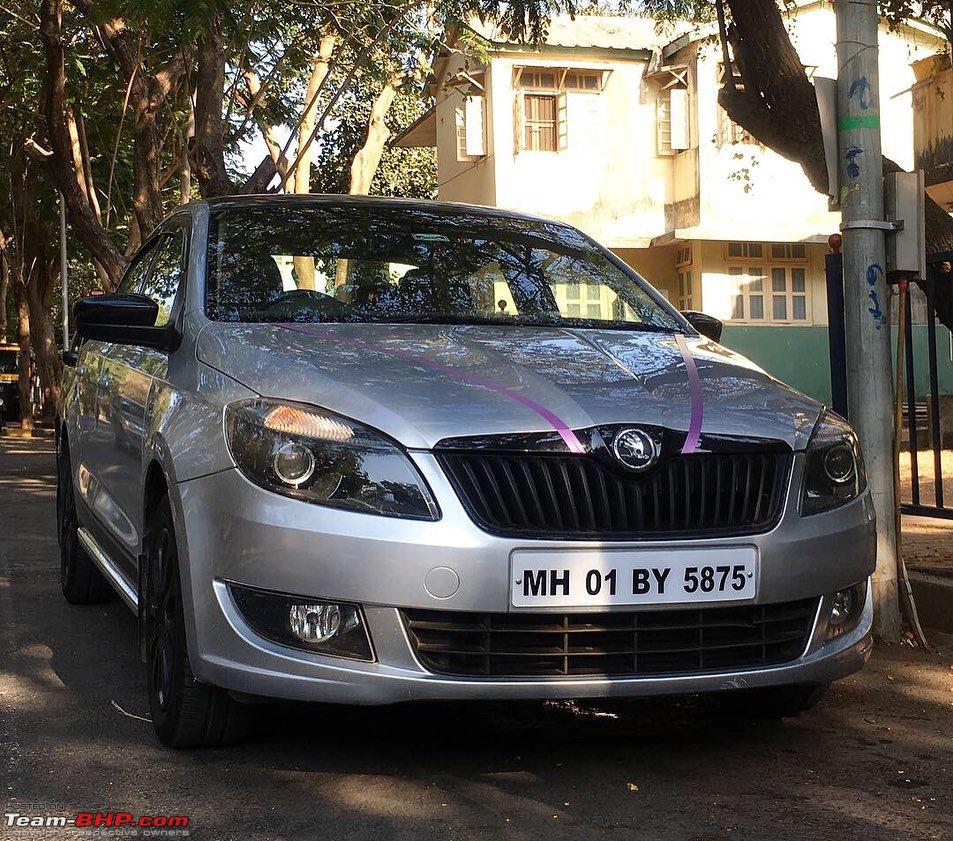 It has to be said, this was nothing short of stupid. I took no test drive, I did no PDI or history check, I simply liquidated all the money I had saved working at the time and bought my first car.
At the time I had just taken charge of my previous employer's company, a small manufacturing unit in Kolhapur that I bought from him. I loaded up all my possessions into the Rapid's huge boot, hauled it across the state from Mumbai to Kolhapur and made that place my home for the next 6 months to grow the business.
This period over the next year saw one injector failure.
En route to Goa on a winter morning. Car towed from Belgaum KA back to Kolhapur for the injector replacement.
Everything else worked like a charm and the car was always on the highway between Mumbai – Kolhapur. It racked up 20,000+ kms just shy of 1 year before the pandemic hit and the bug to replace the car struck me.
Some photos below for your viewing pleasure!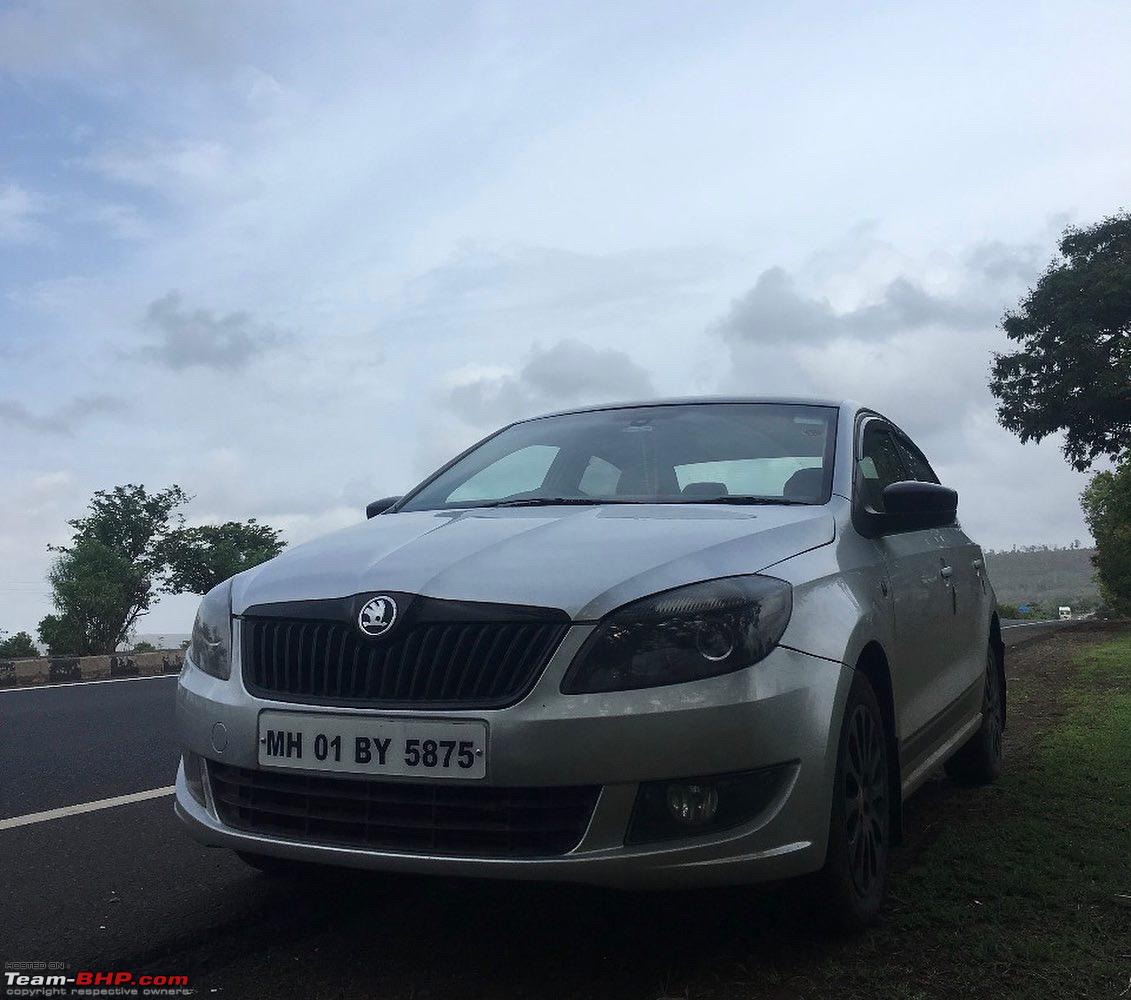 Middle of Highwary runs that it saw frequently
Industrial backroads in Mumbai
Nevertheless, I traded the car in 2020 just after the first pandemic for a Honda City 2016 VX CVT.
2nd Car – (Honda City VX CVT 2016)
Many thanks to GTO on his thread for lateral upgrades and especially tax advantages! I realised that if I found a preowned car already on a corporate name, I could directly add it to company assets with only a normal RTO transfer and depreciate it on the company books. What a boon for businesses and car enthusiasts! I always knew I was going to buy my first real german saloon soon, but as an interim car I picked up the City as it seemed like the financially prudent thing to do!
During Lockdown – Empty Roads made for great photo shoots!
Quick photos in the wilderness.
MH Traffic Police taking some very expensive photos of my Car! – Expressway
MH – Bangalore Highway
The Honda served its purpose – being an interim car preparing me financially for my first German, couldn't be happier with the service I got. Let me down not once, also covered 20,000 some odd kms over the year like the Rapid did, taking into account the second pandemic in 2021.
However, the itch to finally upgrade was too severe to ignore and I started looking around for preowned Audi or Mercedes – typically the CLA and the A3 over the web.
The CLA had been my dream since I started working back in 2016 on my humble salary of 6000 rupees a month and 5 years later after drooling I had one of those typical YOLO moments like I did during my Skoda purchase.
This photo had been on the inside of my cupboard for over 5 years. I looked at it every morning I went off to work. However optimistic we are about our life goals, things usually take a while longer than we initially anticipated.
Part of what pushed me to take the plunge was:
Scarcity of the EV movement! What if a few years later there are no 2-3-year-old diesels on sale? A possibility, given how fast things were changing globally.
My improved finances, thanks to Honda's purchase and tax advantage!
My dad's sudden hospitalization. It shocked me into realizing how short life is (This probably had the most effect on me)
The time was now right and it was now or never!
The Search!
I spent 2 months test driving various CLAs around the city and couldn't find the right value proposition. I also realised that this wouldn't be a car to take on my monthly visit to the factory at Kolhapur given the ground clearance, depreciation to kms driven ratio and slow diesel, it was the petrol that was a hoot to drive!
That's when I started looking to see if the Audi A3 had something to offer in the same category being a direct rival. Having owned the Rapid in the past I longed for that premium VW build and sound damping that these cars provide. Not to mention the seemingly farfetched FE figures the TDI motors put out.
It was then that I came across a 2.0 TDI A3 with Audi South as part of their preowned division.
I requested them to let me come see it on a Sunday and they graciously made it possible. It was just me, the sales rep and the security in their huge pre-owned Peddar Road garage.
Love at first sight
It was exactly what I wanted, and typically ticked all the boxes for the enthusiast in me.
The perks
Fast Diesel for the long highway runs
Shared parts with the other VW and Skoda siblings, hoping parts would be easier to access
. Blacked out wheels, roof and door mirrors (I have a thing for black alloys)
COMPANY owned! It was registered to VW India being owner 1
CBU unit produced at HQ in Ingolstadt (something special about owning a German car actually built in Germany)
Full service history and a complementary service
Black interiors
New 2017 facelift
A great VFM deal that I could not refuse with a discount, especially the advantage of the Corporate registration, having to cough up 8% over the invoice is a huge sum if I were to buy another car registered by an individual.
The let downs
NO reversing camera! (Has a 360-degree parking sensor though on display took some getting used to)
No auto-folding door mirrors
No Apple Car Play
That's about it. I am planning to retrofit these three after a while and it wasn't a deal breaker and the positives far outweighed the negatives.
Delivery
I took delivery exactly a month later, it took a while to arrange the finance and sell off my City. The car was sold to me through Shaman Wheels (Kalina) and not Audi south even though that's where I took the TD. It wasn't the best experience and a year later I'm still chasing them for the second key they promised me after the registration was done. Would be a great favour if anyone could help, the key they say is with VW India (Pune) and I have no way of tracking it down, it appears in the MID as the key being registered.
Here are some photos over the last year with Orca.
The first thing I thought of mentally was a killer whale given the colour scheme, so I've lovingly named my A3 Orca. (Maybe there's a thing with petrolheads naming their cars?)
Mumbai – Pune Dashes in the rain
Bhandardara summit
Breakfast @Igatpuri
Somewhere north of Karad en route to Mumbai.
Aerial shots @Cafe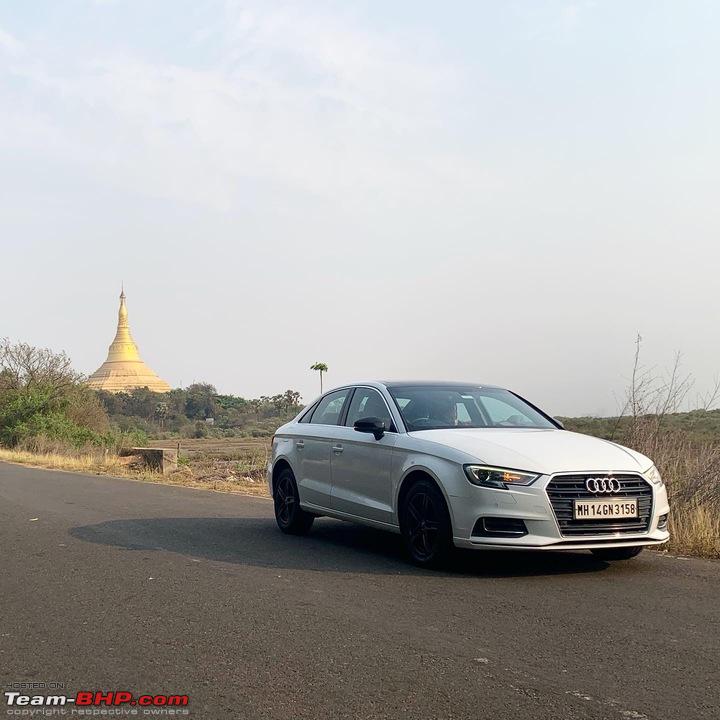 The Global Vipassana Pagoda in the backdrop, a peaceful place to be in a few times a year.
Of course, we took it to Goa too! Had to inaugurate our hometown!
Who owns who again?
Satara
In the fields
Lonavala
At the factory in Kolhapur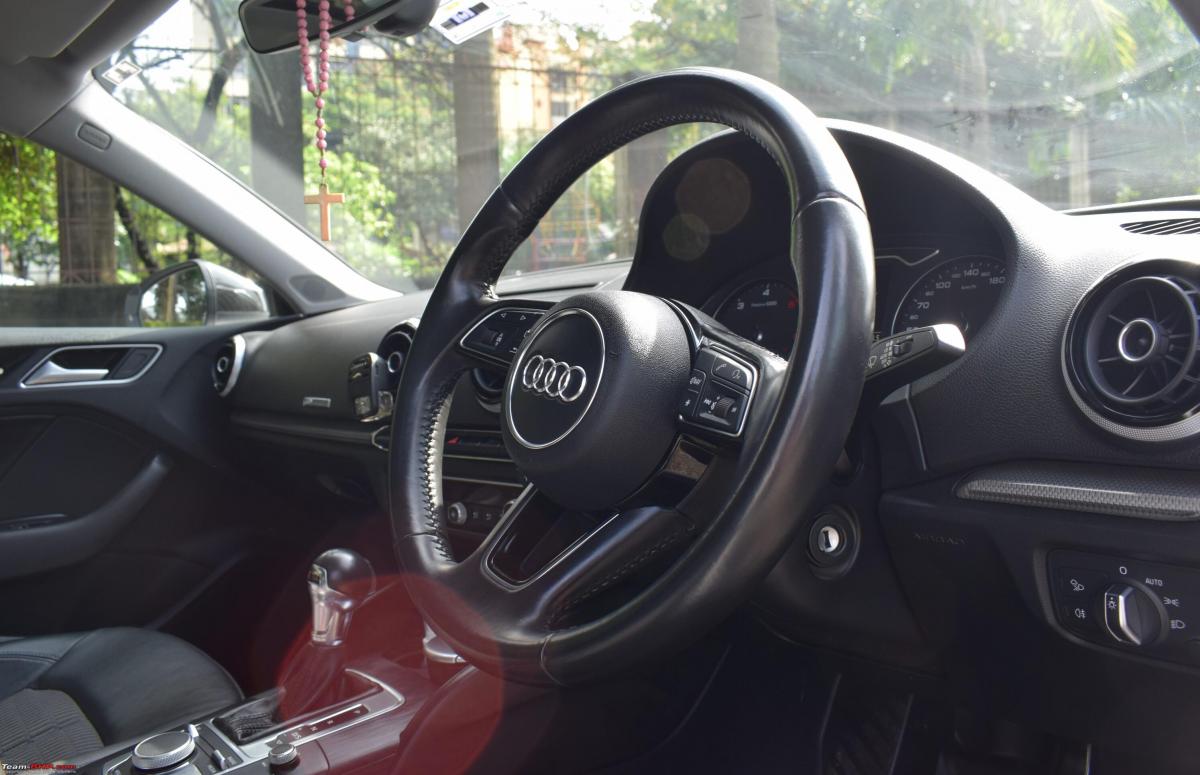 A look on the inside – all black! Especially like the new steering wheel.
Bhandardara summit again!
Most of us petrolheads can relate!
Found this over the web – I do not own this image and all credits are to the respective owner.
My Experience over the last year
DO reading stood at 36000kms last September when I picked it up. It has so far clocked 49500 on a recent trip to Kolhapur this month.
Over the last 11 months, it has been to the ASS once to get the wheel nuts changed. This was something of a discovery when I had a puncture and the Tyre guy couldn't get the wheel off as I didn't have the special Allen key to undo the wheel. He managed to fix the puncture while the wheel was on and I drove straight to Audi South to get the Nuts changed to normal ones. This seems to be a standard on Euro specs to prevent wheel theft.
No other mechanical problems over the last 14k kms. It has been a dream to drive and always provides a keen sense of occasion every time I'm behind the wheel.
It has been on numerous Mumbai – Pune dashes, seen horrid Mumbai traffic very often, Hiked upto Bhandardara camping and this weekend will be off to the Satara hills again. No garage queen, most times covered in muck but still gleefully chugging along!
To a petrolhead, I feel one's car is an extension of the self-image. It attracts the kind of like-minded enthusiasts to you and builds new friendships. It speaks for you before you get a chance to speak and especially in business, if getting behind the wheel helps visit and add customers, then spending a little extra on our car is an investment the way I see it. It has been true for the last 2 other cars I have owned and the same with the Audi.
At the end of the day, we are humans driven by emotion over logic, the heart wants what the heart wants. I've always found the best decisions came from gut feelings, whether as a petrolhead or in life and business, but I'm just in my 20s, what do I know about philosophy?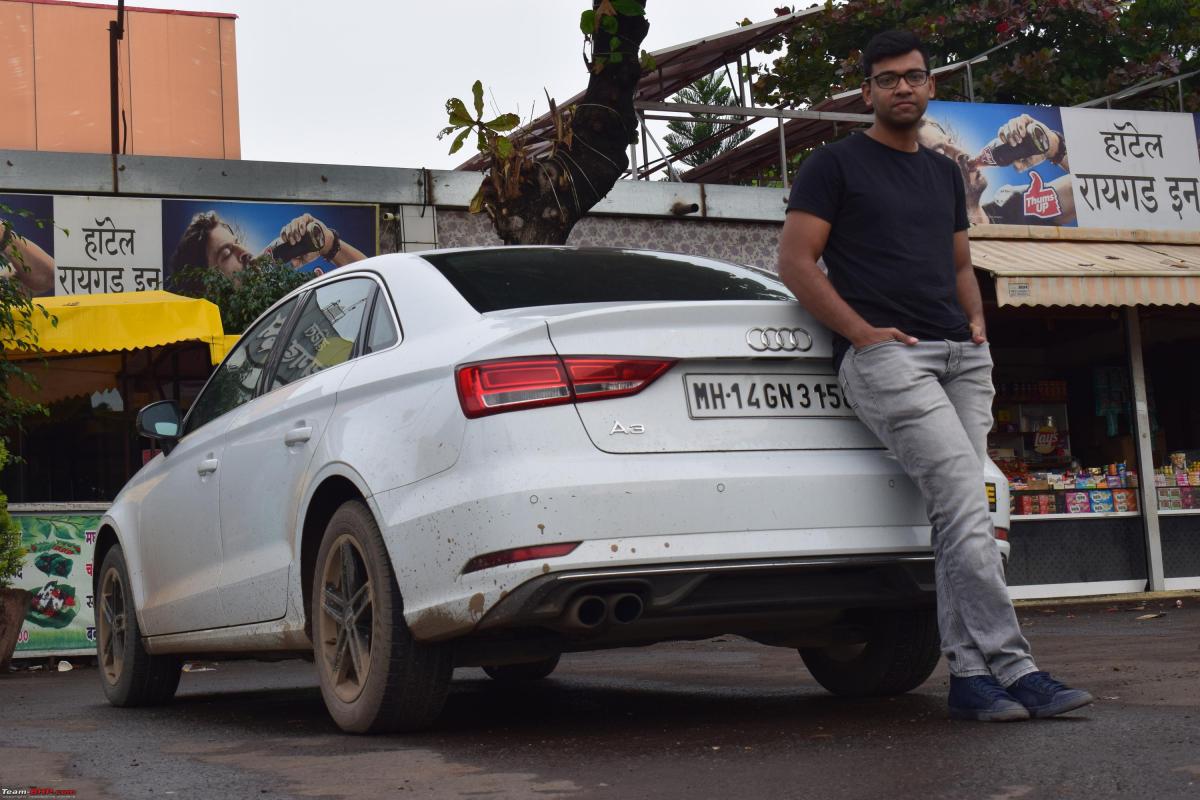 Credits to
deepfreak15 for your A3 review that I've read multiple times before going ahead!
Noel Nelly aka blackwasp for giving me the confidence to go ahead. Coincidence we were classmates and never spoke cars!
TeamBHP community for the lovely A3 review and the facelift update as well that I've also read countless times before going ahead.
Thank you for your reading!
Check out BHPian comments for more insights and information.
Source: Read Full Article