The snow has melted, and the flowers are blooming once again. Spring has returned to Forza Horizon 4 this week. The new season also brings new content for players to get their hands on.
This week will get players to let their hair down with some classic British open-top motoring.
We've got everything this week has down below:
New Events
Three new seasonal championships are available for players to test their skills. Plentiful prizes await those willing to go an extra mile or two. This week sees players get behind the wheel of a very modern take on the Jaguar E-Type in "Fly Like An Eagle".
Up for grabs is a British police patrol outfit for player avatars. Prepare to bring a challenge, as you'll need to beat "Expert" Drivatars to win it.
There's also those looking for their hypercar fix in "Hype Train", with a hi-vis police patrol outfit as the top prize.
Here's the lowdown on this week's race challenges:
Fly Like An Eagle
Series: Road Racing Series
Cars: 2012 Eagle Speedster
Restrictions: None
Prizes: 5,000 CR, Bwah Horn, Patrol Outfit
Hype Train
Series: Road Racing Series
Cars: Hypercars
Restrictions: None
Prizes: 5,000 CR, Wheelspin, Hi-Vis Patrol Outfit
The Trial: Aged to Perfection
Series: Road Racing Series
Cars: Vintage Racers
Restrictions: Co-op Championship
Prizes: Arooga 1 Horn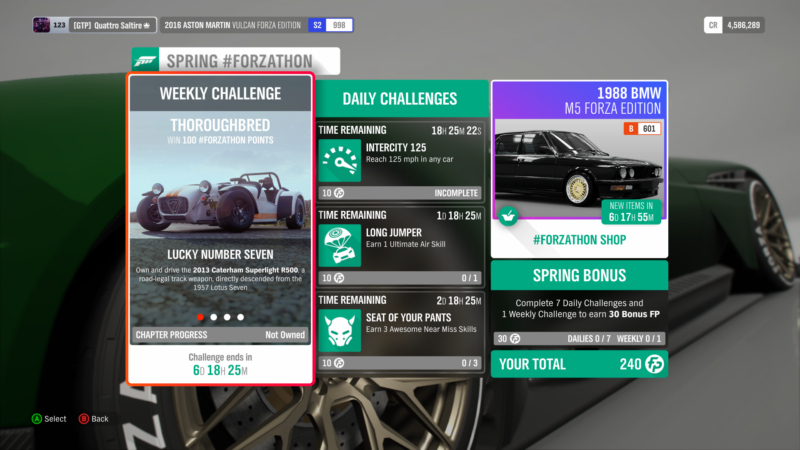 Forzathon Events
Spring weather means a chance to hit the roads in a staple of British sports cars. This week's challenge is simple; own and drive the 2013 Caterham Superlight R500. The next challenge requires players to take some brave pills and earn 5 Threading the Needle skills in the Caterham.
The third challenge requires getting 8 stars in total from Danger Signs. With a lightweight such as the R500, getting big air should be a easy task. Finally you'll need to win 4 Road Circuit events in the R500.
Forzathon Shop
This week's shop lineup brings Ken Block's latest tire-shredding monster, the 1965 Honnigan Ford "Hoonicorn" Mustang. This particular Hoonicorn will star in Gymkhana Ten later this year. Costing a rather hefty 200 Forzathon Points, players will need to rack up the challenge objectives and Live events to acquire it.
Joining the Hoonicorn as this week's Forza Edition car is the 1988 BMW M5. This classic super sedan comes with an event influence perk, making it an essential car to have. Costing 300 FP, players will still need plenty of points saved up.
Finally, players who dream of playing as a police officer can now acquire two versions of the British police patrol hat costing 75 FP each.
Barn Find
While there's no new barn find this week, newcomers (or those that missed it last Spring) can snap up the latest season's rumor. We won't spoil things, but fans of older endurance racing will be quite fond of this car.
Source: Read Full Article