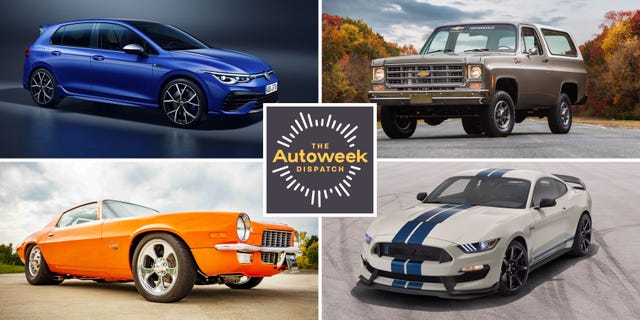 Chevrolet's K5 Blazer-E shows what's coming in EV conversions, and Formula 1 is grappling with next year's schedule. Here's what's happening in the car world:
FROM THE EDITOR'S DESK
Chevy's 1977 K5 Blazer-E from the virtual SEMA Show, the Mustang Cobra Jet 1400 and Mach-E 1400, last year's Mustang Lithium, and companies such as Zelectric Motors in San Diego all have me wondering if the performance- and classic-car hobby's future might be leaning more and more electric. Instead of ordering a crate small block will garage tinkerers order an electric crate package?
The Mustang Lithium was built in collaboration with German supplier Webasto. It's using the coupe to showcase its modular vehicle batteries and charging systems. And it's obviously a way for Ford to get people thinking about what one of its most beloved models will look like in a world that is (at least partially) plug-in. The Lithium's 1,000 lb-ft of torque should thrill any hot-rodder. Ford Performance boss Mark Rushbrook told us earlier this year that the opportunities to learn with the Cobra Jet 1400 and Mach-E 1400 give Ford "great insight" into what's possible in high-performance EVs going forward. He said Ford Performance's job is to push EV technology to the limit and learn as much as possible and then transfer that information back to the mainstream.
As for the 1977 K5 Blazer-E, the electric retrofitted SUV is meant to gauge interest among SEMA members who might want to do their own EV conversions using the electric equivalent of a crate motor in the form of an electric plug-and-play package like GM's Connect and Cruise kit. Chevy said it wants to offer a "comprehensive line of Connect and Cruise systems" from its Performance arm, including EVs.
The Blazer-E power comes from a 400-volt Bolt EV battery pack with 60 kWh of usable energy installed in the cargo area. The output is about 200 hp and 266 lb ft of torque, more than the stock '77 Blazer's 175 hp from a 400-cubic-inch gasoline V8. The 60-kWh Electric Connect and Cruise package includes the 60-kWh battery pack, 200-hp electric motor, DC-to-AC power inverter to drive the electric motor, DC-to-DC power converter to power low-voltage systems and the necessary wiring harnesses, controllers and water pumps for battery heating and cooling.
General Motors has massive crate-engine programs, and the company's Performance boss, Jim Campbell, told Autoweek GM plans to have its electric crate packages available toward the end of next year. "We do small blocks, big blocks, circle track engines, you name it," Campbell told Autoweek. "A few years ago we offered a one-part number system to offer the Connect and Cruise crate engine propulsion system—engine, transmission and two controllers. It's been super-popular.
"So there's going to be continued demand for our internal combustion crate engine business," he told us. "It's going to continue to be very, very popular.
"But our company has a vision of zero emissions, and we're taking bold steps in terms of electric vehicle offerings with our Ultium battery systems."
He said that as part of the vision, a few years ago GM took the decision to try to be on the forefront of the electric vehicle aftermarket in case the aftermarket has an interest. "It's not going to be everybody," he told us, "but we want to use our expertise to provide an offering."
To prepare for the eCrate launch next year Chevy is certifying EV Connect and Cruise installers. Dealers and aftermarket companies are getting the training, tools and equipment needed to work with high-voltage systems and charging stations to service customers' vehicles, the company said.
Russ O'Blenes, Chevrolet's Performance and Racing engineering director, told Autoweek that with next year's electric crate package the company plans to continue raising the percentage of production components.
Meanwhile Campbell told us that what excites him most is that the eCrate program is going to be an integrated, plug-and-play system. "The whole system is designed to work together versus trying to put individual components together and trying to integrate it on your own."
I have a feeling we'll be keeping an eye on the car hobby's electrification for a long time.
CAR NEWS AND NOTES
Here's one to warm the enthusiast heart: Volkswagen showed the next-gen Golf R. Due to arrive here later next year, the new version uses a turbocharged 1,984cc four-cylinder TSI engine. The 315 hp is up 27 on the outgoing model. A six-speed manual transmission is standard with the seven-speed DSG optional. The car should hit 60 mph in 4.7 seconds. The new R has VW's configurable Digital Cockpit instrument panel and a 10-inch Discover Pro touchscreen display. Can't wait to drive it!
Ferrari CEO Louis Camilleri told analysts that the company might have electric cars, as the future might dictate, but it will never be an all-electric brand. Analysts asked Camilleri whether electric Ferraris might represent a cost savings to the carmaker with no performance loss. Camilleri replied an electric powertrain's cost savings wouldn't be as significant as analysts might think, considering today's prices of batteries and electric motors. He said it might become more financially viable "over the longer term." He also said making a Ferrari EV would require making it a Ferrari first. To have a standard EV and put the Prancing Horse on it, "it is not what we're all about," he said.
RACING LINES
A provisional 23-race Formula 1 schedule for 2021 has been making the rounds with the teams and though there have been various drafts of it circulating, nothing is official, starting with the season opener. The Australian Open tennis championships scheduled for late January could determine whether the season-opening F1 race in Australia in March is realistic. F1 CEO and chairman Chase Carey said the 2021 calendar will probably look "a bit more like the calendar we planned for this year." He said F1 wants to get back to having races in the Americas and Asia and that he hopes to have "a more balanced set of events across the globe on the 2021 calendar."
Amid the schedule uncertainty have been rumors for some time that series owner Liberty Media might be willing to sell Formula 1. Liberty Media CEO Greg Maffei showing up in Portugal was a little odd. Maffei is not a racing fan and comes to very few races. Popping over to a relatively obscure race in Portugal at the height of the pandemic's second wave is strange. One might speculate that this was something he did for meetings, but the major F1 commercial discussions are finished and, in any case, this is Carey's work. Maffei is not required. Perhaps it was a good opportunity to meet the new F1 CEO Stefano Domenicali in person. Nonetheless Maffei's presence has led to speculation that there could be other meetings happening. COVID-19 has definitely destroyed any projections of Liberty's return on investment from Formula 1, so it would take a lot longer for the company to cash in. To be fair, it has already done well and got back more than it spent by selling off shares, but it bought F1 because it could see big profits. Thanks in part to the pandemic no one imagined, those big profits are not there any longer. We'll be watching this one closely.
MOSTLY ODDS, SOME ENDS
SEMA is a virtual show this year as you probably have heard. There were a bunch of cool Camaros, Firebirds, Mustangs, TVRs (!) and many more sent to SEMA virtually. SEMA picked the best and posted them on its SEMA360 website. From those we made a couple of our own galleries, thus saving you the trouble of having to wade through hundreds of photos yourself. You're welcome! Check them out on the link above.
LISTEN UP
In the latest Quick Spin Robin Warner takes you along for a ride in the Shelby Mustang GT350. Warner gets into how the car handles and sounds (awesome, that's how!) and he relays how it feels while he puts it to the test. Mixed in between those sections, he elaborates and adds context to the Mustang with host Wesley Wren. Tune in here, on Spotify, Apple Podcasts, Stitcher or wherever podcasts are played.
QUOTE OF THE WEEK
"What we don't really know is what will be the state of COVID next year and how we navigate through it. We're planning for events, we're planning to have fans, we're planning to have a season that I don't know that I'd say is 'normal' but certainly gets us back to normal, closer to normal."
—F1 CEO and chairman Chase Carey on next year's 23-race schedule
WHAT'S AHEAD
That's it for this week. As always we're on the case this weekend, monitoring and reporting on automakers' and sanctioning bodies' latest happenings. We'll continually update the site, of course—you'll know what's happening when we do. Check back often!
Thanks for reading Autoweek and please stay safe.
Source: Read Full Article