Summer has once again descended on Forza Horizon 4. A new selection of events and prizes are up for grabs for players this week, as well as a new pair of Car Pass cars.
Our full breakdown is below, but let's begin with a brand new TVR and a big pink Cadillac.
Blackpool's Revival and An American Icon
This week sees both a series debut and a return of an iconic classic to the roads of Great Britain from opposite ends of history.
Up first is the new kid on the block. The 2018 TVR Griffith is a car set to spark the revival of the Blackpool brand. FH4 marks only the second game to receive the new Griffith following its initial debut in The Crew 2 at the end of last year.
The new Griffith packs serious firepower for taking on UK roads. Under the hood sits a 5.0-liter Coyote V8 lifted from the Ford Mustang. The engine has been tweaked by Cosworth, so the Griffith develops 500hp.
Weighing a scant 2,750lb, the Griffith is good for 0-62mph in under 4 seconds and a top speed close to 200mph.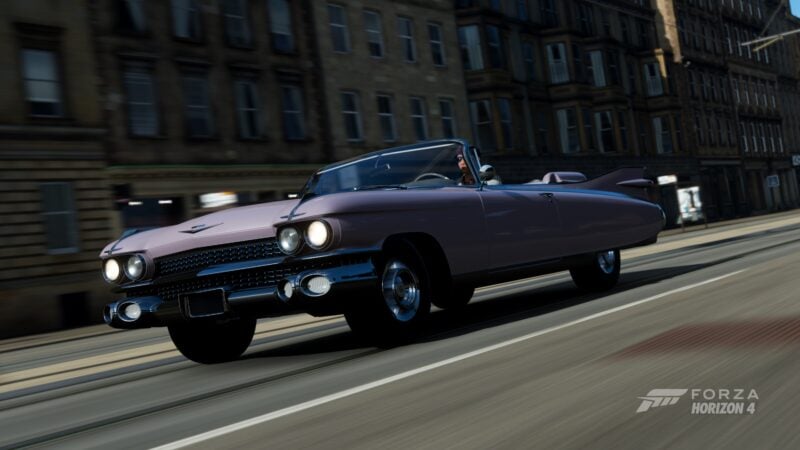 The other car this week is a symbol of classic American excess. The 1959 Cadillac Eldorado Biarritz convertible demonstrated that bigger was better when it came to America's idea of luxury. This car makes a return to the series for the first time since Forza Motorsport 4.
At over 5,000lb, the Eldorado is more about cruising than outright speed. The engine itself is suitably big to move this land yacht; a 6.4-liter V8 making 345 horsepower.
The Eldorado may not be setting records in game, but it will certainly find its own fanbase.
New Events
The latest cars are accompanied by a new set of seasonal championships with new prizes. This time, events include a seasonal championship utilising the Playground Games mode for the first time.
Players should keep an eye out for the Street Scene Championship as well, as the 2001 TVR Tuscan S is available as one of the prizes. There's also new Hoonigan avatar clothing for the latest community championship.
Full details are below:
Bamburgh Pinewood Scramble
Series: Dirt Racing Series
Cars: Ford Gymkhana 9 Focus RS RX
Restrictions: S1 Class, 900 PI
Prizes: 15,000 CR, Monster Energy Cap, Ken Block Race Suit
Street Sweeper
Series: Street Scene
Cars: Super Saloons
Restrictions: 100-800 PI
Prizes: 15,000 CR, Wheelspin, TVR Tuscan S
Old Timers
Series: Road Racing Series
Cars: Vintage Racers
Restrictions: 100-700 PI
Prizes: 15,000 CR, Classic Race Helmet, Classic Race Suit
The Trial: Cheeky Lambos (Co-Op Championship)
Series: Road Racing Series
Cars: Lamborghinis
Restrictions: 100-900 PI
Prizes: Lamborghini Aventador
Summer Games
Series: Playground Games
Cars: Offroad
Restrictions: 100-800 PI
Prizes: Lotus 2-Eleven
Copse Speed Trap
Bamburgh Castle Danger Sign
Season Objective: 810.4 ft
Forzathon Events
This week Forzathon turns its focus to the game's biggest vehicles, the trucks. The first objective is to simply own and drive any Truck. Next, show that your big rig rules the road and acquire 10 Trading Paint Skills.
The third objective requires you to make your truck a battering ram by racking up 10 Wreckage Skills. To finish things off, prepare for a road trip as you'll need to win the epic Goliath circuit event.
Forzathon Shop
The Forzathon Shop is once again a very pricey affair. This week sees the return of Ken Block's Ford Focus RS, which starred in Gymkhana Ten. At 750 Forzathon Points, it'll put a hefty dent in your wallet.
This week's Forza Edition car is another returnee; the Renault 5 Turbo. This pint-sized beast is perfect for tearing through the UK's forest trails. At 400 FP however, it isn't cheap.
Those wanting to add some novelty can pick up a Clown Mask for their wardrobe or the Killer Instinct Theme car horn as well.
Barn Find
This week's seasonal Barn Find is once again up for grabs. No spoilers from us, but this car is small enough to fit in just about any space available.
Source: Read Full Article