Customers like me had to cancel their old bookings, and take delivery of their scooters from cities 6+ hours away from home.

BHPian CrAzY dRiVeR recently shared this with other enthusiasts.
We had a similar discussion in the past – when Honda launched the CB350 H'ness. A made in India, for India, Royal Enfield rivalling, 350cc bike priced at an accessible 1.9 lakhs – launched with a premium dealership with extremely limited presence. However, Honda went on to execute their plan to near-perfection and has almost successfully established its premium network all over the country. A giant step back though – was to limit the 650cc+ bikes only to the BigWing 'TopLine' network. Related thread
At first look, Yamaha seems to be following a similar strategy with the Aerox 155, retailing only through Blue Square Dealerships. What is Blue Square? Yamaha says:
India Yamaha Motor (IYM) Pvt. Ltd. is pleased to announce a brand-new initiative to propagate 'The Call of the Blue' with the opening of "Blue Square", a unique concept-driven showroom that institutes Yamaha's racing DNA of excitement, sport & style.

"Blue Square" is coined to fit into the legacy of Yamaha's role in global motorsports with "blue" characterizing the brand's racing DNA and "square" defining a one-stop buying junction.

The "Blue Square" institutes Yamaha's identity of racing DNA through visual and exhibitory outline of showroom design on the exterior porticos of the outlet, BLUE-themed interior ambience inside the outlets, exciting display of motorcycles based upon racing DNA of Yamaha, along with accessories, apparels and genuine spare parts to realize the brand's excitement, sporty & stylish personality. A lineup of accessories and apparel is also the prime focus of the company for "Blue Square".

At the new "Blue Square", the record management interface will maintain a log of all customer records, digitally. Customers can directly download the product brochures by scanning the vehicle QR Codes. The purpose of maintaining customer information digitally is to provide one-to-one marketing which will help in on-time communication and speedy responses. In the future, technologies like face-scanning systems will be introduced. Yamaha in the coming years will also connect the "Dealer Management System" for more effective and on-time communication.

Additionally, a café to rewind and discuss business and promotion will be available. Alongside, Blue Streaks supports in speedy redressal of customer queries and will conduct touring programs with the help of a riding advisor. "Blue Square" will further drive Yamaha's India strategy to build its market for premium motorcycles and scooters in the future. The first official launch was done in Chennai today at Bikerz where the "Blue Square" outlet of size 4000 sq. feet was opened to the public. It is located at 351, Anna Salai, Nandhanam, Chennai-600035. Along with regular line-ups, the latest superbikes will also be on display and on sale.
While the "Blue Square" concept was established back in 2019 itself – it has become the topic of discussion now because the Aerox 155 becomes the first mass-market product to be restricted to this network. There was no official communication on this and every dealer was accepting bookings, only to be left with dissatisfied customers who haven't even seen a display bike to date. Customers like me had to cancel their old bookings, and take delivery of their scooters from cities 6+ hours away from home.
Imagine a 155cc scooter like the Aerox being unavailable in a major city such as Mumbai:
BHPian Axe77 stated:

Speaking of botched up launches, I have walked into the Yamaha showroom multiple times since its launch, the last time got revived after I saw your bike purchase post. I was sure by now it should be available, a good 3 – 4 months since its launch. It still isn't. I queried the completely disinterested salesperson at the Lower Parel showroom and got the explanation with him after some casual cross-questioning.

Apparently, Yamaha wants showrooms stocking the Aerox to have some blue theme and basic visual standard which would cost approx 30 – 35L, which the dealerships are pushing back on because they don't find it worthwhile – ergo this standoff. (Just repeating what the salesperson told me).

Net result: to the best of my knowledge there is no Aerox available in a metro city like Mumbai. What an absolute pity and disaster. Incidentally, in this same showroom more than a decade ago, I have seen the might V Max standing – it was then twice the floor plate than its current avatar – clearly telling of Yamaha's India trajectory over the last decade and a half. After years of yearning for maxi-scooters, Yamaha finally launches a gem of a product and its unpurchasable in Mumbai.
However, unlike Honda, I'm not sure Yamaha has made the right move here – unless they have promised a lot many more exciting products exclusive to the Blue Square showrooms.
Pros
Good customer experience. The new showrooms are significantly better than those from the existing Yamaha network.
Hopefully, this means Yamaha will bring in more CKD and CBU bikes in the future, at least to showcase their flagships in these premium showrooms, boosting Yamaha's image and sales.
Premium competition (Kawasaki, Triumph, etc) maintaining such a network with only CKD/CBU bikes can only dream of the economy of scale BlueSquare can achieve. Only Honda's BigWing can do better!
Cons
Aerox 155 is not a high volume product like the Honda CB350, and not encouraging enough for dealers to invest in the premium network just to have this one additional product in their portfolio. Yamaha needs more premium products.
Initial ramp-up has been extremely slow. The entire state of Maharashtra has just two dealers, that too – none in Mumbai yet!
Customers in many major cities and towns have no option, but to wait for more than a year or more. Will customers wait, or go through such inconvenience for a scooter?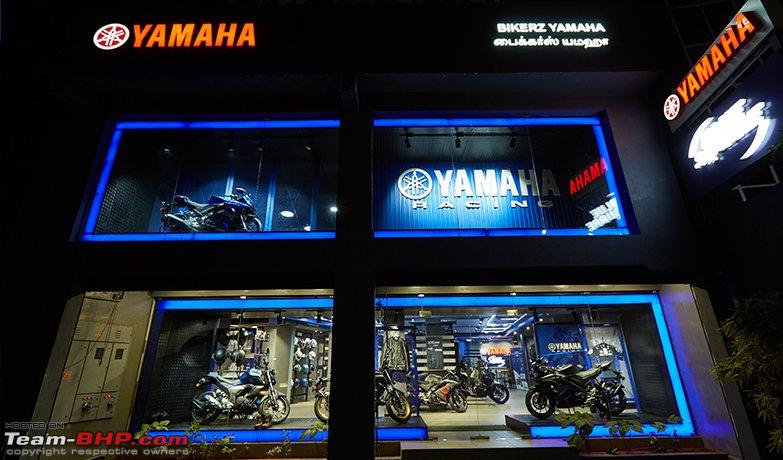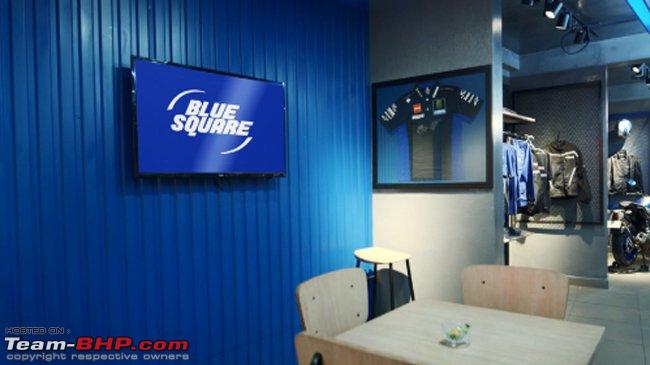 So what are your thoughts on Yamaha's Blue Square strategy with the Aerox 155?
Here's what BHPian neil.jericho had to say on the matter:
Dr CD, to me, there are a few different angles that we need to consider, to make sense of this Blue Square strategy. And the Aerox 155 isn't the central piece of the puzzle.

Necessity

Does Yamaha need to have showrooms that differentiate themselves from the regular Yamaha showrooms and other company showrooms in the city? Absolutely! As a former first-gen Yamaha R15 owner, it did sadden me to see the company lose its way in the last decade. But when I was at the Blue Square showroom in Cochin (for the delivery of your Aerox, no less), I was pleasantly surprised to see the variety of motorcycles and scooters that are on sale. And this was even without the mass market MT15 being available. Yamaha has slowly built up their portfolio. Now it's time to move up. More on that later.

In my books, Royal Enfield set the template for classy interiors in motorcycle showrooms. They have mastered the art of giving an upmarket feel to their showroom across India. Honda planned and executed its Big Wing strategy very well. I have been a big fan of their foresight from the time they announced it. Yamaha is just following suit. The problem is execution and RoI.

Execution

Yamaha, being Yamaha, they just had to botch things, didn't they? They planned to sell the Aerox through select stores while allowing every dealer to take bookings. In parallel, the company is arm twisting its dealers to pump in money to move to the Blue Square format, which will involve

Shifting to a bigger showroom or
Investing a lot to spruce up existing showrooms

All of this is going to take up a lot of capital from the dealerships. Are they going to do so?

Yamaha dealers must be an annoying lot. On one hand, they have all taken bookings of the Aerox and their sales guys are getting frequent calls from customers, asking where the scooters are. On the other hand, Yamaha isn't giving them any clarity on deliveries or display bikes. What an awful position to be in.

Yamaha might think that they are teaching their dealers a lesson but as always, they have lost sight of the big picture. Enthusiasts are annoyed with Yamaha, instead!

A classic case of cutting off the nose, to spite the face.

Return on Investment

This is where things get interesting. Yamaha hasn't made any announcements about what big bikes will be sold in India through the Blue Square stores. Reliable little birdies have been chirping in my ear that the Tenere 700 is being lined up. I won't be surprised if the sensible R7, also will make its way to India. Yamaha does have a very wide range of middleweight motorcycles in its portfolio. What will this traditionally risk-averse company bring to India? Even if Yamaha goes all out (they won't, but humour me), it will be very difficult for the MT07 and MT09 to make a mark in the naked middleweight segment. The litre-class naked market in India is effectively dead. So, the MT10 is out. The stylish XSR700 and 900 will struggle to sell. Whatever the price it is at, the R1 will sell below 15 units a year. Nothing more. So, just the Teneres and the R7, then?

Financially, that doesn't make sense. Not like the Honda Big Wing strategy.

It has to be something else.

I wouldn't have done things this way but I can see this being the line of thinking in Yamaha – Dealer rationalization. Fewer dealers. More Blue Square showrooms. More profits per showroom.

The company has decided that it is OK to lose some of its existing, legacy dealers that were happy with the status quo. Post-Covid, many dealers would understandably not want to move to the Blue Square setup. Yamaha must be slowly pushing them out or making it clear that they will get secondary preference for allocations etc.

Yamaha has to be looking at onboarding new dealers who are willing to pump in money to rebuild how Yamaha's showrooms look and feel. If that means no Aerox sales in Bombay for a year, so be it. Until someone steps up to say that they will run a Blue Square dealership in Bombay, that is how things are going to be.

So, the name of the game is short to medium term losses, for a long term gain. Will Yamaha's gamble succeed? Honestly, I'm not sure.
Here's what BHPian Axe77 had to say on the matter:
I think between CD and Neil you guys have summed up perfectly the views on this Blue Square business – my own thoughts resonate completely with what has been written.

Whether it can or will work, as a starting point, I'm not even in a position to comment because I don't know Yamaha's intended business plan. Do they want to sell a whole lot of scooters and entry-level bikes, spicing up their brand image with tasty higher capacity bikes or aspirational lifestyle products like the Aerox? Or do they want to limit their portfolio to a much narrower band of products overall?

Most importantly, to what extent has their stated India strategy been socialised with the dealerships. Dealerships will want to know the intent of the business plan, a specific roadmap, as well as have confidence in management's ability and conviction to deliver on it. Without that, it's going to be a tall order to expect any change.

Other than component suppliers there are two key stakeholders in a company's success – dealers and customers. At this point, their strategy (or approach to implementing the strategy) doesn't seem to be finding favour with either of these groupsets. To me, that doesn't ring like the build-up to a success story.

I hope they can be humble as well as nimble enough to recognise this and course-correct ASAP. Else there's going to be very little "Yes Yamaha" and mostly "No, Yamaha" sentiment brewing among customers as well as dealers.
Check out BHPian comments for more insights and information.
Source: Read Full Article