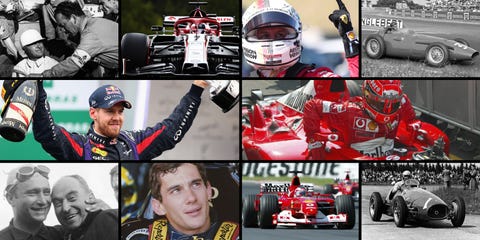 Debate all you want about whether or not Lewis Hamilton is the greatest Formula 1 racer of all time. The legend—can't argue that—has plenty of F1 records, including most wins, most poles, most podiums, tied for the most championships and most consecutive race starts.
There's still a few F1 records, however, that are even out of the great Hamilton's reach. Sure, he's never going to get the record for oldest driver to start a race (unless he plans on racing at the age of 56!), but there are still some surprising poles and wins records that look to be totally out of reach.
Here's 10 impressive records that we think will be standing long after Hamilton hangs up his firesuit.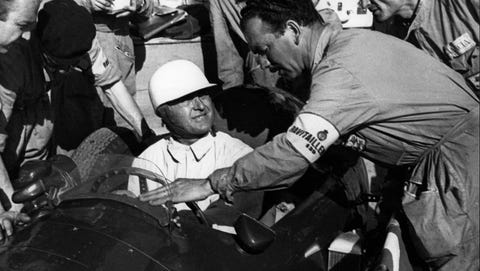 Here's an easy one. No way Lewis Hamilton matches Louis Chiron's all-time mark for being the oldest racer to start a Formula 1 race.
Charon, who started 29 races between 1931-55, made the grid for his final F1 race—the 1955 Monaco Grand Prix—at age 55 years, 292 days. Chiron even tried to extend his own record two more times, but he failed to qualifying at Monaco in 1956 and again in 1958.
Hamilton is just 35 years old.
Hamilton's chances of breaking Chiron's mark: Slim and none (and Slim just left town).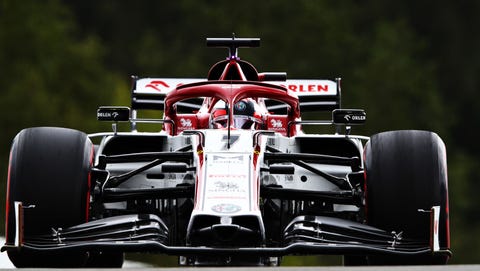 OK, here's where some of the Lewis Hamilton superfans might want to argue. But we don't see Hamilton catching Kimi Raikkonen in this category.
Following the 2020 F1 Turkish Grand Prix, Raikkonen has a record 326 career F1 starts, while Hamilton was just seventh on the all-time list with 264. And, both drivers are still adding to their total.
Hamilton, who trails Raikkonen by 62 starts, can catch him, but it's going to take Raikkonen retiring after the 2021 season and Hamilton racing for another three years after that. Hard to imagine Hamilton still racing in four years at the age of 39. It seems like he's got bigger things in life that he wants to tackle.
Hamilton's chances of breaking Raikkonen's mark: Let's set the odds at 5-to-1 for this one. Sure, it could happen, but the smart money says otherwise.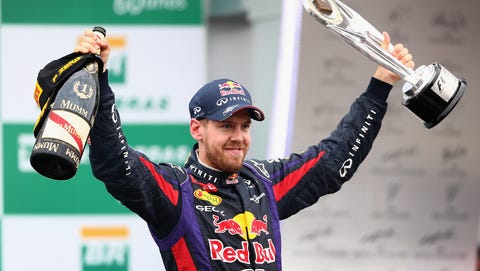 Almost hard to believe, but here's a record that Lewis Hamilton has not really gotten all that close to.
In 2013, Sebastian Vettel won the final nine races of the season to set the all-time mark for consecutive F1 race wins. Remarkably, Vettel was winless the next season.
Hamilton's, who has won four in a row through this year's Turkish Grand Prix, has never won more than five in a row. He pulled that feat off in 2014. While Hamilton looks unbeatable right now, winning five more to tie Vettel's 2013 mark seems like a real longshot.
Hamilton's chances of breaking Vettel's mark: Let's put this one at 4-to-1, just slightly better than Hamilton's chances at reaching Raikkonen's start mark.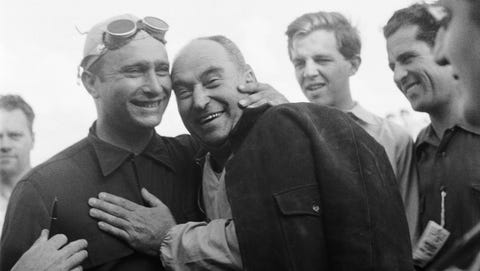 Another layup. Luigi Fagioli, center and shown here with Juan Manuel Fangio in 1950, won the 1951 French Grand Prix at the age of 53 years, 22 days.
Fagioli's win came in his final F1 start. Incredibly, Fagioli started seven F1 races after the age of 50, and finished on the podium six times with a win, four seconds and a third.
Hamilton's chances of breaking Fagioli's mark: Not. Gonna. Happen.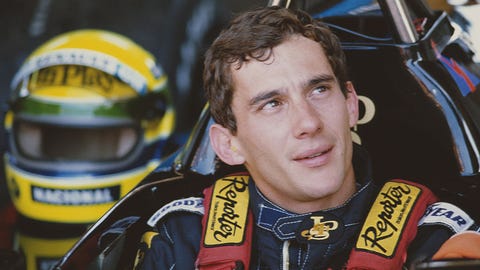 While Hamilton has come close, he's not been able to catch Ayrton Senna's record of eight consecutive pole positions. Senna pulled that off over the final three races of 1988 and first five races to open the 1989 campaign.
Hamilton, who is the all-time leader in total poles with 97, has a personal best of seven consecutive poles. He did that in 2015.
Eight in a row is a tough ask. His current streak is zero, after he qualified sixth in Istanbul.
Hamilton's chances of breaking Senna's mark: Let's make the odds 15-to-1 for this one. Don't see it happening.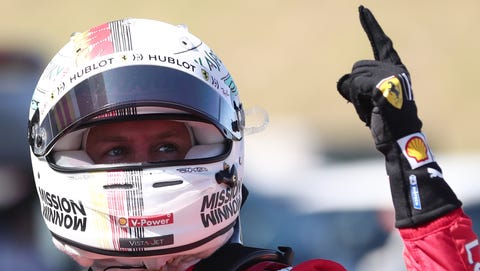 Hard to believe that Hamilton, who has 97 career pole positions, has never held the single-season mark for most poles in a season.
And he probably never will.
Sebastian Vettel holds the mark with 15 poles in just 19 races in 2011. The closest that Hamilton has come to that mark is 12 poles in 21 tries in 2016.
Hamilton's problem here is that as good as he is on race day, he's still part of a great team. Teammate Valtteri Bottas is good for 4-5 poles a season, and that alone will keep Hamilton's total down just enough to keep Vettel's record safe. The wildcard is the expanding F1 schedule. With 23 races planned for 2021 and maybe 24 in 2022, the odds tip at least a little more in Hamilton's favor.
Hamilton's chances of breaking Vettel's mark: Lets make the odds 7-to-1 on this bet, especially if F1 gets to 24 races in the next couple of years.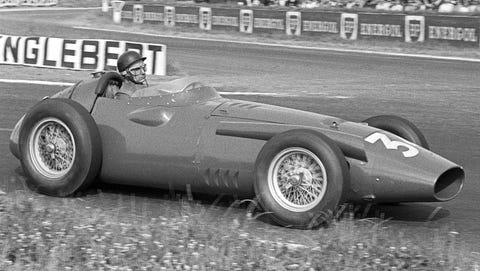 OK, another gimme. No way Hamilton will still be racing in Formula 1 at age 46, but here's a chance to marvel at all-time great Juan Manuel Fangio.
All Fangio did was turn the fastest lap of the race at the age of 46 years, 209 days at the 1958 Argentine Grand Prix in a Maserati. It came in his second-to-last F1 race.
Hamilton is still turning fastest laps, but at just 35 years old, anything that Fangio did at age 46 is safe.
Hamilton's chances of beating Fangio's mark: Uh, lets put it at 100-to-1 and see if anyone will bite.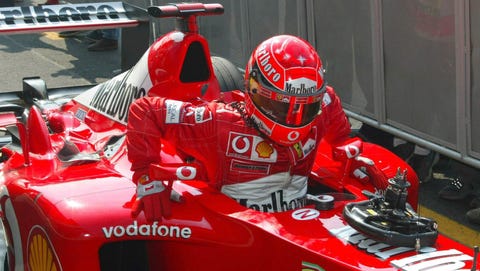 It just seems that Lewis Hamilton finishes on the podium every race, but he's no match for Michael Schumacher's all-time record of 19 consecutive podiums spread out over the 2001 and 2002 seasons.
Hamilton's best run is 16 podiums in a row, which he pulled off in 2014 and into 2015. As dominate as Hamilton is right now, his current streak is a rather modest six. The current streak dates back to a seventh-place finish at Monza.
Hamilton's chances of beating Schumacher's mark: Let's put it at a rather modest 4-to-1. Hamilton looks really good right now and with no major changes to the cars planned for 2021, he might just make a run at the record.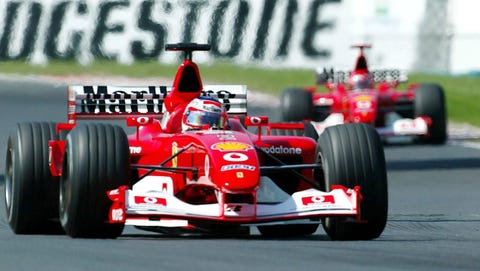 Here's another Michael Schumacher record that looks like it could stand a while, as he landed on the podium a perfect 17-for-17 times in 2002. Included in that most dominant of seasons were 11 wins, five second-place finishes and a third-place finish.
Meanwhile, Hamilton's best stretch of podiums to open the season was nine, both in 2007 and 2015. Hamilton started the 2020 season with a fourth-place at Austria.
Hamilton's chances of beating Schumacher's mark: We like Schumacher here. Put the odds at 10-to-1 and find a sucker who will take it.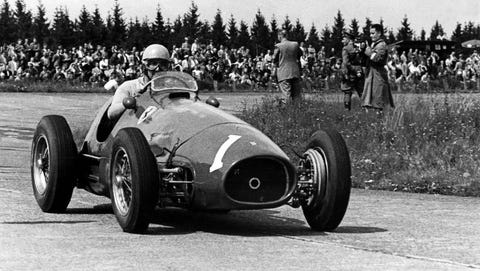 How's this for an unreachable star? Alberto Ascari once led 304 consecutive laps over the span of five races in 1952, starting with the second lap of the Belgian Grand Prix and ending with the final lap of the Dutch Grand Prix.
Second on the all-time list is Ayrton Senna, who 264 consecutive laps in 1988. As for Hamilton, his personal best is just 144 laps, which he set in 2019 during back-to-back wins at Barcelona and Monaco.
What makes this record so tough is simply pit strategy. Few races see the leaders all pit on the same race. Jump out of line and pit ahead of your nearest rival, and you're likely to lose the lead for a lap or two, or at least until the nearest rival pits.
Hamilton's chances of beating Ascari's mark: No line, as they say in Vegas. No one is taking that bet.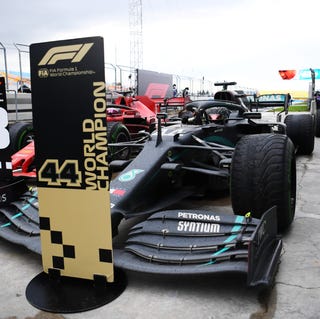 Source: Read Full Article