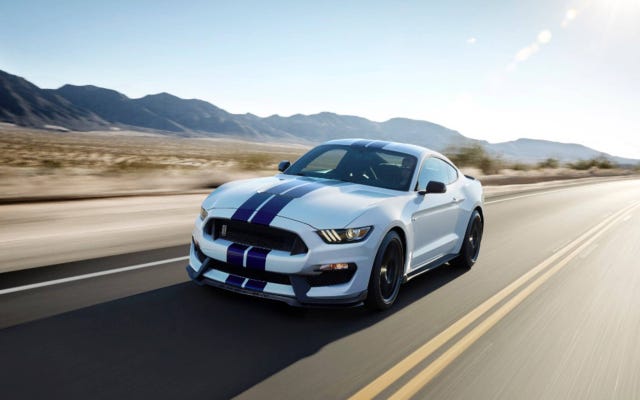 Both time and supply are running out, but, yes, you still can get a Ford Mustang Shelby GT350 and GT350R. In fact, Ford is still building the GT350s for a few more weeks, through November as we understand it, but the last GT350R has run down the assembly line and began its journey to the history books.
But that doesn't mean they are all sold and spoken for. After all, history books, for cars anyway, almost always start at the dealership lot. And, after spending a few days in the Heritage Edition GT350R, shredding Michelin Pilot Sport Cup 2 tires and listening to its 526 horsepower siren song, I can personally guarantee, if you have the means, the GT 350R is absolutely the one to buy.
At first glance, that might seem a bit preposterous. The R is born out of the 920A equipment package and adds $12,995 to the cost. For the money, you get the R package, a larger carbon fiber rear wing and plastic front lip, 10-millimeter wider tires in front and back, a wheel locking kit and adjustable strut mounts. Ford also takes away the rear seat. That's just garnish, right? Wrong. Those changes add up to real and tangible benefits behind the wheel.
To start, the carbon fiber wheels are not just for show, or bragging at the bar stool, they significantly reduce un-sprung weight, improving turn-in response and feel. And what you feel is immense grip from 305 section width front and 315 rear tires. That means you're working with more than a foot of tire at each corner. And, yes, I'll admit, they look cool, too.
But adjustable strut mounts are all business, there's nothing flashy to look at here. Typically, adjustable mounts allow you to change wheel alignment, in this case camber. And camber plays a big role in front to rear chassis balance. Just how easily do you want that rear-end to come loose? Obviously, you have the power to overwhelm the rear-axle, but this adjustment gives you yet another tool to have the balance you want.
Okay, I'll admit that the larger front-lip and the carbon fiber and also larger rear wing are mainly for show. But to be fair, on a racetrack, at high speeds, they do legitimate work. The extended front-lip pushes the axle down to give you more turn-in bite and the rear spoiler adds stability under braking off the main straight.
And then there's just the GT350R's general tune and attitude. It takes all the GT350's traits and turns them up one notch. It's just that much more serious, more extreme, more emotionally impactful.
But then again, it's also that much more money. $13 grand. A GT350 retails for $61,595, the R starts at $74,590. And the GT350 is still marvelous. You still get Magnaride adjustable shocks, a Torsen limited slip differential, and Cup 2 tires. And you still get that 5.2-liter, flat-plane crank Voodoo V8 belting out 526 horsepower at 8,250 rpm. If adding the letter R removes it from your budget, get the GT350 and still get a driving enthusiast masterpiece.
The Ford Mustang Shelby GT350 is absolutely glorious fun to drive. And, perhaps, the last of a breed of a more analog than digital machine, where the driver and the driver alone makes decisions about the car's path and speed. It's something to think about between now and the end of November.
Source: Read Full Article