Official police data reveals 64,682 uninsured cars have been seized so far this year, plus many more in the previous four years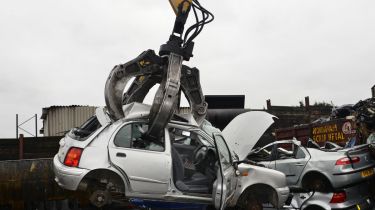 More than half a million cars have been seized in the UK for having no insurance since 2018, new official data has revealed.
The AA sent a freedom of information request to the UK's 45 regional police forces, plus the British Transport Police, receiving responses from all but two. The 44 forces that did respond reported having seized 542,370 uninsured cars since the start of 2018.
Cheapest cars to insure in the UK 2022
Some 129,652 uninsured cars were seized in 2020 – more than in any other year for which data was requested, despite lockdown and travel restrictions. So far in 2022, 64,682 have been seized.
The Metropolitan Police seized more uninsured cars than any other police force between January 2018 and August 2022 – 62,900 of them. The West Midlands was second with 44,056 and West Yorkshire third with 33,829.
Police Scotland seized 33,209 uninsured cars and Police Service of Northern Ireland seized 9,360. Police forces in Wales seized 22,721, while English forces as a whole seized 477,080.
Only two forces didn't supply data – Kent Police failed to respond entirely, while Cheshire Police claimed its systems could not easily determine how many cars had been seized for driving without insurance.
According to AA Insurance estimates, there are around a million uninsured cars driven on UK roads every year. Its managing director Gus Park commented: "Every driver is worried about being involved in a collision, but worse still is the other party being uninsured."
He added: "Sadly, we know that when times are hard some people try to cut their costs, and one area people are tempted to chance it is cutting out their motor insurance. However, these figures show that forces across the country are on the lookout and will take uninsured car away.
"Don't take the risk. Not only is there the chance of having your car seized, but the criminal and financial hardship is not worth the gamble."
Compare cheap car insurance quotes with our tool…
Source: Read Full Article